Welcome to Baseball's Greatest Sacrifice
Most recent additions

of players killed in military service

:
Minor league outfielder Frank Myers
Minor league pitcher Stephen Toner
Minor league shortstop John Brazinski
Minor league pitcher Cecil Spittler
Minor league second baseman Doug Campbell
Minor league pitcher A. D. Breeding
Minor league pitcher Johnny Bunnell
Minor league pitcher Cliff Kraemer
Minor league outfielder
Chet Romanowski
Minor league first baseman Franklin Edginton
Minor league infielder Dan Snell
Minor league shortsop Mernie White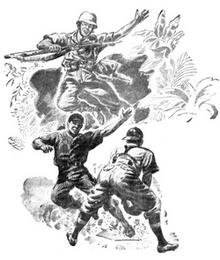 Gary Bedingfield's Baseball's Greatest Sacrifice is dedicated to players who lost their lives in military service. Whether they were killed in action, died from wounds, illness or accident, detailed biographies of these men are included as part of the most comprehensive resource of its type on the Internet. There are currently
545
names listed on the website with
5

10
individual
biographies available.
As the creator and editor of
BaseballinWartime.com
-
the Internet's biggest resource for anything related to baseball and the military
-
I wanted to create a website that could serve as a memorial to all the ballplayers who lost their lives while in the service of their nation. Since the early 1990s, I've been gathering information on these men and it has never ceased to amaze me that their stories - until now - have been buried with the passing of time. Dating back as far as the Civil War, baseball players were serving and making the ultimate sacrifice for their country. Why MLB have chosen to ignore this fact is beyond me, but now you can learn the fascinating and heart-rending stories of these brave young men who played baseball at all levels - professional, semi-professional, college, amateur and high school - and who came from all parts of the globe including the United States,
Canada
,
Australia
,
Japan
and the Philippines.
Please take a minute to scan through some of the biographies we have here. Dip into the
First World War
casualties from the Western Front, the
Second World War
losses
on
the battleships of the Pacific, the Communist rebelling losses of
Korea
and from the infested jungles of
Vietnam
.
Gary Bedingfield
creator, author and editor
www.baseballsgreatestsacrifice.com
Available Now! Aloha and Sayonara: The 1940 Keio University Baseball Tour of Hawaii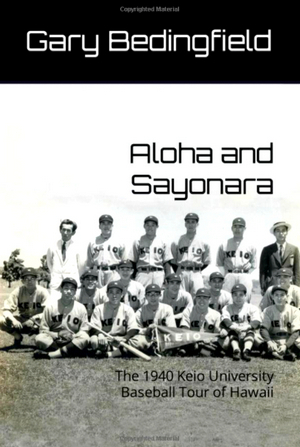 During the summer of 1940, in contrast to the downwardly spiraling political relationship between Japan and the United States, the Keio University baseball team traveled from Tokyo to the Hawaiian Islands. Aloha and Sayonara tells the story of the last Japanese baseball team to visit the Hawaiian Islands – a tradition that dated back to 1908 - before the infamous attack on Pearl Harbor. With game-by-game, and almost day-by-day coverage, this is a never-before-told insight into the lives of 15 young Japanese college students who came to play baseball, the game they loved, and were soon to be in deadly conflict with their new-found friends. Aloha and Sayonara explores their early years, their time in Hawaii and then follows the young players' journey back to Japan. For some, the journey continues to post-war professional baseball. For others it ends on the battlefields of the Pacific islands. Brought to you by the author of Baseball in Hawaii During World War II and a recognized expert on World War II baseball for over 25 years, this is the first complete account of the 1940 Keio University baseball tour of Hawaii. Featuring photographs that haven't been seen for over 80 years, Aloha and Sayonara takes you back to the summer of 1940, when baseball was the number one game in town.
$6.00
Take a look inside at amazon.com
Available Now! Baseball in Hawaii During World War II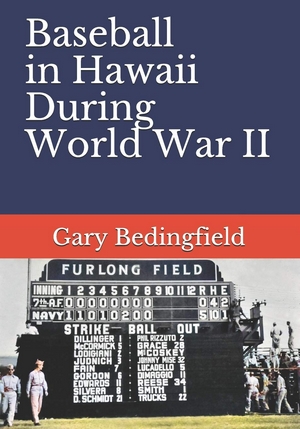 While the Hawaiian Islands, a pre-war paradise that became a scene of death and destruction in December 1941, was being transformed into a vital staging post in the Pacific war, baseball played an essential role as a morale booster for thousands of servicemen and civilians. With at least a dozen future hall of famers on the rosters of Army, Navy and Marine Corps teams - including Joe DiMaggio, Ted Williams and Stan Musial - for a few short years, the best baseball in the world was played in Hawaii. Brought to you by the author of two previous books on World War II baseball and a recognized expert on the subject for over 25 years, this is the first complete account of baseball in Hawaii between 1941 and 1945. Featuring never before seen photographs, league standings, 160 biographies and numerous personal accounts, baseball in wartime Hawaii is brought to life – every victory and every tragedy.
$19.99 Take a look inside at amazon.com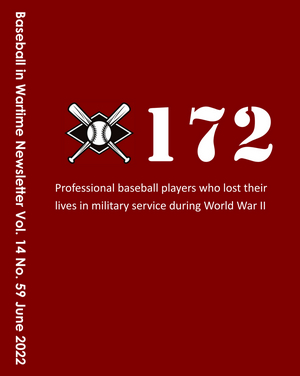 Baseball in Wartime Newsletter No. 59 (June 2022)
Baseball's Greatest Sacrifice is proud to be sponsored by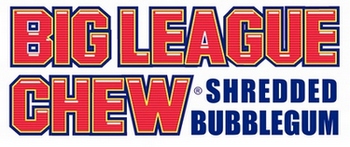 Baseball's Greatest Sacrifice is associated with Baseball Almanac and Gary Bedingfield Training

For reviews on which new betting sites you should bet during this season check out NewBettingSites.uk
meilleurs sites de paris sportifs belgique
Betting on baseball is different from betting on football. In some countries, sports betting online is still prohibited but some countries allow it. It is wise to familiarise yourself with countries that accept sports betting. For alternative type of online betting, visit https://www.casino-mate.com and start wagering on sports-themed casino games like baseball slots.
When it comes to gambling online, you need to be aware of rouge online casinos scamming people their hard earn money. Pokiepop, which is one of the best australian online pokies sites, has compiled some guidelines for identifying these fake casinos.
Baseball fans have always used live betting as another way to enjoy the sport.
If you want to bet on baseball game but you don't have a bookmaker yet, you should visit parierenlignesuisse.com for great reviews.
It's a massive online guide where you will finally find attractive bonuses to bet on baseball games. You can find more on https://www.pronostiquer.be/ !
When you will have found your bookmaker, then have a look at parierensuisse.com , it's a massive online guide where you will finally find attractive bonuses to bet on baseball games.
If you live in New Zealand and are interested in betting on baseball or some other form of gambling, see casinohelp.nz