Johnny Bunnell
| | |
| --- | --- |
| Date and Place of Birth: | January 25, 1925 Detroit, MI |
| Date and Place of Death: | 28 July, 1945 near Balabac Island, Philippines |
| Baseball Experience: | Minor League |
| Position: | Pitcher |
| Rank: | Seaman First Class |
| Military Unit: | US Navy |
| Area Served: | Pacific Theater of Operations |
Johnny Bunnell grew up around baseball and was just 17 years old when he was signed by the Washington Senators.
John Edwin Bunnell, the first son of George and Opal Bunnell, was born on January 25, 1925, in Detroit, Michigan. Johnny's father was employed as an auto factory inspector, but his first love was baseball. He was a manager in the Firemen's Midget League and the Detroit Amateur Baseball Federation from the late 1930s until his death in 1967, managing teams that Johnny played for.

Johnny was a standout pitcher from a young age. At 14, in 1939, he pitched for Battalion No. 1 in the Firemen's Midget League. The following season he lost out to Henry Sejnowski for the league's most valuable pitcher award but demonstrated his worth the next day by beating Sejnowski and the Battalion No. 2 team, 7-1, scattering four hits to claim the league championship.

Bunnell was a sensation with the Denby High School team and with the Hudson Local 154 team in the Detroit Amateur Baseball Federation. In 1942, as well as posting a 9-1 record for Hudson Local, he hurled a four-hitter to beat a Cleveland all-star team, 3-1, in a National Amateur Baseball Federation game in Youngstown, Ohio. This performance caught the eye of Washington Senators' scout Joe Cambria, who quickly signed the 17-year-old.

Despite being signed by the Senators and definitely heading to their spring training camp in College Park, Maryland, in March, Bunnell declared himself as unemployed on his draft registration card which he completed on his 18th birthday in January 1943.

Bunnell proved to be a little wild in spring training but was kept on the Senators' roster until May 14 (more than three weeks into the season), when the team had to reduce its roster to 25 players and Bunnell was sent to the Chattanooga Lookouts of the Class A1 Southern Association. He made three appearances for the Lookouts but struggled with control problems and was returned to Washington on June 15, with an 0-1 record and an ERA of 18.00.

At this time Bunnell's military call up was imminent and the Senators chose not to send him to another minor league club. He entered service with the Navy on August 12, 1943.

In 1944, with their only son serving with the Navy, George and Opal, despite being aged 46 and 44 respectively, had a second son, James. It's almost as if they had a premonition of the tragedy that was soon to come. It's not known if James ever got to meet his big brother, as Seaman First Class Johnny Bunnell was in the New Hebrides in the South Pacific in 1944, pitching for the Navy All-Stars against the Army All-Stars in the New Hebrides World Series. Johnny pitched two games against the Army, beating them, 2-0, on 6 hits in front of 4,000 service personnel. In the final game of the championship series he was beaten, 2-0, by Fred Martin, a 23-game Texas League winner in 1941 who went on to pitch for the Cardinals after the war.

From December 14, 1944, he served aboard the newly commissioned USS Chestatee (AOG-49), a Patapsco-class gasoline tanker that had the dangerous task of transporting gasoline to warships in the fleet and to remote Navy stations.

On 28 July, 1945, while underway for Brunei Bay, Borneo, in Southeast Asia, the USS Chestatee struck a mine in the straits south of Balabac Island. Five of her men were killed, including 20-year-old Johnny Bunnell. Buried at sea, a bronze marker was placed at Gethsemane Cemetery in Detroit to honor Johnny Bunnell in 1948.
| | | | | | | | | | | | |
| --- | --- | --- | --- | --- | --- | --- | --- | --- | --- | --- | --- |
| Year | Team | League | Class | G | IP | ER | BB | SO | W | L | ERA |
| 1943 | Chattanooga | Southern Assoc | A1 | 3 | 6 | 12 | 3 | 3 | 0 | 1 | 18.00 |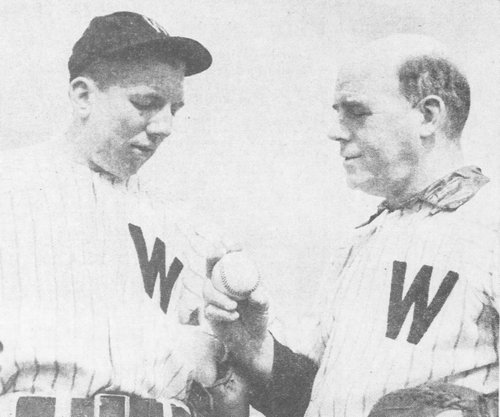 Johnny Bunnell (left) talks with former big league catcher Benny Bengough at the Senators' spring training camp in 1943.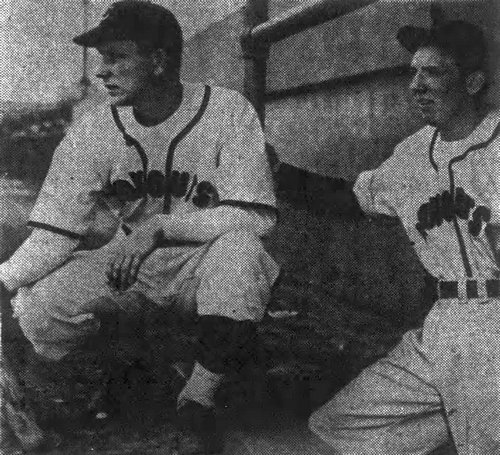 Johnny Bunnell (right) in the Chattanooga Lookouts dugout with pitcher Ned Thaxton.
Thanks to Jack Morris for "discovering" Johnny Bunnell.
Date Added May 21, 2023
Baseball's Greatest Sacrifice is associated with Baseball Almanac
Baseball's Greatest Sacrifice is proud to be sponsored by