The only known, active military fatality, ever to have actually occurred...on a baseball field!
Edwin P. Webb

Date and Place of Birth: circa 1872, Superior, Wisconsin
Date and Place of Death: June 2, 1918, Indianapolis, Indiana
Baseball Experience: None
Position: N/A
Rank: Captain
Military Unit: 821st Aero Repair Squadron
Area Served: United States

(BaseballsGreatestSacrifice.com has carved out a special niche on the internet as being the premiere website dedicated to all baseball players who lost their lives while serving with the armed forces. The following short story weaves together baseball, the military, and an iconic motor speedway; all culminating in a fascinating and ironic "twist-of-fate" for this website).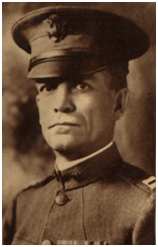 In 1918, just fifteen years after the Wright brothers took flight, the fledging aviation industry was booming. In years prior, with the advent of American involvement in WW I expected, the development of aircraft, engines and armament had grown exponentially. Despite those advancements, however, an appearance by a pilot with his "aeroplane" was still quite a novelty in small town America. Large crowds would often gather in remote fields and pastures just to catch a glimpse of this wondrous, new-fangled invention. With dashing and fearless young men at the controls, these new airplanes would quickly become a clever marketing tool.

The range of a top military airplane at the time (a Curtiss JN-4, or "Jenny), was about 200 miles. This meant that resources needed to be spread out in order to service and refuel airplanes as they hop scotched across the country. In 1909, the Indianapolis Motor Speedway had been established, but races were interrupted between 1917 and 1918 when the U.S. was gearing up for war in Europe. The Speedway infield was converted to an aviation repair and refuelling depot and the 821st Aero Repair Squadron took up residence there for the duration of the war.

Since baseball was the recreational game of choice of the day, most military posts sponsored a team of their own, often playing local exhibitions that raised monies for the war effort. The 821st Aero team had some athletic ability and was taken quite seriously by the local competition. They fielded a decent team that was led by Lou North who had pitched briefly with the St Louis Cardinals and the Detroit Tigers a few years prior.

In early June of 1918, a series of games were planned between the 821st Aero team the Indianapolis ABC's, a local independent team that would later become a charter member of the Negro National League in 1920. The ABC's (named after their sponsor, the American Brewing Company), featured future Hall-of-Famer Oscar Charleston and top quality players with names like "Dizzy" Dismukes and "String Bean" Williams. The games were expected to be hard fought, and the June 1 Saturday game was a well-played, 4 -1 victory by the ABC's. A revenge match was scheduled for the next day, but the big draw would be a flying exhibition put on by the 821st Aero Repair Squadron. Huge crowds were anticipated, with many soldiers from the Speedway expected in attendance.

On Sunday, June 2, the weather was warm with clear skies. More than 2000 fans were jammed into Washington Park, each not only expecting a good ballgame, but anticipating a great, pre-game aerial flyover. Back at the Speedway, the pilot, base commander Major Guy L. Gearhart and the 821st Squadron commander and post adjutant, Captain Edwin P. Webb, readied their recently repaired, duel-controlled Curtiss aircraft for takeoff. Their goal was to complete a flyover above the ball field with Captain Webb dropping baseballs with streamers down onto the diamond, thus demonstrating the new bombing tactics that were then being deployed in the skies over France. At around 3:15pm, the plane approached the fringes of the playing field.

Both teams were on the field participating in pre-game rituals and warm-ups when the hum of the plane's engine was first noticed. Approximately 500 feet up in the air, the plane began circling the field and several baseballs were dropped. Then, without warning, the engine began to cough and sputter and the airplane violently lurched downward into a tight, nosedive spiral. Those on the field ran for cover as the plane ripped into the soft grass and dirt just behind second base and skidded to a stop twenty yards after impact. Players, soldiers, and police ran to the wreckage and pulled both men from the smouldering remains. Major Gearhart (who was 39 years old at the time of the crash), suffered a severe concussion, a fractured jaw and gaping wound to his chin. Captain Webb (age 46), was not as lucky. He was pulled from the plane, lifeless. He had been killed by a "cerebral hemorrhage resulting from a wound on the back of the neck, evidently where the heavy motor crushed his skull". [1] Later, it was discovered that it had been Captain Webb's first plane ride.

Speculation surrounded the cause of the crash. Was it a stunt gone badly? Did one of the streamers get tangled in wiring or propeller? Was it an engine stall? Later consensus showed that it was most likely a sudden air pocket that forced the plane down, with Major Gearhart unable to pull up in recovery being only few hundred feet off the ground. Sadly, Major Gearhart would later be killed in a mid-air collision near Newport News, Virginia, on December 5, 1922. Six service members perished in that accident. Major Gearhart had been piloting one of the airplanes.

The story of Captain Edwin P. Webb's demise is not only unique to baseball lore, but unique to BaseballsGreatestSacrifice.com. BaseballsGreatestSacrifice.com remembers ballplayers that died in service to their country, many on the field of battle. Captain Webb has the unfortunate distinction of being the only known, active military fatality, ever to have actually occurred...on a baseball field!

© Mark Haubenstein, August, 2012 (Permission of use granted).

Sources:

[1] "Death at the Ballpark – A comprehensive study of game-related fatalities, 1862 -2007", by Robert M. Gorman and David Weeks, 2009 9 (Page 154)
New York Times, New York, June 3, 1918
New York Tribune, New York, June 3, 1918
New York Tribune, New York, June 23, 1918 (Photo)
El Paso Morning Times, El Paso, Texas, June 3, 1918
Date Added: April 1, 2013
Baseball's Greatest Sacrifice is associated with Baseball Almanac

Baseball's Greatest Sacrifice is proud to be sponsored by