Franklin Edginton
| | |
| --- | --- |
| Date and Place of Birth: | March 14, 1921 Merchantville, NJ |
| Date and Place of Death: | June 1, 1944 Pacific Ocean, off Matua Island |
| Baseball Experience: | Minor League |
| Position: | First Base |
| Rank: | MoMM3c |
| Military Unit: | US Navy |
| Area Served: | Pacific Theater of Operations |
Franklin K. Edginton, the son of Harry and Sara Edginton, was born in Merchantville, New Jersey on March 14, 1921. His grandfather, Walter, owned a button factory in Camden, New Jersey, where Franklin's father, Harry, worked. Some time after Franklin's birth, his family moved to Milton, Delaware, where Harry worked as superintendent at a local button factory.

Franklin graduated from Milton High School in 1939, where he played baseball, basketball and soccer, and was employed as a helper at his father's place of employment, but baseball and a world war saw to it that a third generation of button makers was not to be.

Franklin was signed by the Federalsburg A's of the Class D Eastern Shore League in August 1941, playing at least one game as a first baseman. It was a dismal season for the A's, finishing in last place with a 35-73 record. The Eastern Shore League did not return in 1942, bringing an end to Edginton's brief minor league career.

In April 1942, Franklin became engaged to Thelma Tubbs of Willards, Maryland. They remained engaged when he enlisted in the Navy on November 9 of that year. He trained at Great Lakes Naval Training Station, Illinois and graduated from recruit training as honor man of his company. Franklin enjoyed a nine-day furlough with his family at the start of 1943, before attending a Navy service school.

In April 1944, he was assigned as part of a relief crew to the submarine USS Herring. Edginton was a Motor Machinist's Mate 3rd Class (MoMM3c) and worked in the sub's engine room. The Herring had been in combat since November 1942, firstly in the Mediterranean and more recently in the Pacific. He joined the sub on her eighth patrol. It was to be her most successful and her last.

The USS Herring headed for the Kurile Islands (in the Pacific Ocean between Japan and Russia) where she would patrol against Japanese shipping. She sank two ships, the escort Ishigaki and merchant ship Hokuyo Maru, on the night of May 30/31, and another two merchant ships - Hiburi Maru and Iwaki Maru - while they were at anchor at Matuwa Island on the morning of June 1, 1944. This last action also proved deadly for the Herring. Japanese shore batteries scored two direct hits on the submarine's conning tower, sending her to the bottom of the Pacific with the loss of all aboard. Franklin Edginton had been a part of the crew for just 38 days.

The fete of the submarine was unknown at the time and the entire crew was reported missing in action. That was changed to presumed dead a year later, but it was not until January 1946, they were officially declared as killed in action. Edginton was one of seven students of Milton High School who lost their lives in World War II. His name appears on the Tablets of the Missing at Honolulu Memorial in Honolulu, Hawaii.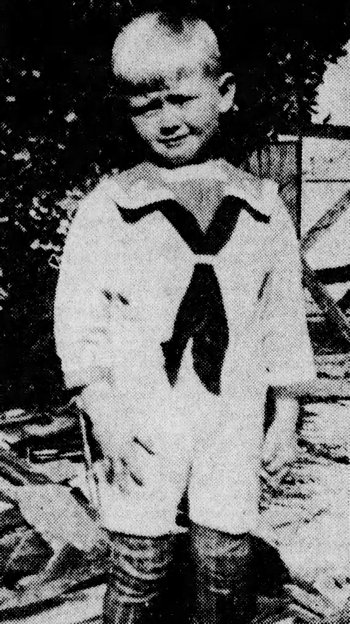 Franklin Edginton, aged 5
Thanks to Jack Morris for "discovering" Franklin Edginton
Information contained on the blog http://broadkillblogger.org/ was helpful in compiling this biography
Date Added: May 5, 2021
Baseball's Greatest Sacrifice is associated with Baseball Almanac
Baseball's Greatest Sacrifice is proud to be sponsored by