Cliff Kraemer
| | |
| --- | --- |
| Date and Place of Birth: | July 28, 1912 Westfield, NJ |
| Date and Place of Death: | March 16, 1945 near Honnef, Germany |
| Baseball Experience: | Minor League |
| Position: | Pitcher |
| Rank: | Technician Fifth Grade |
| Military Unit: | Company G, 311th Infantry Regiment, 78th Infantry Division US Army |
| Area Served: | European Theater of Operations |
Kraemer had pitched in the minors in 1935 and was 32 years old when he went to fight in Europe.
Clifford Charles Kraemer, the son of Charles and Mabel Kraemer, was born in Westfield, New Jersey on July 28, 1912. A left-hander, Kraemer was an outstanding pitcher with Cranford High School and hurled for the Cranford team in the local Union County Baseball League after graduating in 1932.

In 1935, aged 22, Kraemer was signed by the Portsmouth (Ohio) Pirates of the Class C Middle Atlantic League. Playing for manager Jake Pitler, Kraemer performed well enough during spring training to remain with the team when the season started on May 8. He also survived the squad being cut to 16 on May 28, and made a relief appearance against the Pittsburgh Pirates in an exhibition game at Portsmouth on June 3. However, his time as a minor league pitcher came to an end after six outings with Portsmouth and he was back with Cranford later the same month.

Kraemer continued to pitch for Cranford until joining Union County Baseball League rivals Westfield Hawks in 1939. By 1942, his last season with the Hawks, he was approaching 30 years of age, married to Mabel (nee Bates), living in Plainfield, New Jersey, and working for the National City Bank of New York.

On August 17, 1943, with the United States almost two years into the war, Kraemer entered military service. He trained with coastal artillery units at Orlando, Florida and Camp Davis, near Holley Ridge, north of Wilmington, North Carolina. He was back in Plainfield in June 1944, for a 10-day furlough with Mabel, before returning to Camp Davis. It was to be the last time he would see his wife.

In November 1944, Kraemer's outfit was transferred to the infantry and trained at Camp Gordon, Georgia. In February 1945, he was shipped overseas to Europe and served as a technician fifth grade with Company G, 311th Infantry Regiment, 78th Infantry Division.

In late Febraury 1945, the 78th Infantry Division crossed the Roer River and joined the offensive of the First and Ninth Armies toward the Rhine. Moving across open ground, dotted with little towns the Germans made every effort to stop the American advance. During this time, Herman Rush, another former minor leaguer with the 311th Infantry Regiment, was fatally wounded by a German sniper on March 2. Two weeks later, on March 16, 1945, Clifford Kraemer was killed in action near Honnef in Germany.

Kraemer was originally reported missing in action on April 2, but a War Department telegram received by Mabel on April 7, confirmed his death. A memorial service was held at Calvary Lutheran Church in Cranford, New Jersey on May 20, 1945.

Kraemer was originally buried at a military cemetery in Belgium, but his remains were among the first returned to the United States in 1947. Funeral services were held at the Memorial Funeral Home on November 15, 1947, attended by a firing party from Camp Kilmer, New Jersey. Burial took place at Scotch Plains Baptist Church Cemetery in Scotch Plains, New Jersey.

"Too far away from sight or speech.
But not too far for thought to reach.
Sweet to remember him who once was here.
And though absent is just as dear.

Aunt Emma and Uncle Jim.
Plainfield Courier-News, March 15, 1947.

| | | | | | | | | | | | |
| --- | --- | --- | --- | --- | --- | --- | --- | --- | --- | --- | --- |
| Year | Team | League | Class | G | IP | ER | BB | SO | W | L | ERA |
| 1935 | Portsmouth | Mid-Atlantic | C | 6 | 10 | - | - | - | 0 | 0 | - |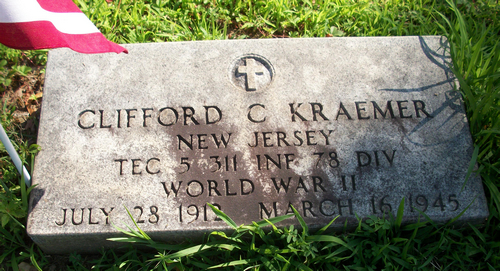 Cliff Kraemer's grave at Scotch Plains Baptist Church Cemetery in Scotch Plains, New Jersey
Thanks to Jack Morris for "discovering" Cliff Kraemer.
Date Added May 21, 2023
Baseball's Greatest Sacrifice is associated with Baseball Almanac
Baseball's Greatest Sacrifice is proud to be sponsored by