Art Hubbard
| | |
| --- | --- |
| Date and Place of Birth: | March 30, 1877 Pittsburgh, PA |
| Date and Place of Death: | October 3, 1945 Chicago, IL |
| Baseball Experience: | Minor League |
| Position: | Unknown |
| Rank: | n/a |
| Military Unit: | Not in military service |
| Area Served: | n/a |
Arthur B. "Art" Hubbard was born on March 30, 1877, in Pittsburgh, PA. Hubbard played baseball at Des Moines College, where he met Henry Disch. Disch told his brother, Billy, about Hubbard's baseball talents and Billy got Hubbard to move to Austin, Texas in 1901, to play for St. Edwards College. Billy Disch was a minor league outfielder who also coached the St. Edwards baseball team. In 1904, Disch was playing for the Fort Worth Panthers in the Class C Texas League, and Hubbard signed a pro contract with that team, appearing in 94 games and batting .266. The following season he played 93 games and batted .219. In 1906, Hubbard joined the Lakes Charles Creoles of the Class C South Texas League and ended his playing career the following year with the Creoles when they moved to the Class D Gulf Coast League. (Billy Disch went on to serve as the head baseball coach at the University of Texas at Austin from 1911 to 1939, and as an advisory coach for 12 seasons afterwards. He was often referred to as the Connie Mack of college baseball).

Hubbard and his wife, Selma, lived in Austin, Texas, for many years where he worked as a farmer and cedar wood cutter. He also bought an old gas station and, in 1934, converted it into a popular tavern in the mid-Thirties called the Baseball Inn, and packed it full of his memorabilia, including baseballs signed by Babe Ruth, Dizzy Dean, and Honus Wagner.

In 1945, suffering from cancer, Art Hubbard went to the hospital attached to the University of Chicago, for what he hoped would be life-saving treatment. As it turned out, on April 26, 1945, Hubbard was used as a human guinea pig and unknowingly injected with a lethal dose of plutonium. He died on October 3, 1945, aged 68. Two other patients at the hospital were also injected with plutonium as part of the Manhattan Project (research and development undertaken during World War II that produced the first nuclear weapons) study to see the effects of radioactivity on the human body. Details of these experiments were not released until 1993. In 1996, lawsuits were filed and eventually settled relating to the 18 known dead from the experiment.
Hubbard is buried at Mount Calvary Cemetery in Austin, Texas.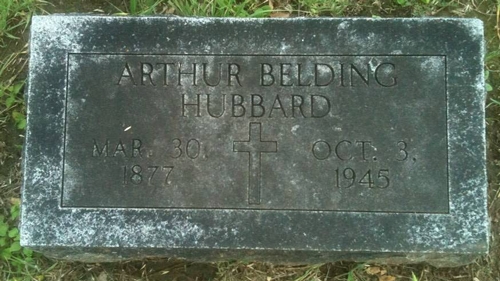 Thanks to Davis O. Barker for "discovering" the story of Art Hubbard.
Date Added: May 18, 2017
Can you add more information to this biography and help make it the best online resourse for this player? Contact us by email
Read Baseball's Greatest Sacrifice Through The Years - an online year-by-year account of military related deaths of ballplayers
Baseball's Greatest Sacrifice is associated with Baseball Almanac
Baseball's Greatest Sacrifice is proud to be sponsored by