Baseball's Greatest Sacrifice Through the Years
Pre-Word War I
The Origins of Baseball and the Start of the Civil War
Whilst baseball's true origins maybe shrouded in uncertainty, we can at least confirm that in 1846, New York businessman Alexander J. Cartwright, reworked the rules of existing ballgames to produce a sport that closely resembles baseball as we know it today. The first game to be played by these rules was held at Elysian Fields in Hoboken, New Jersey that same year.

Just 15 years later, in 1861, baseball players filled the ranks of the military for the first time as America found itself gripped by civil war. Since that first game in Hoboken, baseball had spread throughout New England and the Midwest. Cartwright himself had taken the game to California and Hawaii, and the sport was growing in popularity in Virginia, the Carolinas and the ports of New Orleans and Galveston, Texas.

The civil war meant that baseball's fledgling organisations suffered (the number of nationally recognised clubs fell from 62 to 28) while military baseball boomed. Troops of both the North and South armies played organised games and pick-up games around their camps and there is evidence that baseball was also played in prisoner-of-war camps.

The war lasted until May 1865, and in four long years, over 600,000 American lives were lost. It's safe to say that this was the first time baseball players made the ultimate sacrifice for their country. Unfortunately, no records have been uncovered to name these inaugural heroes.

American Indian Wars

During and after the Civil War, there were a number of conflicts with Native Americans in the western United States. As baseball gained in popularity during this time, it is fair to say that a number of ballplayers would have lost their lives during this time. An 1880s photograph of the Jefferson Barracks, Missouri, baseball team includes mention of two of the players (who were serving with the famous 7th Cavalry) were among the 25 troops killed at the Wounded Knee Massacre of December 29, 1890, the last battle of the American Indian Wars. Unfortunately, their names have not become known.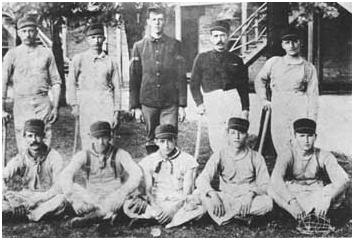 Jefferson Barracks baseball team
Spanish-American War

In Florida, in December 1897, the baseball team of the battleship USS Maine defeated a team from the cruiser USS Marblehead, 18-3, to earn the title Navy baseball champions. Led by engine stoker and pitcher William Lambert of Hampton, Virginia, the only black player on the team who was described as "a master of speed, curves, and control," the team's next game was scheduled with an all-star squad in Havana, Cuba.

On February 15, 1898, Marine Corps Fifer C.H. Newton, the ship's bugler and the ball team's third baseman, blew taps as the Maine bobbed listlessly in Havana Harbor. Shortly afterwards, the Maine blew up, killing 261 of the crew and all but the baseball team's right fielder, John Bloomer. In addition to Newton, the bugler, the ballplayers killed that evening were Ordinary Seaman William H. Gorman (second base) of Boston, Landsman Charles Hauck (centerfield) of Brooklyn, Landsman William L. Hough (first base) of New York, pitcher William Lambert, Apprentice First Class Benjamin L. Marsden (catcher) of Jersey City, New Jersey, Landsman John Merz (shortstop) of Brooklyn, and Landsman William H. Tinsman (leftfield) of East Deering, Maine. Also killed were the team's manager Gunner's Mate First Class Charles F. W. Eiermann of New York, and Seaman Leo Bonner of New York, the manager's assistant. In addition, to lose his life aboard the Maine that night although not a member of the ship's team was Yeoman Third Class John H. Shillington of Chicago, who played shortstop with Notre Dame.

Two months after the loss of the USS Maine, on April 25, 1898, saw the start of the Spanish-American War, during which the rallying cry, "Remember the Maine! To Hell with Spain!" was frequently heard. Minor league catcher Leonard Weikart died from illness in Cuba on August 1, 1898. He was possibly the first former professional player to lose his life in military service. On December 30, 1898, Bill Stearns, a Civil War veteran who pitched for the National Association's Washington Nationals between 1872 and 1875, died from illness that had occurred while serving with Company H, First District of Columbia Volunteers in Puerto Rico in August/September of that year.
USS Maine baseball team
World War I
On July 28, 1914, future Hall of Famer Sam Crawford drove in three of Detroit's runs as the Tigers snapped the Philadelphia Athletics 12-game winning streak, with a 4-3 win. That same day marked the start of the First World War with the Austro-Hungarian invasion of Serbia. The German invasion of Belgium, Luxembourg and France soon followed, with Canada entering the war as part of the British Empire on August 5. For the next three and a half years, war raged across Europe as the United States pursued a policy of non-intervention, avoiding conflict while trying to broker peace. Baseball continued pretty well unscathed during these years. The Boston Braves clinched the World Series in 1914, the Red Sox took the title the following year, and again in 1916 with a young pitcher named Babe Ruth making his World Series debut and hurling 14 innings in Game 2 to beat Brooklyn, 2-1.

Things changed, however, after the sinking of seven American merchant ships by German submarines at the start of 1917. President Woodrow Wilson called for war against Germany, which Congress declared on April 6, five days before opening day of the major league baseball season. It was pretty much an unscathed season for the big leagues although attendance figures dropped from 6.5 million in 1916 to under 5 million in 1917, and the Selective Service Act, which began in the summer and drafted 2.8 million men before the war's end, had a small impact on team line ups that year.

But as the United States became more deeply involved in the war, an air of uncertainty floated over ballparks around the country in 1918. Major league officials chose to follow a business-as-usual approach at the start of the season and were shocked in mid-July when Secretary of War Newton Baker and General Enoch Crowder, director of the military draft, issued a "Work or Fight" order forcing all able-bodied men of draft age out of non-essential employment and into military service or war-related jobs. Baseball, they said, was a non-essential occupation. As a result, players were given until September 1 to comply and both leagues voted to end their seasons on Labor Day (September 2). The World Series, which began on September 5, was won by the Boston Red Sox for the fourth time that decade.

Two hundred and fifty major leaguers entered military service during World War I, while many others found war-related work. The minor leagues were virtually shut down and all baseball-related deaths for the war occurred during 1918. The first was on April 6, when Newt Halliday, a first baseman with the Pittsburgh Pirates, who had made his big league debut in 1916 and struck out in his only plate appearance, died from tuberculosis while serving with the Navy at Great Lakes, Illinois. On May 24, major league baseball lost another youngster when Ralph Sharman, an outfielder with Connie Mack's Philadelphia Athletics, drowned during a training exercise at Camp Sheridan, Alabama. Four days later, baseball suffered its first fatality on the battlefields of Europe. Second Lieutenant Milt Drumm played minor league baseball from 1910 to 1914, batting a league-high .341 with the Nebraska City Forresters of the MINK League in 1912. Drumm was killed in action at Cantigny, France on May 28.

Sammy Reid was baseball's next casualty. A former captain of the Princeton baseball team, he was killed in action at Chery-Chartreuve, France on August 22. On August 31, minor league infielder Nick Giacomo was killed in action in France, while another minor leaguer, John Rice, died from illness the following month. A further four bush leaguers died during September. John Cooper, a catcher who had played in the White Sox organization, died in an accident while serving in France on September 2. Marcus Milligan, a pitcher in the Pirates farm system, was fatally injured in a plane crash on September 4, while serving with the US Army Air Service. On September 29, Leroy Bruff, a Blue Ridge League catcher, became the third minor leaguer to be killed in action, losing his life during the Meuse-Argonne offensive. And that offensive also claimed the life of another Blue Ridge League player the following day, Ed Moore, a catcher with Chambersburg.

October 1918 saw the most baseball-related deaths. On October 2, Lieutenant James O'Neil, a ball player at Columbia University, died of wounds received in combat in France. Three days later, major league baseball suffered its most prominent wartime casualty. Eddie Grant, the Giants third baseman, was among the first to enlist when the United States entered the war in 1917. During the Meuse-Argonne offensive, all of Grant's superior officers were killed or wounded, and he took command of his troops on a four-day search for the Lost Battalion (nine companies of the 77th Division, roughly 554 men, isolated by German forces). During the search, Captain Grant was killed by an exploding shell. He is buried at the Meuse-Argonne American Cemetery in Romagne, France.

On October 6, 1918, Jack Inglis, a minor league catcher and one of the greatest basketball players of the first half of the 20th century, died from Spanish flu while on leave from the Navy. The Spanish flu was first detected at an army barracks in Kansas in March 1918. It spread quickly killing 675,000 Americans and between 20 and 40 million worldwide within months. Baseball-related victims included major leaguers Harry Glenn and Larry Chappell; minor leaguers Guy Milliman, Harry Acton, Dutch Hiner and Ralph Worrell; and Negro Leaguers Norman Triplett and Specks Webster. On the battlefields of France, the lives of major leaguers Bun Troy, minor leaguers Orville Kilroy and Leo Dolan, and Matt Lanighan, a prominent semi-pro player from Lockport, New York, were all lost during October. On October 12, outfielder Tom Burr, who made one appearance for the Yankees in 1914, was killed in a plane crash in France, while Harry Chapman, who played in the big leagues for five years as a catcher, died on October 21, from battlefield wounds received in France while hospitalized at Camp Clark, Nevada.

On November 11, 1918, an armistice with Germany was signed but it was also too late for Pacific Coast League third baseman Len Hollywood, who was killed in action on November 3. The war to end all wars had finally ended with over 116,000 Americans killed and nearly 65,000 Canadian servicemen, including eight major league players, at least 17 minor leaguers and two Negro League players.
Between the Wars
Coming soon......

Baseball's Greatest Sacrifice is associated with Baseball Almanac

Baseball's Greatest Sacrifice is proud to be sponsored by