Harry O'Neill
| | |
| --- | --- |
| Date and Place of Birth: | May 8, 1917 Philadelphia, PA |
| Date and Place of Death: | March 6, 1945 Iwo Jima |
| Baseball Experience: | Major League |
| Position: | Catcher |
| Rank: | First Lieutenant |
| Military Unit: | 25th Weapons Company, 4th Marine Division, US Marine Corps |
| Area Served: | Pacific Theater of Operations |
In 1939, Harry O'Neill appeared in just one game for the Philadelphia Athletics, but he would go down in history as one of only two major league players to be killed in World War II.
Harry M. O'Neill was born in Philadelphia, and grew up in Darby, Pennsylvania. He was a standout athlete at Darby High School, playing baseball and football, and captained the basketball team to the Kiwanis tournament title. Upon graduation in 1934, he progressed to Malvern Prep School, Pennsylvania, before entering Gettysburg College in Pennsylvania - a private four-year liberal arts institution - where he studied history.

As a freshman at Gettysburg, O'Neill was an outstanding center with Charlie Gelbert's football team and led Hen Bream's basketball squad at center. Gelbert was, at the time, a shortstop with the St. Louis Cardinals and coached at Gettysburg during the off season. Joining the varsity teams in 1937, O'Neill played center in football and basketball. The following spring he was one of three Gettysburg catchers who guided the pitching staff to an 11-4 record.[1]

O'Neill's solid play and sure-footed kicking helped the Gettysburg Bullets to the Eastern Pennsylvania Intercollegiate football championship in 1938. "Harry O'Neill ... gave the old grads high blood pressure when he calmly booted a 39-yard field goal on the last play before halftime," it was announced following Gettysburg's 16-8 win over Franklin & Marshall in October 1938.[2] He also led the basketball team to championships in 1937 and 1938, and helped baseball coach Ira Plank (brother of former major leaguer Eddie Plank) capture the 1938 Eastern Pennsylvania Intercollegiate baseball title. "Porky O'Neill reached the status of a hero here today," claimed a local paper after a particularly wellearned win against Penn Sate, when his single in the ninth inning drove one run home and enabled the Gettysburg Bullets to nose out a stubborn Nittany Lion in nine grueling innings, 5-4."[3]

When it came time to graduate in 1939, the 6-foot-3, 205-pound catcher was a much sought-after athlete and rumors that he would sign with the Washington Senators were commonplace, but it was Connie Mack's Philadelphia Athletics that got his signature on a contract on June 5, 1939. Instead of taking a minor league assignment, O'Neill spent the rest of the season with Philadelphia as their third-string catcher, and made his only major league appearance on July 23, 1939, as a late-inning defensive replacement for Frankie Hayes as the Athletics were trounced by the Detroit Tigers, 16-3. O'Neill caught Chubby Dean in the ninth inning and did not make a plate
appearance.

During the off-season he joined the faculty of Upper Darby Junior High School as a history teacher and three-sport coach. When the school year concluded, the 23-year-old made a brief return to the professional game, joining the Harrisburg Senators of the Class B Interstate League. As a back-up catcher, O'Neill played just 16 games and batted .238 with nine RBIs. The all-around athlete, however, did not end his playing days on the sports field at that point. Interwoven with his teaching career and scholastic coaching assignment, O'Neill played semi-pro basketball with the Harrisburg Caissons of the Tri-County League during the winter of 1939-1940, and was back with the team as playermanager for the 1940-1941 campaign. He was also playing football with Clifton Heights of the Eastern Pennsylvania Conference in 1941, and made a benefit game appearance with the Delco All-Stars in October of that year.

Two months later, the Japanese attacked Pearl Harbor and all future plans were changed forever. At the beginning of September 1942, O'Neill enlisted with the Marines Corps and attended the Marine Officers' Training School at Quantico, Virginia. Graduating as a second lieutenant, he was assigned to the newly formed 4th Marine Division and began a period of intensive training at Camp Pendleton, California.

In January 1944, O'Neill was promoted to first lieutenant as the 4th Marine Division prepared to participate in the Pacific war. They would soon be leaving the shores of the United States, and O'Neill's young wife, Ethel McKay O'Neill, traveled from their home in Colwyn, Pennsylvania, to be with him in California. On January 13, 1944, she returned home as the division shipped out for the Pacific Theater.

With the division's 25th Weapons Company, O'Neill made major amphibious assaults at Kwajalein later that month, then at Saipan in June. On June 16, 1944, he suffered a shell-fragment wound to the right arm on Saipan, and was sent back to a hospi tal ship to recover. He returned to active duty on July 22, 1944, and participated in the assault on Tinian. On February 19, 1945, the division landed at Iwo Jima and moved inland, over extremely difficult terrain. After an intense Allied artillery
bombardment of enemy positions on March 5,1945, elements of the 3rd, 4th, and 5th Marine Divisions attacked on the morning of March 6. Fighting was heavy throughout the day with the enemy offering stiff resistance and subjecting the Marines to continuous small arms and mortar fire. By 5:30 P.M. on March 6, the Marines had made small local gains, but First Lieutenant O'Neill was dead. He had been killed by a sniper. O'Neill was one of 92 officers of the 4th Marine Division who lost their lives on Iwo Jima.[4]

"We are trying to keep our courage up, as Harry would want us to do," wrote his mother, Susanna, in a letter to Gettysburg College shortly after her son's death. "But our hearts are very sad and as the days go on it seems to be getting worse. Harry was always so full of life, that it seems hard to think he is gone."[5]

O'Neill was buried at the Iwo Jima cemetery which eventually bore nearly 7,000 Marines. In July 1947, his remains were returned to the United States and buried at Arlington Cemetery in Drexel Hill, Pennsylvania. In 1980, he was inducted in the Hall of Athletic Honor at Gettysburg College for baseball, football and basketball.
| | | | | | | | | | | | | |
| --- | --- | --- | --- | --- | --- | --- | --- | --- | --- | --- | --- | --- |
| Year | Team | League | Class | G | AB | R | H | 2B | 3B | HR | RBI | AVG |
| 1939 | Philadelphia | American | MLB | 1 | 0 | 0 | 0 | 0 | 0 | 0 | 0 | .000 |
| 1940 | Harrisburg | Interstate | B | 16 | 42 | 6 | 10 | 1 | 0 | 1 | 9 | .238 |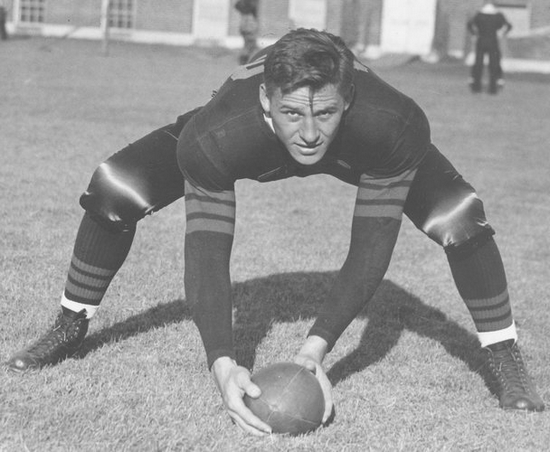 Harry O'Neill at Gettysburg College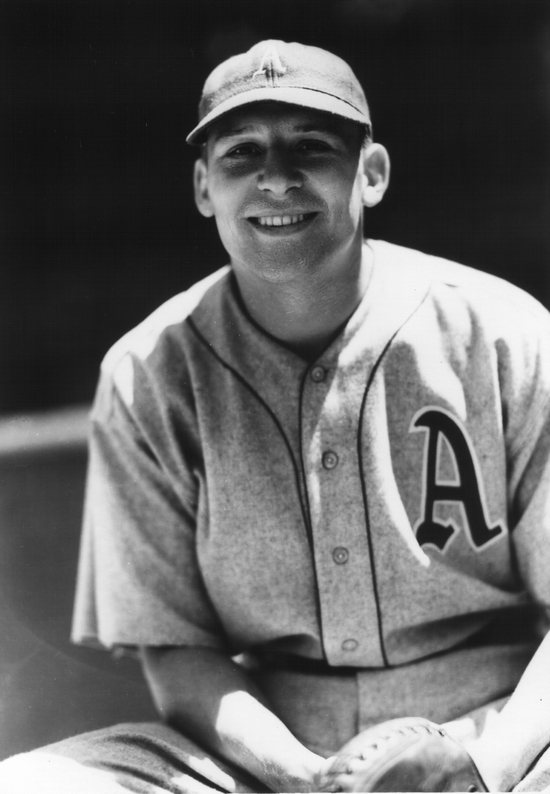 Harry O'Neill with the Philadelphia Athletics in 1939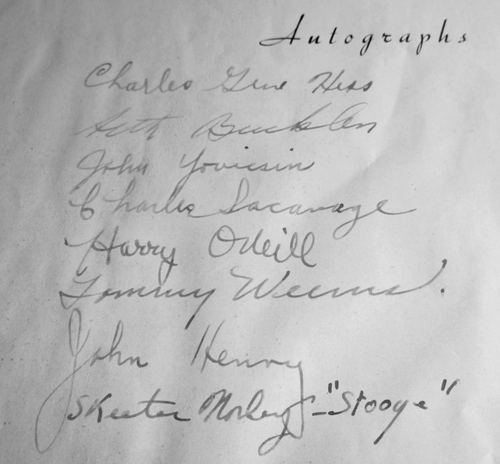 A rare example of Harry O'Neill's signature along with those of some of his Gettysburg College teammates. Courtesy of the Nathan Wagner Collection.
Notes

1. The other two catchers were Don Sassaman and Luke Yunaska, who both went on to brief minor league careers.
2. Unknown press clipping, dated October 23, 1938.
3. Unknown clipping, dated May 4, 1938.
4. Figures taken from the Official Website of the Fourth Marine Division Association, www.fighting- fourth.com/Iwo.htm. Retrieved on January 24, 2009.
5. Letter to Henry Bream from Susanna O'Neill, May 31, 1945. Gettysburg College, Musselman Library, Special Collections and College Archives. MS064: The Papers of Henry T. Bream.
Date Added January 23, 2012 Updated May 6, 2014
Baseball's Greatest Sacrifice is associated with Baseball Almanac
Baseball's Greatest Sacrifice is proud to be sponsored by