Chet Romanowski
Date and Place of Birth:
December 23, 1923 Hamtramck, MI
Date and Place of Death:
July 10, 1944 nr. Mercey, France
Baseball Experience:

Minor League

Position:
Outfield
Rank:

Private

First-Class
Military Unit:
Second Platoon, Company F, 134th Infantry Regiment, 35th Infantry Division US Army
Area Served:
European

Theater of Operations
Chet Romanowski, the youngest player on the 1941 Paragould Browns, at age 17, was the tragic victim of a usually harmless behavior disorder.
Chester J. "Chet" Romanowski, the son of Polish immigrants Joseph and Sophie Romanowski, was born on December 23, 1923 in Hamtramck, Michigan, just north of Detroit. Joseph was a machinist and trimmer in Detroit's auto industry and young Chet attended Pershing High School where he was a star outfielder.

As well as playing high school baseball, Chet played for the Denby Post American Legion team in 1940 and was with the Pepsi-Cola team in Class A sandlot baseball with the Detroit Amateur Baseball Federation in 1941. The Pepsi-Cola team was managed by Joe Kritch, who had played minor league baseball in the St. Louis Browns organization in the late 1930s and was a scout for the Browns.

Upon graduation from high school in 1941, Kritch recommended Chet to the Browns and he was signed at the beginning of July to play for the Paragould Browns of the Class D Northeast Arkansas League. At 17, the left-handed hitting and throwing outfielder was the youngest player on the Paragould squad and he appeared in 56 games, playing alongside future big leaguers Ribs Raney, Andy Anderson, Babe Martin, Hooks Iott and Marlin Stuart. Chet batted .217 with two home runs and was assigned to the Youngstown Browns of the Class C Middle-Atlantic League at the end of the season. He was then assigned to the Huntington club of the Class D Mountain State League in September, presumably for next season.

It's not known why Chet didn't return to organized baseball in 1942. Between the summer of 1941 and by the time he registered for the draft in June 1942, the United States had been thrown into a global conflict and Chet was employed at Fisher Body Plant 21 at Piquette Avenue and St. Antoine Street in Detroit, working in the aircraft unit. He remained in this employment until entering military service with the Army in January 1943.

Chet was 19 years old when he joined the 134th Infantry Regiment of the 35th Infantry Division at Camp Rucker, Alabama. During that summer, as well as learning to be a soldier, Chet starred on the Regiment's division championship baseball team, but bats, balls and gloves were packed away by the time he participated in the Tennessee maneuvers in November 1943. In cold and wet conditions the Division engaged in two months of realistic battle situations, before moving on to Camp Butner, North Carolina in January 1944. In May of that year, the regiment moved to a staging post on the east coast and departed New York for Europe aboard the transport ship SS General A. E. Anderson on May 12. Arriving in England two weeks later they had a short rest period in Cornwall before leaving for France and landed at Omaha Beach on July 5, 1944.

The 134th Infantry Regiment was assembled near Mercey, France for the purpose of organization and preparation for combat, but on the morning of July 10, a tragic accident ended Chet's life. "At about 0130…I heard the approach of footsteps to my right," explained Staff Sergeant Harold D. Chace, who was on guard duty that night. "I challenged, hollering halt three times at intervals. It was very dark outside but I could see the outline of someone. He started to crouch after the first halt and after each succeeding halt seemed to crouch a little more. After the third challenge, and when the individual didn't answer, I shot. He didn't drop with the first shot so I fired again."

Chace then ran to Captain Joseph B. Scully, his company commander, and told him that he had shot a German and believed there were more of them in the hedgerows. Captain Scully got a detail of men together and advanced on the hedgerows but found no one. Upon their return they found the lifeless body of Chet Romanowski, just a short distance from his pup tent. "Upon examination," explained Captain Scully, "I found that he was shot twice, once through the heart, and once just a little below the heart."

Private First-Class Romanowski was just 20 years old. "It is my opinion," add Captain Scully, "inasmuch as Romanowski used to be a professional [baseball player], that it wasn't a question of frozen reflexes but rather that Romanowski must have been walking in his sleep. Romanowski was a sleep-walker as evidenced during the maneuvers in Tennessee. It was an unfortunate accident but unavoidable under the circumstances, as the guard had made proper challenge before firing."

Following an investigation, Chet's death was classified as Killed in Action and he was posthumously awarded the Purple Heart. On July 5, 1945, with the war in Europe at an end, the 134th Infantry Regiment dedicated its ball park near Niedermendig, Germany, as Romanowski Field, in honor of the first soldier of the 134th to die in France.

In April 1948, Chet's remains were returned from their resting place in Europe and buried at Mount Olivet Cemetery in Detroit.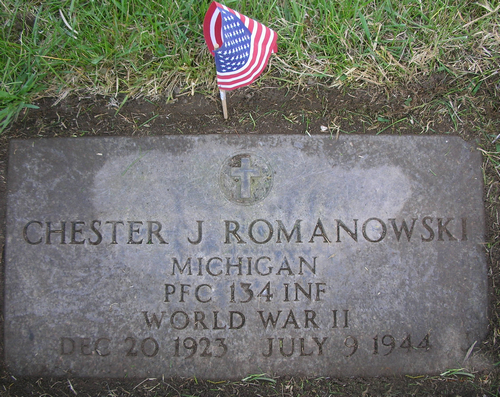 Note date of death is incorrect
Date Added July 26, 2021
Thanks to Roberta Russo at the 134th Infantry Regiment website http://www.coulthart.com/134/ for help with this biography and to Jack Morris for "discovering" Chet Romanowski.
Baseball's Greatest Sacrifice is associated with Baseball Almanac
Baseball's Greatest Sacrifice is proud to be sponsored by