Jack Wolpe
| | |
| --- | --- |
| Date and Place of Birth: | January 15, 1942 Siauliai, Lithuania |
| Date and Place of Death: | August 3, 1967 Phu Bai, A Shau Valley, Thua Thien Province, South Vietnam |
| Baseball Experience: | Amateur |
| Position: | Pitcher |
| Rank: | Lance Corporal |
| Military Unit: | A Company, Third Reconnaissance Battalion, Third Marine Division |
| Area Served: | Vietnam |
"Wolpe was the type of youth who brought joy to the baseball program. He was cooperative, determined and appreciative. [He] volunteered to fight for his adopted country. He gave his best right to the end."
Bo Gill, Newburgh Evening News sports editor - August 19, 1967

Jack Wolpe was born in Siauliai, Lithuania on January 15, 1942. This northern Lithuanian city was occupied by the Nazis in June 1941, and around 700 Jews were shot in nearby woods during the first weeks after having been forced to dig their own graves.

Jack's parents, Isaac and Celia, were Jewish. Shortly after their son's birth, they gave the baby to a Christian family for protection and spent the next four years in a Nazi concentration camp. Miraculously, they both survived the war and the horrors of the camp, and were soon to be reunited with their young son.

The Wolpe family emigrated to the United States in 1951 and settled in Newburgh, on the bank of the Hudson River about 50 miles north of New York city. Living at 66 Courtney Avenue in the close-knit Heights neighbourhood, Isaac and his brother, Judel, founded the Lenack Novelty Company, a successful pocketbook manufacturing enterprise.

Jack Wolpe attended Newburgh Free Academy where he showed great skill as an athlete, playing baseball, football and basketball. Described by schoolmate, Jack Murphy, as "close to being the ideal all-American boy: intelligent, ambitious, popular, handsome, well-built, tough, a star athlete and yet possessed of a certain modesty," he captained the football team in 1960 and was named top DUSO pitcher that year, earning the Kenneth S. Davis award. Behind Wolpe's outstanding pitching, Coach George J. Balcanoff's NFA Bombers were undefeated in DUSO play in 1960 and 1961, winning 18 games. Wolpe finished his senior year (1961) with a 4-0 record. On May 1, he hurled a one-hitter against Port Jervis, striking out 11 and walking one in the 9-0 victory. He retired the first 12 batters in a row and drove in five runs with a double and a single. On May 22, in his last high school game, he beat Middletown, 2-0, with a two-hitter.

Wolpe also played American Legion baseball and in 1958, aged 16, he was a member of the Colt All-Stars, one of Newburgh's most successful baseball teams. He was named the Colt League Player of the Year that season and finished with an ERA of just 0.57 and a place in the regionals. In the opening game of the regional championships, Wolpe hurled a two-hitter over Eastchester, then defeated Wantagh, Bayside and Bergenfield along the way. During his 21 innings of regional play he yielded 14 hits, gave up five runs (only two earned), walked five and fanned 21, taking the All-Stars to the World Series. The team flew from LaGuardia Field to Chicago, then took an Ozark Airlines flight to Springfield, Illinois, where the World Series was held that year. Against tough competition, they finished fifth in the eight-team field. Wolpe pitched 10 innings, giving up 14 hits, 10 runs (eight earned) as he walked two and struck out seven.

During the summer of 1961, Wolpe played for the Newburgh Rookie All-Stars in the New York-New Jersey League. This league was for 17 to 23 year-olds and consisted predominently of college players. On August 15, the Rookie All-Stars played the New York Yankee Rookies in an exhibition game, and before a crowd of 250 at Newburgh's Recreation Park, Wolpe put on a dazzling show as he held the Yankee Rookies to just one hit during his five inning stint.

Wolpe spent 1962 with the Rockets in the Newburgh Rookie League and pitched for the Newburgh Rookie All-Stars in the Middle Atlantic League in 1963. In 1964, he was again pitching for the Rockets in the Newburgh Rookie League, and on June 23, he hurled a 4-1 two-hitter against the Atoms, allowing just one base on balls and striking out six.

But Wolpe's baseball days were behind him in 1965. The 23-year-old volunteered for military service with the Marines and completed recruit training at Marine Corps Recruit Depot, Parris Island, South Carolina in March 1965.

Assigned to A Company, Third Reconnaissance Battalion of the Third Marine Division, Lance Corporal Wolpe served two tours in Vietnam. On August 1, 1967, Jack's reconnaissance team were assigned the mission of gathering intelligence information in an area south of Phu Bai in the southern end of the infamous A Shau Valley, Thua Thien Province, South Vietnam. Wolpe was one month away from discharge and was looking forward to embarking on a world tour with his mother, who was waiting for him in Florida.

Lifted to the area by helicopter they had been patrolling for one day. On the evening of the second day they came under hostile fire and an extraction of the patrol was set up for the following morning. With the first light of dawn on August 3, 1967, the rescue helicopters were deployed to the area. The first helicopter, a Boeing-Vertol CH46A Sea Knight, entered the landing zone and began the extraction of the reconnaissance team. As it began to depart it took a heavy volume of enemy fire, exploded and crashed back to the ground. Jack Wolpe, together with Hospital Corpsman James P. McGrath, Private First Class John B. Nahan and Corporal Thomas A. Gopp, the Sea Knight's crewchief, died instantly. Another helicopter soon arrived to collect the survivors but due to heavy enemy fire it was impossible to recover any bodies. On August 6, 1967, the Third Marine Division chaplain conducted memorial services in their honor at the division chapel.

"Jack served with our company since May 1967," wrote his commanding officer, Captain C.R. Ariola. "He made friends quickly. His cheerful disposition and devotion to duty won for him the respect of all who knew him."

Jack Wolpe's mother, Celia, was devastated by the news and refused to accept the death of her only child. She turned to the Red Cross to see if he was being held prisoner by the North Vietnamese, refused to allow a memorial service to be held and stopped opening mail addressed to her from the Marine Corps, returning the letters to Washington unopened.

Although no memorial service was ever held for Jack during Celia's lifetime, a prayer service was held for him by the Temple Hill Detachment Marine Corps League of Newburgh, on August 21, 1967, conducted by Detachment Chaplain Dave Thom, and the Jack Wolpe Memorial PONY League Tournament was staged at the Tarr Oval in Newburgh in 1972.

Some years later, Michael Krawetz, Vietnam veteran and former classmate of Wolpe, envisioned a memorial to the fallen hero and spearheaded a campaign which eventually brought about a monument dedicated to all men in Orange County who died in World War I, World War II, Korea and Vietnam. The memorial, created by New Windsor sculptor Richard Masloski, was unveiled in 1988. Krawetz, who died two days before the memorial's third anniversary, has a bench nearby in his honor.

Almost 30 years after Jack Wolpe's death, the crash site was examined by JTF-FA (Joint Task Force-Full Accounting) and human remains were discovered and repatriated on June 8, 1994. On July 10, 2001, the Defense Department announced that individual remains from all four missing men had been positively identified, but this news came too late for his mother. Celia, who had moved to Miami Beach, Florida, passed away in 1999. A memorial service was held at Arlington National Cemetery on November 9, 2001 to inter the remains of Jack Wolpe, Tom Gopp Jim McGrath and John Nahan.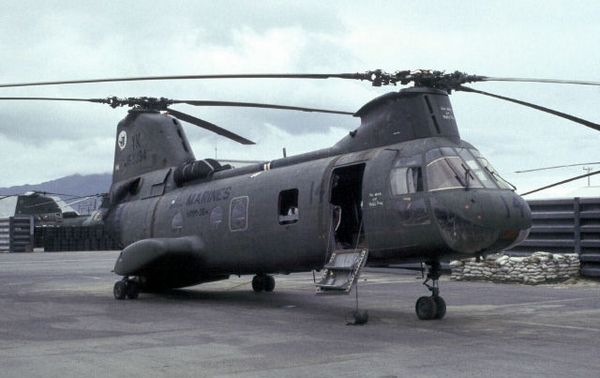 A Boeing-Vertol CH46A Sea Knight helicopter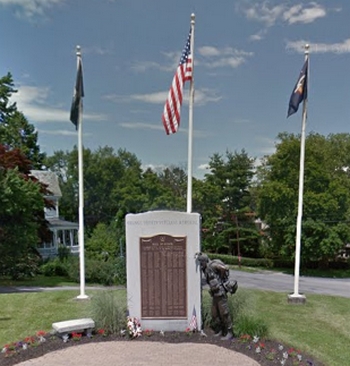 The Newburgh War Memorial on LeRoy Place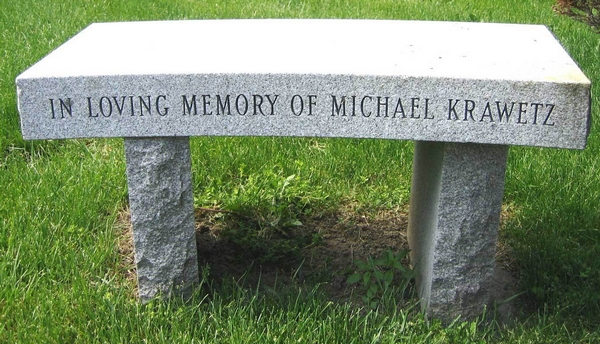 The bench dedicated to Michael Krawetz at the Newburgh War Memorial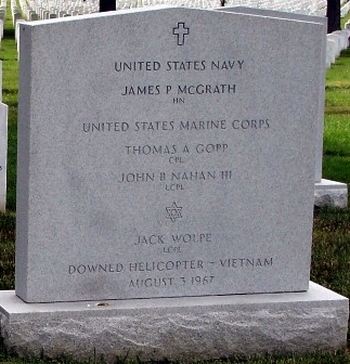 Jack Wolpe's final resting place at Arlington National Cemetery in Washington, DC
Sources:
Newburgh Evening News, April 27, 1961
Newburgh Evening News, May 2, 1961
Newburgh Evening News, May 16, 1961
Newburgh Evening News, May 23, 1961
Newburgh Evening News, July 22, 1961
Newburgh Evening News, August 16, 1961
Newburgh Evening News, June 15, 1962
Newburgh Evening News, June 21, 1963
Newburgh Evening News, June 23, 1964
Newburgh Evening News, March 19, 1965
Newburgh Evening News, August 14, 1967
Newburgh Evening News, August 15, 1967
Newburgh Evening News, August 19, 1967
Newburgh Evening News, August 8, 1972
Rome News-Tribune, September 10, 1985
Newburgh Evening News, October 3, 1985
Newburgh Evening News, December 6, 1985
Newburgh Evening News, March 6, 1986
Newburgh Evening News, June 26, 1986
Newburgh Evening News, August 3, 1986
Newburgh Evening News, August 4, 1986
Newburgh Evening News, May 29, 1990
http://taskforceomegainc.org/w417.htm
http://www.arlingtoncemetery.net/jwolpe.htm
http://www.virtualwall.org/dw/WolpeJx01a.htm
http://www.nfayearbooks.com/obit/61jack_wolpe61.html
Date Added: January 1, 2014
Can you add more information to this biography and help make it the best online resourse for this player? Contact us by email
Read Baseball's Greatest Sacrifice Through The Years - an online year-by-year account of military related deaths of ballplayers
Baseball's Greatest Sacrifice is associated with Baseball Almanac
Baseball's Greatest Sacrifice is proud to be sponsored by