Mark Vanderheid
| | |
| --- | --- |
| Date and Place of Birth: | February 11, 1949 Tonawanda, NY |
| Date and Place of Death: | June 28, 1968 Quang Tri, South Vietnam |
| Baseball Experience: | Amateur |
| Position: | Catcher/Outfield |
| Rank: | Lance Corporal |
| Military Unit: | B Company 1st Marines, 1st Marine Division, USMC |
| Area Served: | Vietnam |
Mark E. Vanderheid, the son of Mr. Edward and Mrs. Lillian Vanderheid, was born in Tonawanda, New York, on February 11, 1949. He played varisty football at Tonawanda High School and Little League baseball.

A catcher, Vanderheid was with the VFW team that won the Tonawanda American Little League title in 1961. He went on to play for Tondisco and the Yankees Babe Ruth League teams.

Vanderheid graduated from high school in 1967 and was employed by Acme Markets in North Tonawanda and Walters Service Station in Tonawanda. He also continued his affiliation with the Tonawanda American Little League by umpiring games.

He was just 19 years old when he enlisted with the Marine Corps on July 31, 1967. He was stationed at Parris Island, South Carolina, and Camp Lejeune, North Carolina, before being sent to Camp Pendleton, California at the start of the year. From California he was sent overseas to Vietnam on January 5, 1968, and served with B Company of the 1st Marines, 1st Marine Division.

On June 28, 1968, Lance Corporal Vanderheid was killed in action when he was hit by mortar shell fragments near Quang Tri, South Vietnam.

His body was returned to Tonawanda in July with services conducted by Reverand Lyle V. Newman at the John O. Roth Funeral Home. He was buried with military rites at Elmlawn Cemetery in that city.

On December 19, 1968, the following letter from the Vanderheid family appeared in the Tonawanda News:

Editor:
Recently there were two memorials given in memory of our son. Lance Corp. Mark Vanderheid who was
killed in Vietnam June 28, 1968.

It has been very heart-warming for our family to know Mark has been
loved and remembered in such wonderful ways.

In November, Terry West of the Tonawanda varsity football team was given the Mark Vanderheid award for the most spirited player. A family Mark spent many enjoyable hours with started the trophy fund, knowing his love of sports and others hearing of this memorial also contributed.

Mark not only loved to play in sports but liked teaching other young boys the games. He coached Little League and also umpired the games.

We talked of the war one day while he was home on leave (just a year ago) and. he said, "Mom, someone has to help those people over there. Those kids have never known anything but war and. if I can do even a small part to help them to some day just be kids and enjoy a childhood like I did, to be able to throw baseballs and footballs instead of hand grenades, I'll have
done my part."

Mark loved people. They didn't have to be young. He loved and respected all ages. We are pleased to know Mark will be remembered in that way.

The other memorial is the beautiful stained glass window in the Payne Avenue Christian Church. Words just
can't express the deep feeling within us as we sat in church listening to the memorial dedication service the young friends of Mark's had to dedicate the stained glass window that has been put in our church in memory of him.

How very proud you parents of these young men and women should be. We're proud of them! Very proud to say they were friends of our son.

In talking and listening to these young people you could hear them saying, "There is a God." They didn't carry banners or posters to proclaim this but worked on quietly remembering a friend in a very wonderful, beautiful way.

There is much to be said for these young people They have been thoughtful and kind and we are very
grateful to each and every one of them Many of them come to spend the day or evening with us. They will never know how much their visits have meant. We hope never to lose their friendships.

We would like so much to say the names of each and every youth and adult that has given of their efforts, time and money to make these lovely memorials but, I wouldn't want to forget even one name in trying to remember them all but I'm sure you know our love and gratitude to each and every one of you.

May God bless you all.

Mr. and Mrs. William Vanderheid

In May 1969, Tonawanda American Little League renamed its ballfield Mark Vanderheid Field.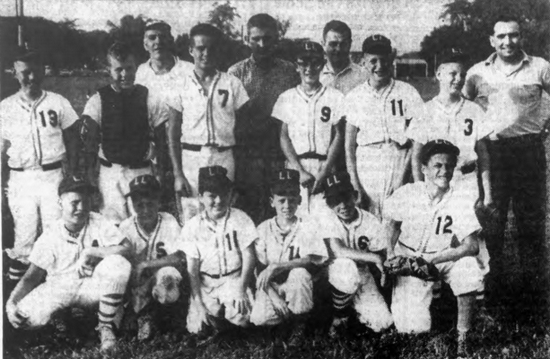 Mark Vanderheid (back row, second left) with the VFW Little League team in 1961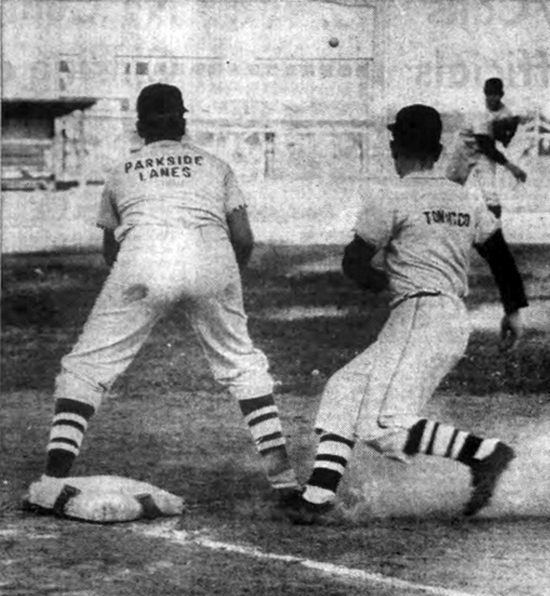 Mark Vanderheid returns safely to first base, playing for Tondisco in 1962

Mark Vanderheid (back row, second left) with the Tonawanda High School football team in 1965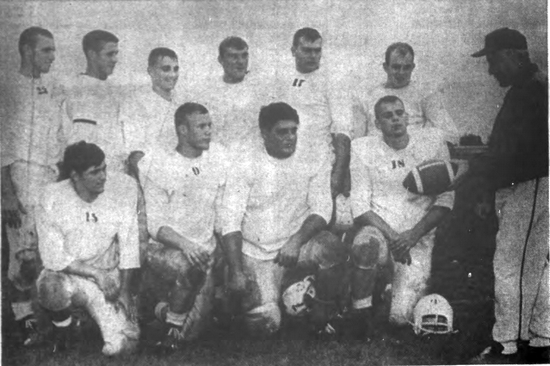 Mark Vanderheid (back row, far right) with the Tonawanda High School football team in 1966
Source
Tonawanda News, 1959 to 1971
Date Added: June 27, 2014
Can you add more information to this biography and help make it the best online resourse for this player? Contact us by email
Read Baseball's Greatest Sacrifice Through The Years - an online year-by-year account of military related deaths of ballplayers
Baseball's Greatest Sacrifice is associated with Baseball Almanac
Baseball's Greatest Sacrifice is proud to be sponsored by