James Pickett
| | |
| --- | --- |
| Date and Place of Birth: | October 30, 1928 North Platte, NE |
| Date and Place of Death: | November 30, 1950 Chosin Reservoir, Changjin, North Korea |
| Baseball Experience: | Minor League |
| Position: | Unknown |
| Rank: | Private First Class |
| Military Unit: | Company G, Third Battalion, 1st Marine Regiment, 1st Marine Division USMC |
| Area Served: | Korea |
James T. Pickett was born on October 30, 1928 in North Platte, Nebraska. Aged 19, Pickett was signed by the Brooklyn Dodgers in 1948 and assigned to the Ponca City Dodgers of the Class D KOM League.

Pickett never made it to Ponca City. He entered military service that year and served with the Marine Corps in Korea. A Private First Class with Company G, Third Battalion, 1st Marine Regiment, 1st Marine Division, James Pickett was killed by multiple fragmentation wounds on November 30, 1950, during the Battle of Chosin Reservoir - a brutal 17-day battle in freezing weather against Chinese forces.

He is buried at Fort McPherson Cemetery in Maxwell, Nebraska.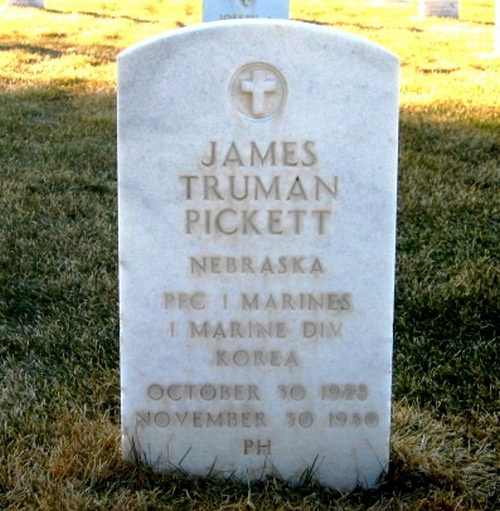 Thanks to John G. Hall for bringing James Pickett to my attention.
Date Added: February 2, 2014
Can you add more information to this biography and help make it the best online resourse for this player? Contact us by email
Read Baseball's Greatest Sacrifice Through The Years - an online year-by-year account of military related deaths of ballplayers
Baseball's Greatest Sacrifice is associated with Baseball Almanac
Baseball's Greatest Sacrifice is proud to be sponsored by