Billy McKeever
| | |
| --- | --- |
| Date and Place of Birth: | June 20, 1942 Pittfield, MA |
| Date and Place of Death: | July 29, 1963 Denton, TX |
| Baseball Experience: | Amateur |
| Position: | Outfield |
| Rank: | Private First Class |
| Military Unit: | 602 Medical Company US Army |
| Area Served: | United States |
William "Billy" McKeever, the son of Vincent and Margaret McKeever, was born in Pittsfield, Massachusetts on June 20, 1942. Billy was an outstanding athlete at St. Joseph's High School and captained both the baseball and basketball teams. Following graduation, he attended North Adams State College where he starred on the 1960-1961 basketball team before entering service with the Army.

McKeever was initially stationed at Fort Dix, New Jersey, then served with the 602 Medical Company at Fort Polk, Louisiana, and played on the baseball and basketball teams. On July 29, 1963, five members of the baseball team were returning to base in a government station wagon after a 3-game series at Fort Sill, Oklahoma (Fort Pol won the first game, 2-1 in 10 innings and the second game, 8-0, before dropping the third game, 4-3). On the Stemmons Expressway, west of the Dallas Drive intersection in South Denton, Texas, the vehicle was hit by a gust of wind, apparently a whirlwind, and thrown out of control. It struck a curb and rolled over twice.

Tony Lawrence, Marion Hughes and Sergeant David K. Leonard (the driver of the car and a former minor league pitcher in the Cardinals organization), suffered minor injuries. Al Roan and Ron McHugh, were both seriously injured and flown to Brooks General Hospital in San Antonio. Billy McKeever was thrown from the vehicle and pronounced dead on arrival at Flow Memorial Hospital in Denton. He was due to be released from military service in 30 days and had enrolled at the college again for the coming year.

A High Mass of Requiem was held at St. Joseph's Church in Pittsfield, with burial at St. Joseph's Cemetery.

In October 1963, the McKeever Memorial Booster Club was organized for the purpose of accepting contributions to the scholarship fund that was set up in the memory of Billy. The General Electric Company was among the first to contribute to the fund with a $500 plant gate collection in November 1963.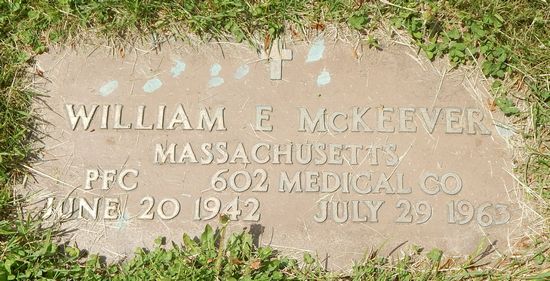 Date Added May 21, 2023
Can you add more information to this biography and help make it the best online resourse for this player? Contact us by email
Read Baseball's Greatest Sacrifice Through The Years - an online year-by-year account of military related deaths of ballplayers
Baseball's Greatest Sacrifice is associated with Baseball Almanac
Baseball's Greatest Sacrifice is proud to be sponsored by