Joe McCarthy
| | |
| --- | --- |
| Date and Place of Birth: | January 31, 1947 Los Angeles, CA |
| Date and Place of Death: | May 25, 1969 Tay Ninh, Vietnam |
| Baseball Experience: | Minor League |
| Position: | Third Base |
| Rank: | Specialist Fourth Grade |
| Military Unit: | Troop C, 3rd Squadron, 4th Cavalry, 25th Infantry Division US Army |
| Area Served: | Vietnam |
Joseph F. McCarthy, Jr., the son of Joseph and Goldie McCarthy, was born in Los Angeles, California, on January 31, 1947. He attended Franklin High School in Glendale, California, and played minor league baseball with the Yakima Braves of the Class A Northwest League in 1966. The 19-year-old, 6-foot-1 third baseman batted .173 in 32 games. The following season he joined the West Palm Beach Braves of the Class A Florida State League but appeared in just two games.

McCarthy, who lived in Los Angeles with his wife Janice, entered military service and was deployed to Vietnam in April 1969. A specialist fourth class, he served as a tank crewman with Troop C, 3rd Squadron, 4th Cavalry of the 25th Infantry Division. The squadron's primary mission was to use its armored vehicles to conduct convoy security along South Vietnam's Route 1, ensuring that the main supply and communications route from Saigon to Tay Ninh remained secure. On the morning of May 25, 1969, after having been in Vietnam for less than a month, Troop C came under attack from rocket-propelled grenades at Tay Ninh. SP4 McCarthy died from multiple fragmentation wounds during the attack.

Joe McCarthy now rests at Forest Lawn Memorial Park, Glendale, California.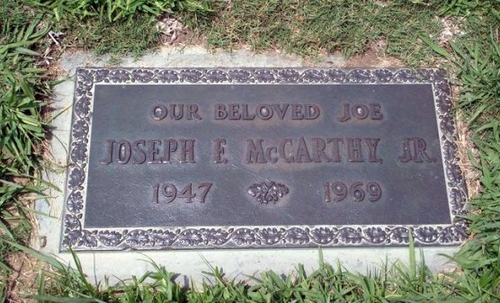 Date Added: October 1, 2017
Can you add more information to this biography and help make it the best online resource for this player? Contact us by email
Read Baseball's Greatest Sacrifice Through The Years - an online year-by-year account of military related deaths of ballplayers
Baseball's Greatest Sacrifice is associated with Baseball Almanac
Baseball's Greatest Sacrifice is proud to be sponsored by