Matt Lynch
| | |
| --- | --- |
| Date and Place of Birth: | May 10, 1979 Jericho, NY |
| Date and Place of Death: | October 31, 2004 nr. Ramadi, Iraq |
| Baseball Experience: | College |
| Position: | Catcher |
| Rank: | First Lieutenant |
| Military Unit: | Weapons Company, 2nd Battalion, 5th Marine Regiment, 1st Marine Division USMC |
| Area Served: | Iraq |
Matthew D. "Matt" Lynch, the son of Bill and Angela Lynch, was born in Jericho, New York, on May 10, 1979. He attended Jericho High School where he was an outstanding swimmer and baseball player. He was All-County swimmer three years in a row, and a County champion in two events each of his last two years. As a catcher on the baseball team he was All-County his last two years in high school, nominated for the "Diamond Award," as one of the best players in Nassau County; and as a senior, he tied for the home run record.
Lynch graduated from high school in 1997 and won a scholarship to Duke University where he continued to excel as an athlete. He was the swim team's "Rookie of the Year," and became a mainstay of that team. He was also a catcher on the Blue Devils baseball team for two years. In 1999, as a back-up catcher, he played in 10 games, started two and finished with three hits and two RBIs for a .273 average. In 2000, Lynch played in 30 games, starting 13 and amassing 13 hits, seven RBIs and a .217 batting average.

After graduating from Duke in 2001, Lynch joined the Marine Corps, and enrolled in OCS (Officer Candidate School) at Quantico, Virginia. His brother, Tim, was already a Marine, and his father had served in the Marine Corps in the 1960s.

Lynch completed officers training in December 2002 and was commissioned as a 2nd lieutenant. He served with 1st Marine Division, 1 Marine Expeditionary Force based at Camp Pendleton, California. He was deployed to Iraq in March 2003. He returned to Camp Pendleton in August, but was sent back in March 2004. Returning in July he volunteered for a third tour on August 31.

On October 31, 2004, near Ramadi, the capital of the Al Anbar province of Iraq, First Lieutenant Lynch, serving as a platoon leader with Weapons Company of the 2nd Battalion, 5th Marine Regiment, died from injuries suffered from a roadside bomb explosion the day before.

During his military career, he was awarded the Navy and Marine Corps Achievement Medal, the National Defense Service Medal and the Global War on Terrorism Expeditionary Medal.

Matt Lynch is buried at Long Island National Cemetery in Farmingdale, New York.
"Matt was a sucker for a high, inside pitch," recalls his dad. "Not only could he not hit it....he couldn't resist it. When they named the new electronic swim scoreboard in the Duke pool for Matt in 2006, I told those assembled about the many times I pitched batting practice to Matt, saying: 'Here it comes kid,...high...inside...and you won't even SMELL it!' I'd throw, he'd miss, pound the plate with his bat and say, 'Lemme have it again, Dad'...I would, ...same result.
"Even in heaven, St. Peter himself will not be able to get Matt to lay off that pitch."

In his honor, the 1st Lt. Matthew D. Lynch Memorial Scholarship Fund has been established at Duke University to provide whole or partial scholarships to undergraduate students.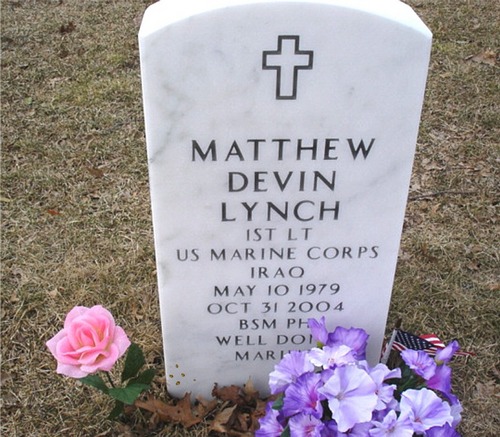 The grave of Matthew D. Lynch at Long Island National Cemetery in Farmingdale, New York
Sources:
www.mattlynch.org
www.findagrave.com
www.fallenheroesmemorial.com
www.dukechronicle.com
Special thanks to Matt's dad, Bill, for his support with this biography.
Date Added February 9, 2014 Updated March 12, 2014
Can you add more information to this biography and help make it the best online resourse for this player? Contact us by email
Read Baseball's Greatest Sacrifice Through The Years - an online year-by-year account of military related deaths of ballplayers
Baseball's Greatest Sacrifice is associated with Baseball Almanac
Baseball's Greatest Sacrifice is proud to be sponsored by