Ray Krobetzky
| | |
| --- | --- |
| Date and Place of Birth: | February 11, 1947 Armonk, NY |
| Date and Place of Death: | August 25, 1968 Thua Thien Province, Vietnam |
| Baseball Experience: | Amateur |
| Position: | Pitcher |
| Rank: | Second Lieutenant |
| Military Unit: | C Company, 1st Battalion, 508th Infantry, 3rd Brigade, 82nd Airborne Division US Army |
| Area Served: | Vietnam |
Raymond G. Krobetzky was born on February 11, 1947 in Armonk, New York. A pitcher, he hurled in the New York State championship game as a sophomore, and lost when he balked in the winning run for the opposing team. He weant on to attend Valley Forge Military Academy in Wayne, Pennsylvania, where he played on the varsity baseball team in 1964 and 1965, being Captain in '65. Krobetzky was offered a full baseball scholarship to Virginia Military Institute (VMI) but instead chose to enlist in the Army Airborne Buddy System, with two close friends - Rob Karro and Bill Lawrence.

Krobetzky was with the 187th Airborne Infantry of the 101st Airborne Division for Basic Training, Airborne training, Advanced Training and then NATO exercises in Norway, before attending Infantry Officer Candidate School (OCS) at Fort Benning, Georgia.

In 1968, Second Lieutenant Krobetzky was assigned to the 82nd Airborne Division. He arrived in Vietnam on February 14, 1968, where he was assigned to C Company, 1st Battalion, 508th Infantry, 3rd Brigade, 82nd Airborne Division.

Six months later, on August 25, 1968, during Operation Nevada Eagle in Thua Thien Province, an enemy force was engaged 11 miles south of Camp Eagle. During the fire fight Second Lieutenant Krobetzky, leading an elite unit, was killed in action by hostile gun fire (Corporal Roger E. Bishop of Louisville, Kentucky, and Corporal Juan M. Quinones of New York, also lost their lives in the battle). He was just 21 years old.

Ray Krobetzky is buried at Ferncliff Cemetery and Mausoleum in Hartsdale, New York.

"Ray was the best, not only in leadership but in life as well," recalls Jeff Bain. "I had the good fortune to be his roommate in OCS at Fort Benning and became a better person for it. To this day he makes me a better person."

"[He was] always happy and outgoing," recalls Bill Lawrence, one of his Buddy System enlistees. "[He] would carry you or your pack if you were injured or couldn't keep up. He was a leader of men. We had often talked about what he, Rob Karro [his other Buddy System enlistee] and I would do when we got out of the Army...travel on motorcycles to the southern tip of South America...start a restaurant...the Seven Seas."

In October 1968, Raymond's sister, Barbara "Bobbie" Konetzni - who was living in Hawaii at the time - received a letter from Colonel C. A. Stanfield stating, "I have the honor to inform you that your brother has been awarded posthumously the Bronze Star Medal and the Purple Heart...arrangements are being made to have these awards presented to you in the near future."

"He was an officer and a true leader. Airborne was his first love, but baseball was a close second," reflects Jeff Bain.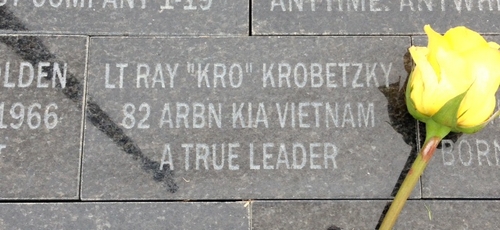 National Infantry Museum and Soldier Center at Ft Benning, GA
Thanks to Jeff Bain for bringing Ray Krobetzky to my attention and for helping me with this biography.
Date Added: January 3, 2019. Updated January 13, 2019
Can you add more information to this biography and help make it the best online resourse for this player? Contact us by email
Read Baseball's Greatest Sacrifice Through The Years - an online year-by-year account of military related deaths of ballplayers
Baseball's Greatest Sacrifice is associated with Baseball Almanac
Baseball's Greatest Sacrifice is proud to be sponsored by