Dee Imlay
| | |
| --- | --- |
| Date and Place of Birth: | September 7, 1980 Hill AFB, UT |
| Date and Place of Death: | March 28, 2012 Afghanistan |
| Baseball Experience: | College |
| Position: | Outfield/Pitcher |
| Rank: | Captain |
| Military Unit: | 391st Fighter Squadron USAF |
| Area Served: | Afghanistan |
Francis D. "Dee" Imlay, Jr., was born on September 7, 1980 at Hill Air Force Base, Utah. His father was later stationed in England and young Imlay graduated from Lakenheath High School in 1998. That year his family moved to Vacaville, California, where he attended Solano Community College. The left-hander played the outfield and pitched for the college baseball team. "As a hitter, when he was on, he was on," recalled John McCullough, who was an assistant baseball coach at Solano. "He was an exceptional athlete. He was the fastest guy on the team."

McCullough remembered a 1999 trip to Hawaii, where Solano took on Hawaii-Hilo and Hawaii-Pacific. Imlay got the save in the latter game.

Imlay went on to Auburn University where he joined the Air Force Reserve Officer Training Corps, in which he was named the Distinguished Graduate. With the Air Force, Imlay served as a T-6 and T-37 instructor pilot at Sheppard AFB, Texas, and as the 391st Fighter Squadron Executive Officer and Chief of Scheduling at Mountain Home AFB, Idaho. During his career, he flew the T-37, T-38, T-6, and the F-15E and attained more than 2,500 flight hours. In 2008, he was named the 80th Operational Support Squadron Instructor of the Year.

On March 28, 2012, Captain Imlay suffered fatal injuries when his F-15E Strike Eagle crashed about 15 miles outside a base in Afghanistan. A USAF invesitigation later revealed that Imlay's final mission began as part of a war game involving 34 other planes. After successfully participating in the exercise, Captain Imlay and his backseat weapons systems officer began to return to their base as night fell. As he descended to 2,000 feet in preparation for landing, he became disoriented. Upside down, just 88 feet above the desert and traveling at 405 miles per hour, the backseat weapon systems officer realized they were in mortal danger and pulled the ejection lever for both of them, in a desperate bid to save their lives. The systems officer suffered only minor injuries.

"Today we mourn the loss of one of our warriors," said Colonel Ron Buckley, 366th Fighter Wing commander, in a press release the following day, "Our thoughts and prayers are with his family, friends and coworkers during this time. He was a true professional and his dedication to the Gunfighter family will not soon be forgotten."

Funeral services for Captain Imlay were held on April 13, 2012, at the Sacramento Valley National Cemetery, in Dixon, California. He is survived by his wife Tami, his children, Isaac and Lyndis, and his parents, Francis and Kum Sun.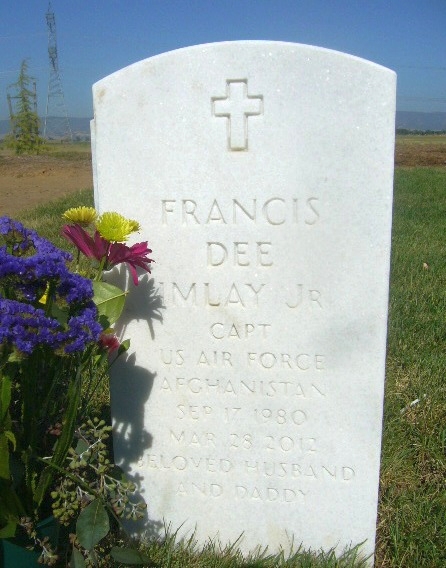 Dee Imlay's grave at the Sacramento Valley National Cemetery, in Dixon, California
Date Added March 22, 2013 Updated July 15, 2013
Can you add more information to this biography and help make it the best online resourse for this player? Contact us by email
Read Baseball's Greatest Sacrifice Through The Years - an online year-by-year account of military related deaths of ballplayers
Baseball's Greatest Sacrifice is associated with Baseball Almanac
Baseball's Greatest Sacrifice is proud to be sponsored by