Marv Goodwin
| | |
| --- | --- |
| Date and Place of Birth: | January 16, 1891 Gordonsville, VA |
| Date and Place of Death: | October 21, 1925 Houston, TX |
| Baseball Experience: | Major League |
| Position: | Pitcher |
| Rank: | First Lieutenant |
| Military Unit: | 111th Observation Squadron, 36th Division US Air Service |
| Area Served: | United States |
Marvin M. Goodwin, the son of Prussia (a railroad conductor) and Susie Goodwin, was born on January 16, 1891, in Gordonsville, Virginia. He attended Gordonsville High School and played semi-pro baseball in his hometown, while working as a telegraph operator with the Chesapeake and Ohio Railroad.

In 1916, aged 25, the slender right-handed spitballer was signed by the Washington Senators. He was assigned to the Martinsburg Blue Sox of the Class D Blue Ridge League and was 19-12 in 31 starts. Recalled by the Senators, he made his major league debut against the Yankees on September 7, and made a further two appearances for the club before the season ended.

In 1917, he was with the Milwaukee Brewers of the Class AA American Association, posting an 8-9 record with a 1.91 ERA. The Brewers sold Goodwin to the St. Louis Cardinals on July 19, and he pitched 14 games for the National League club for a 6-4 record and 2.21 ERA. Before the year ended, he was in military service. "Pitcher Marvin Goodwin of the St. Louis Cardinals," reported The Sporting News on December 6, 1917, "just entering upon what had every indication of being a brilliant major league career, has sacrificed all that means to a young man and with the statement that he couldn't feel right by holding back when his country called, had joined the army's aviation department. His loss will be a severe one to the Cardinal owners, but they unite in bidding him good luck and congratulations… Goodwin expects to take a six-week training course and then join the American flyers going to France. May he do his full duty and yet be spared to return and play ball is the wish of every fan."

Goodwin trained to be a pilot with the Army's Air Service in San Antonio, Texas, and served as an instructor for the remainder of the war. He even found a little time to play some baseball. "Once in a while we get a chance to play a game of ball," announced Goodwin in a letter to friends that appeared in the Washington Times on October 13, 1918. "Our team flew sixty miles not long ago to play a game, and we won, 5 to 0. Quite an innovation flying sixty miles to play a ball game. Twenty machines made the trip."

Following military service, he made a single appearance for the Dallas Giants of the Class B Texas League at the end of 1918, and re-joined the St. Louis Cardinals in 1919. He was 11-9 in 1919, and made 32 appearances the following year, but appeared in just 14 games in 1921, playing part of the season with the Texas League's Houston Buffaloes. He made a couple of appearances for the Cardinals in 1922, and spent most of the year with Houston, going on to win 19 games for the Buffaloes in 1923 and 17, the following year as their player-manager. In 1925, still at the helm of the Texas League club, Goodwin won 21 games and was sold to the Cincinnati Reds for $10,000, returning to the big leagues after an absence of two years. Goodwin made four appearances for the Reds and pitched his last big league game against the Pirates, on October 4, the last day of the season.

The 34-year-old pitcher must have been feeling optimistic about his future as a major leaguer when he returned to National Guard duty as a first lieutenant with the Army Air Service Reserve. On October 18, 1925, two weeks after he'd pitched against the Pirates, 1/Lt. Goodwin was at the controls of a Curtiss JN-6H "Jenny" biplane. He'd taken off from Ellington Field in Houston, Texas, where he was attached to the 111th Observation Squadron, 36th Division, and had with him Staff Sergeant W.H. McNath. At an altitude of 200 feet, as he was preparing to land, the plane went into a tail spin and hit the ground. Both of Goodwin's legs were badly broken and he suffered head injuries, while S/Sgt. McNath escaped with bruising. Taken to Baptist Hospital in Houston, Goodwin's condition appeared to be improving after the crash, but he rapidly deteriorated after an operation and he died on October 21.

The following day, more than 1,000 people turned out to see his funeral cortege proceed through the streets of Houston from his home at Brazos Street to the train station, where it travelled to Gordonsville, Virginia. Marvin Goodwin rests at Maplewood Cemetery in Gordonsville.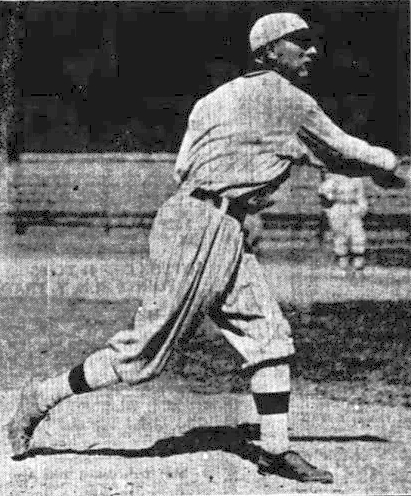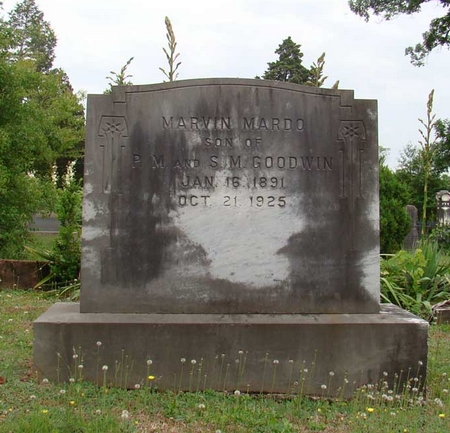 Date Added: September 29, 2017
Can you add more information to this biography and help make it the best online resource for this player? Contact us by email
Read Baseball's Greatest Sacrifice Through The Years - an online year-by-year account of military related deaths of ballplayers
Baseball's Greatest Sacrifice is associated with Baseball Almanac
Baseball's Greatest Sacrifice is proud to be sponsored by