Eddie Glinnen
| | |
| --- | --- |
| Date and Place of Birth: | October 18, 1948 Brooklyn, NY |
| Date and Place of Death: | January 11, 1970 Dau Tieng, Binh Duong Province, Vietnam |
| Baseball Experience: | Minor League |
| Position: | Third Base |
| Rank: | Specialist Fourth Grade |
| Military Unit: | Company B, 2nd Battalion (Mechanized), 2nd Infantry Regiment, 1st Infantry Division US Army |
| Area Served: | Vietnam |
Eddie D. Glinnen was born in Brooklyn, New York, on October 18, 1948. He grew up in Brooklyn's northernmost neighborhood, Greenpoint, and attended John Ericsson Junior High School and Grover Cleveland High School in Queens.

Glinnen played baseball throughout his teens, working his way through the Greenpoint Little League system (he was an MVP in 1965) and creating a name for himself as an outstanding young player. He could catch, play the infield and the outfield, as well as hit for power. In addition to playing Little League ball, he played for the Greenpoint Savings Bank Pointers American Legion team and the Greenpoint Indians of the Long Island City YMCA Senior baseball league. Playing with as many as three different teams at one point, Glinnen was rarely away from the ballfield at McCarren Park.

In 1966, while playing for the AFCO Greenpoint Indians in the Queens Alliance League, big league scouts were keeping a close eye on the 17-year-old. The following year, while playing for the Greenpoint Braves of the same league, he was easily selected to the all-star squad and was signed by the San Francisco Giants in August 1967.

Glinnen reported to the Giants spring training camp at Phoenix, Arizona, in 1968, and played briefly in their farm system before entering military service. He served in Vietnam as a specialist fourth grade with Company B, 2nd Battalion (Mechanized), 2nd Infantry Regiment of the 1st Infantry Division. On December 25, 1969, Glinnen was wounded when the Armored Personnel Carrier on which he was riding hit a 20-pound mine. After being hospitalized for a short time he returned to his unit light duty on January 1, 1970, but was fatally wounded in an accident that day on the bunker line at Dau Tieng. He died at the 3rd Field Hospital on January 11, 1970.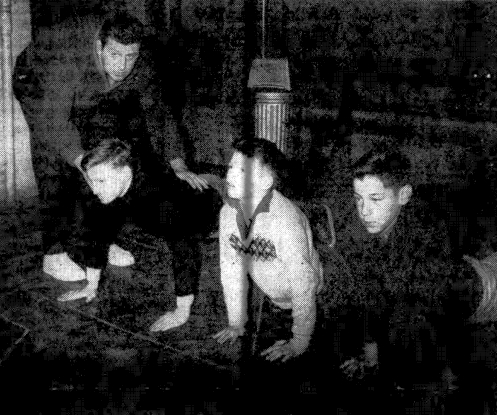 This photo, taken in January 1962, shows Eddie Glinnen (first boy on the left) getting into shape in line with President Kennedy's physical fitness campaign
Date Added: October 1, 2017
Can you add more information to this biography and help make it the best online resource for this player? Contact us by email
Read Baseball's Greatest Sacrifice Through The Years - an online year-by-year account of military related deaths of ballplayers
Baseball's Greatest Sacrifice is associated with Baseball Almanac
Baseball's Greatest Sacrifice is proud to be sponsored by