Enos Slaughter
Hall of Famers at War
| | |
| --- | --- |
| Date and Place of Birth: | April 27, 1916 nr. Roxboro, NC |
| Date and Place of Death: | August 12, 2002 Durham, NC |
| Baseball Experience: | Hall of Fame |
| Position: | Outfield |
| Rank: | Sergeant |
| Military Unit: | US Air Force |
| Area Served: | Pacific Theater of Operations |
Enos B. "Country" Slaughter was born near the town of Roxboro, North Carolina on April 27, 1916. In high school, Slaughter played basketball, football, and baseball. He played well enough to earn an athletic scholarship to Guilford College in Greensboro, North Carolina, but instead chose to take a job working at the Collins and Aikman textiles mill where his older brothers worked.
Slaughter began playing second base for the Ca-Vel baseball team and his abilities caught the eye of Fred Haney, the sports editor of The Durham Morning Herald. Haney passed Slaughter's name to Oliver French, who owned the Greensboro farm team of the St. Louis Cardinals. French took Haney's advice and invited Slaughter to a tryout for the Cardinals' organization in September 1934. Slaughter's performance at this tryout earned him a position with the Martinsville Redbirds of the Bi-State League.
In 1936, Slaughter played for Columbus, Georgia in the South Atlantic League, and then with Columbus, Ohio in 1937. He made his first major league appearance with the St. Louis Cardinals in 1938, batting .276 in 112 games. He led the NL with 52 doubles in 1939 and with 188 hits in 1942, but enlisted with the Army Air Force in August 1942 although his induction was postponed until after the World Series.
The 1942 World Series against the Yankees was the first to be broadcast live to American troops overseas. After the fourth game, Slaughter was asked to speak to the troops by radio. "Hi fellows," he told them. "We played a great game today and we won. And we are going to finish this thing tomorrow. Then I'm going to report for duty in the Army Air Corps and join you."
The Cardinals did indeed wrap up the World Series the following day with Slaughter contributing a home run in the fourth inning. He was then assigned to the San Antonio Aviation Cadet Center (SAACC) for what he hoped would be flight school. "I wanted to be a pilot," he told author Frederick Turner, "but they said I was color blind. They wanted me to be a bombardier, but I said if I couldn't be the one flying the plane, I'd just as soon not be flying. So, I became a physical education instructor in charge of about 200 troops."
Slaughter was assigned to the 509th Base Headquarters Squadron at SAACC, where he led the base team in hitting with a .498 average in 75 games during 1943.
On August 26, 1943, he was involved in a war bonds game that raised $800 million dollars in war bond pledges. Held at the Polo Grounds in front of 38,000 fans, the three New York teams combined as the War Bond All-Stars against an Army all-star line-up that featured Slaughter, Hank Greenberg and Sid Hudson. The War Bond All-Stars won 5 to 2.
Slaughter was based at Camp Kearns, near Salt Lake City, Utah in March 1945, and was told that if he would go with other players to the South Pacific he would be guaranteed a quick discharge when the war ended. He accepted the deal and was part of a contingent of 94 ballplayers that arrived in Hawaii in June 1945.
Representing the 58th Wing, along with teammates Bobby Adams, Joe Gordon, Birdie Tebbetts and Howie Pollet, the ballplayers island-hopped towards Japan following American forces. On Tinian, the Seabees bulldozed out a ballfield on top of a coral reef and made bleacher seats out of bomb crates. Exhibition games were also staged at Saipan, Guam and Iwo Jima with an estimated 180,000 soldiers getting the chance to witness major league baseball players in action.
Twenty-seven games were played on the tour and Slaughter batted .342 with five home runs and 15 RBIs. The tour concluded in October and the players returned to the United States in early November.
Slaughter received his military discharge on March 1, 1946 and returned to the Cardinals to lead the National League with 130 RBI and guide the Cardinals to a World Series win over the Boston Red Sox.
Enos "Country" Slaughter retired from baseball in 1959. He was a player-manager in 1960 for a minor league team in Houston and for Raleigh in 1961. Slaughter coached baseball for Duke University from 1971 to 1977. In 1985, he was inducted into the Baseball Hall of Fame.
Talking about his military service some years later on an episode of ESPN's Major League Baseball Magazine, Slaughter said "The three years I missed really didn't hurt me that much."
Enos Slaughter died on August 12, 2002, from complications of non-Hodgkins lymphoma. He was 86 years old.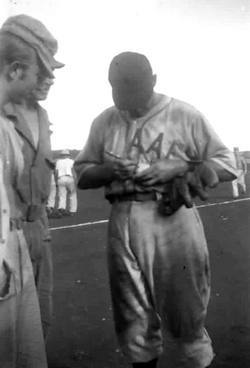 Enos Slaughter signing autographs at Tinian in 1945
Date added June 8, 2020
Enos Slaughter at Baseball-Almanac
Can you add more information to this biography and help make it the best online resource for this player? Contact us by email
Read Baseball's Greatest Sacrifice Through The Years - an online year-by-year account of military related deaths of ballplayers
Baseball's Greatest Sacrifice is associated with Baseball Almanac
Baseball's Greatest Sacrifice is proud to be sponsored by