Ralph Kiner
Hall of Famers at War
| | |
| --- | --- |
| Date and Place of Birth: | October 27, 1922 Santa Rita, NM |
| Date and Place of Death: | February 6, 2014 Rancho Mirage, CA |
| Baseball Experience: | Hall of Fame |
| Position: | Outfield |
| Rank: | Ensign |
| Military Unit: | Patrol Squadron 99 US Navy |
| Area Served: | Pacific Theater |
Ralph M. Kiner was born in Santa Rita, New Mexico on October 27, 1922. Kiner's father died when Ralph was young and his mother moved to California. He played baseball at Alhambra High School and was signed by the Pittsburgh Pirates immediately after graduating. His professional career began in 1941 as an outfielder with the Albany Senators in the Class A Eastern League. In two seasons with the Senators he batted .288 and .268. In 1942 his 14 homers led the league.

Kiner joined the Toronto Maple Leafs of the International League in 1943, but within a few weeks he was inducted in the Navy. As an aviation cadet he attended St. Mary's Pre-Flight School in California, and earned his pilot's wings and commission at Corpus Christi in December 1944. He flew Martin PBM Mariners from Kaneohe Bay Naval Air Station in Hawaii, on submarine patrols, accumulating 1,200 flying hours and playing hardly any baseball during that time.

Kiner broke into the major leagues with the Pirates in 1946 and led the National League in home runs for seven consecutive seasons. By 1951, he was the highest paid player in the league, at $90,000 and became one of the first players to host his own local TV show.

He retired after the 1955 season and became general-manager of the San Diego Padres in the Pacific Coast League - a position he held until 1960 when he launched a career as a baseball broadcaster with the White Sox and then the Mets.

Ralph Kiner was inducted into the Baseball Hall of Fame in 1975. He passed away in California, on February 6, 2014, aged 91.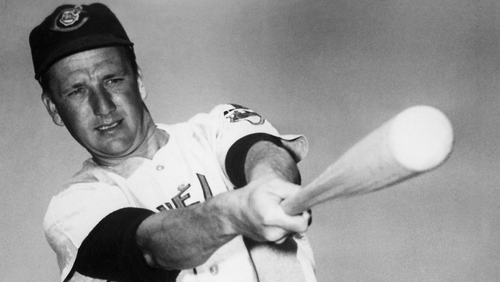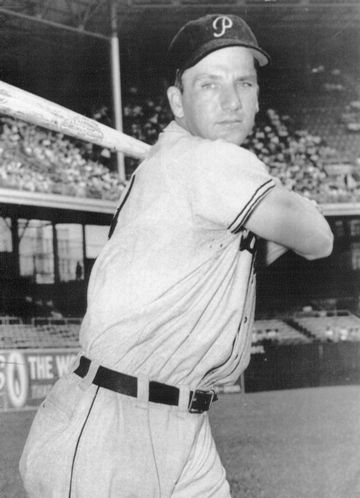 Date Added July 26, 2016
Ralph Kiner at Baseball-Almanac
Can you add more information to this biography and help make it the best online resource for this player? Contact us by email
Read Baseball's Greatest Sacrifice Through The Years - an online year-by-year account of military related deaths of ballplayers
Baseball's Greatest Sacrifice is associated with Baseball Almanac
Baseball's Greatest Sacrifice is proud to be sponsored by