Hank Greenberg
Hall of Famers at War
| | |
| --- | --- |
| Date and Place of Birth: | January 1, 1911 New York, NY |
| Date and Place of Death: | September 4, 1986 Beverly Hills, CA |
| Baseball Experience: | Hall of Fame |
| Position: | First Base |
| Rank: | Captain |
| Military Unit: | 20th Bomber Command USAAF |
| Area Served: | China-Burma-India |
Henry B. "Hank" Greenberg was born in New York City, on January 1, 1911. He attended James Monroe High School in the Bronx, where he was an outstanding athlete in baseball, basketball and soccer.

Greenberg later attended New York University for a year before signing with the Detroit Tigers for $9,000. He was assigned to Hartford in 1930, playing 17 games before joining Raleigh, where he hit .314 with 19 home runs which earned him an end-of-season promotion to Detroit. In 1931, he played at Evansville in the Three I League and batted.318. He spent 1932 with Beaumont in the Texas League, hitting 39 home runs with 131 RBIs and earning the MVP award.

Greenberg hit .301 in his rookie season with the Tigers. By 1935, he was the American League's MVP, helping steer the Tigers to the World Championship title. In 1938, Greenberg's 58 home runs was just two shy of Babe Ruth's record.

On October 16, 1940, Greenberg registered along with fellow Americans between the ages of 21 and 35 for the first peacetime draft in the nation's history. At his first draft physical in Lakeland, Florida, during spring training in 1941, it was found that he had flat feet. Doctors recommended he be considered for limited duty. But a second examination on April 18 in Detroit determined him fit for full military service. On May 7, 1941, the day after hitting two home runs in his farewell appearance, Greenberg was inducted in the Army and reported to Fort Custer at Battle Creek, Michigan, where many troops of the Fifth Division turned out at the train station to welcome the slugging star. "If there's any last message to be given to the public," he told The Sporting News. "Let it be that I'm going to be a good soldier."

Greenberg was assigned as an anti-tank gunner and went on maneuvers in Tennessee. In November 1941, having risen to the rank of sergeant, he rode a gun carrier at a Detroit Armistice Day parade in front of thousands of cheering onlookers.

But on December 5, 1941, he was honorably discharged after Congress released men aged 28 years and older from service. On February 1, 1942, Sergeant Greenberg re-enlisted, was inducted at Fort Dix, New Jersey, and volunteered for service in the United States Army Air Corps. "We are in trouble," he told The Sporting News, "and there is only one thing for me to do – return to the service. This doubtless means I am finished with baseball and it would be silly for me to say I do not leave it without a pang. But all of us are confronted with a terrible task – the defense of our country and the fight for our lives."

On August 26, 1943, he was involved in a war bonds game that raised $800 million dollars in war bond pledges. Held at the Polo Grounds in front of 38,000 fans, the three New York teams combined as the War Bond All-Stars against an Army all-star line-up that featured Slaughter, Hank Greenberg and Sid Hudson. The War Bond All-Stars won 5 to 2.

He graduated from Officer Candidate School at Miami Beach, Florida, and was commissioned as a first lieutenant and was assigned to the Army Air Force physical education program. Asked in February 1943, what he thought was in store for baseball in the coming season, Greenberg replied: "Physical training for air corps men is my business now and I don't have time to follow baseball close enough to make any predictions. I haven't even seen a sports page for a week."

By February 1944, Captain Hank Greenberg was a student at the Army's school for special services at Washington and Lee University. He requested an overseas transfer later in the year and was assigned to the first group of Boing B-29 Superfortresses to go overseas. He spent six months in India before being ferried over Burma to China where he served in an administrative capacity.

"I'll never forget the first mission our B-29s made from our base to Japan," Greenberg told Arthur Daley, writing in the February 14, 1945 New York Times. "I drove out to the field in a jeep with General Blondie Saunders who led the strike, and took my place in the control tower. Those monsters went off, one after the other, with clock-work precision.

"Then we spotted one fellow in trouble. The pilot saw he wasn't going to clear the runway, tried to throttle down, but the plane went over on its nose at the end of the field. Father Stack, our padre, and myself raced over to the burning plane to see if we could help rescue anyone. As we were running, there was a blast when the gas tanks blew and we were only about 30 yards away when a bomb went off. It knocked us right into a drainage ditch alongside the rice paddies while pieces of metal floated down out of the air."

Greenberg was stunned and couldn't talk or hear for a couple of days, but otherwise he wasn't hurt. "The miraculous part of it all was that the entire crew escaped," Greenberg continued. "Some of them were pretty well banged up but no one was killed. That was an occasion, I can assure you, when I didn't wonder whether or not I'd be able to return to baseball. I was quite satisfied just to be alive."

In the middle of 1944, Greenberg was recalled from China to New York, where his job was to take small groups of returning combat officers to war plants in New England and give morale-boosting talks to the workers. In late 1944, he was based at Richmond, Virginia, and in June 1945, he was placed on the military's inactive list and returned to the Tigers.

Without the benefit of spring training, Greenberg returned to Detroit's starting line-up on July 1, 1945, before a crowd of 47,729 and homered against the Athletics in the eighth inning. Greenberg's return helped the Tigers to a come-from-behind American League pennant, clinching it with a grand-slam home run in the final game of the season.

In 1946 he led the league with 44 home runs and 127 RBIs. He was 2nd in slugging percentage (.604) and total bases (316), behind Ted Williams. In 1947, Greenberg and the Tigers had a lengthy salary dispute. When Greenberg decided to retire rather than play for less, Detroit traded him to the Pittsburgh Pirates. To persuade him not to retire, Pittsburgh made Greenberg the first baseball player to earn over $100,000 in a season Greenberg played first base for the Pirates for 1947, and was one of the few opposing players to publicly welcome Jackie Robinson to the majors.

That year he tied for the league lead in walks, with 104. He had a .408 on base percentage, and was also eighth in the league in home runs and tenth in slugging percentage. Nevertheless, the Pirates released him after the season.

He was elected to the Baseball Hall of Fame in 1956. Greenberg died of cancer in Beverly Hills, California, on September 4, 1986.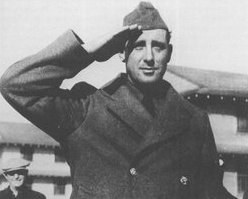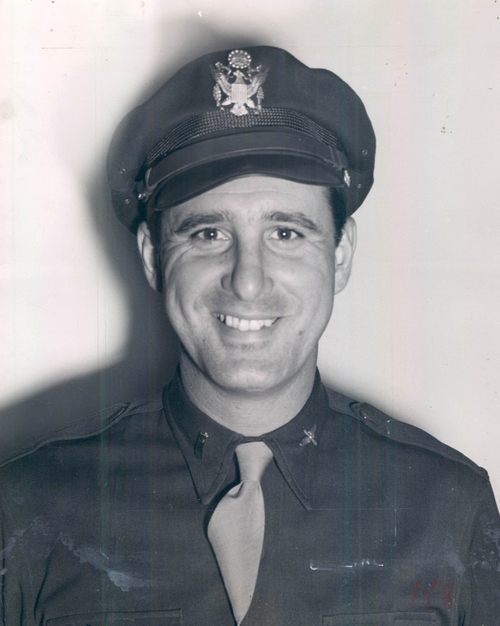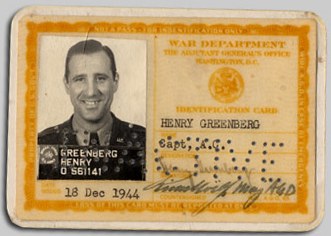 Date Added July 26, 2016
Hank Greenberg at Baseball-Almanac
Can you add more information to this biography and help make it the best online resource for this player? Contact us by email
Read Baseball's Greatest Sacrifice Through The Years - an online year-by-year account of military related deaths of ballplayers
Baseball's Greatest Sacrifice is associated with Baseball Almanac
Baseball's Greatest Sacrifice is proud to be sponsored by