Mickey Cochrane
Hall of Famers at War
| | |
| --- | --- |
| Date and Place of Birth: | April 6, 1903 Bridgewater, MA |
| Date and Place of Death: | June 28, 1962 Lake Forest, IL |
| Baseball Experience: | Hall of Fame |
| Position: | Catcher |
| Rank: | Lieutenant |
| Military Unit: | US Navy |
| Area Served: | United States/Pacific Theater |
Gordon S. "Mickey" Cochrane attended Boston University but dropped out in his junior year. He broke in with the Philadelphia Athletics in 1925 as the team's starting catcher, quickly establishing himself as one of the best offensive players ever at the position.

In 13 major league seasons with the Athletics and Tigers, Cochrane played in five World Series and scored the run that clinched the 1935 Series. "That was my greatest day in baseball," he later said.

From 1934 he was the Tigers' player-manager and Elden Auker called him the greatest player-manager in the history of baseball. In May 1937, Cochrane took a fastball to his right temple and collapsed in a heap. He was unconscious for ten days and never played again.

Cochrane joined the Navy in 1942, and on July 7, 1942, he managed an All-Service team that played against an American League all-star squad at Cleveland's Municipal Stadium. Before 62,059 fans, the American League beat the servicemen, 5-0. Cochrane was stationed at Great Lakes Naval Training Station where he coached their formidable baseball team until 1944.

Tragedy struck Cochrane in 1944, his only son, Private First Class Gordon S. Cochrane, Jr., was killed in action in Holland on February 25, 1945. Former major league pitcher, Elden Auker, wrote in his autobiography, Sleeper Cards and Flannel Uniforms: "The bullet that killed him [Gordon, Jr.] had some kind of range. It traveled all the way across the Atlantic, lodged itself into the spirit of Gordon's father, the great Mickey Cochrane, and slowly killed him. Mickey's gravestone shows he died June 28, 1962, but he started [in 1945]. Consider his another life claimed by World War II."

In 1945, Cochrane went to Gab Gab Beach, Guam, to head the Navy's fleet recreational center.

Cochrane was elected to the Hall of Fame in 1947. He went on to serve as general manager of the Athletics and later became Vice President of the Tigers. He succumbed to cancer in June 1962, aged 59.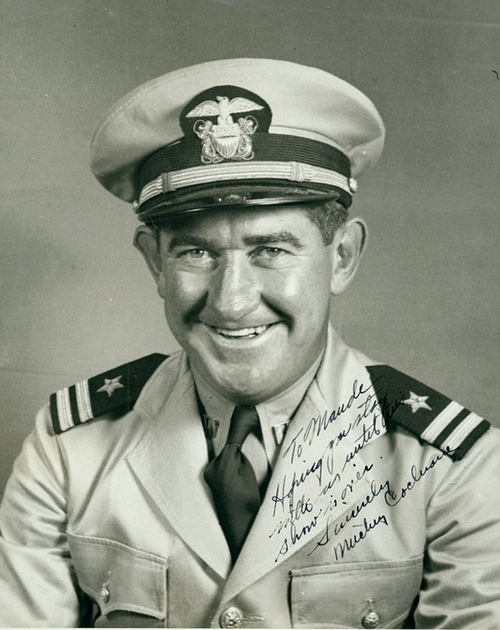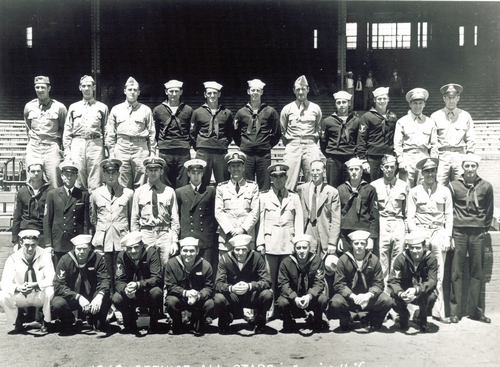 Service All-Stars at Cleveland, 1942. Cochrane is middle row, seventh from left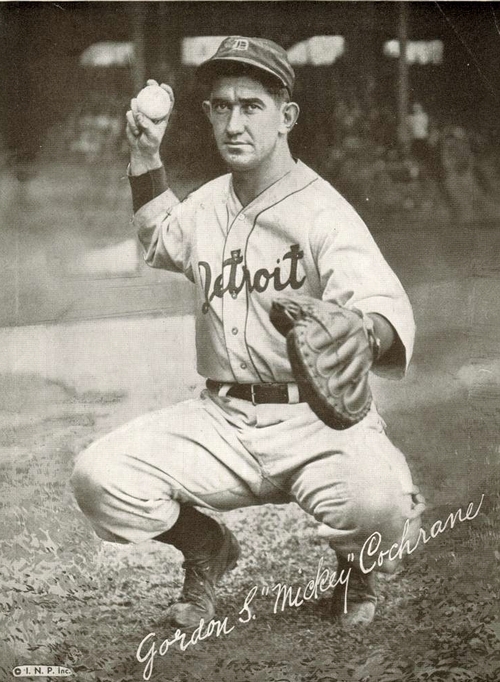 Date Added July 27, 2016
Mickey Cochrane at Baseball-Almanac
Can you add more information to this biography and help make it the best online resource for this player? Contact us by email
Read Baseball's Greatest Sacrifice Through The Years - an online year-by-year account of military related deaths of ballplayers
Baseball's Greatest Sacrifice is associated with Baseball Almanac
Baseball's Greatest Sacrifice is proud to be sponsored by