Neal "Sonny" Takala
| | |
| --- | --- |
| Date and Place of Birth: | March 22, 1914 Teaneck, NJ |
| Date and Place of Death: | March 28, 1942 near Eden, New South Wales, Australia |
| Baseball Experience: | Semi-Pro and College |
| Position: | Catcher |
| Rank: | Second Lieutenant |
| Military Unit: | 8th Pursuit Squadron, 49th Fighter Group, 5th Air Force USAAF |
| Area Served: | Pacific Theater of Operations |
Neal T. "Sonny" Takala was born on March 22, 1914, in Teaneck, New Jersey. The son of Finnish immigrants Thomas and Hulda Takala, Neal had seven sisters and a brother.

At Teaneck High School, Takala was a three-sport star and went on to a brilliant athletic career at Montclair State Teachers College (now Montclair State University). A hard-hitting catcher in baseball, he was a fullback and captain of football team, and co-captain of wrestling team, as well as playing basketball. During the summer months, Takala played semi-pro baseball with several Bergen County teams and during the winter months he played semi-pro football with the Teaneck Red Devils of the Bergen County League.

Graduating from Montclair in 1938, Takala joined the teaching staff at nearby Bloomfield High School, while also working as a referee in high school football and basketball games and umpiring baseball games.

On April 25, 1941, Takala enlisted in the Army Air Corps. He trained as a fighter pilot at Woodward Field Airport, near Camden, South Carolina, and Craig Field, near Selma, Alabama. He received a commission as a second lieutenant on December 12, 1941, then transferred to the west coast, where he boarded a transport bound for Australia over Christmas holidays.

Second Lieutenant Takala was assigned to the 8th Pursuit Squadron, 49th Fighter Group, attached to the 5th Air Force, in Canberra, and trained on newly received Curtiss P-40E Warhawks during the early months of 1942.

On March 28, 1942, Takala was on a routine training exercise from Fairbairn Airbase to the Snowy Mountains, but encountered dense fog over the coast near Eden. The 28-year-old, who had celebrated his birthday just six days earlier, was killed when his airplane hit a ridge on the western side of Mount Imlay, near Eden. The P-40 exploded on impact.

Roy Mitchell, a local farmer, who saw and heard the accident rang the police. Mr. Mitchell grabbed his rifle and headed to the crash site. He was unsure whether he would find a crashed enemy aircraft or a friendly one. He found Lt. Takala's body, which had been thrown clear of the wreckage. Roy Mitchell and some other local men recovered the pilot's body. Takala was one of four American pilots who were killed in the dense fog that day.

Just three weeks before his death, Takala had sent a cable to his family: "Still enjoying Aussie hospitality. Everything O.K. Feeling fine."

A memorial service for Neal Takala was held in the Eden Catholic Church, before burial took place at the American Military Cemetery at Rookwood, Sydney. After the war, his body was returned to the United States and rests at Hackensack Cemetery, New Jersey.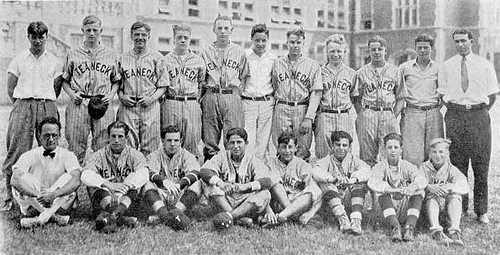 The 1930 Teaneck High School baseball team. Neal Takala is front row, far right.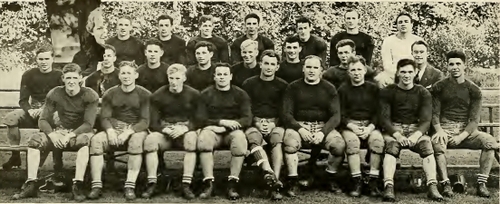 The 1935 Montclair State Teachers College football team.
Neal Takala is middle row, in center, with blond hair.
Date Added November 15, 2016
Baseball's Greatest Sacrifice is associated with Baseball Almanac
Baseball's Greatest Sacrifice is proud to be sponsored by