Frank Schulz
| | |
| --- | --- |
| Date and Place of Birth: | 1922 Clarkson, NE |
| Date and Place of Death: | June 17, 1945 Samar, Philippines |
| Baseball Experience: | Minor League |
| Position: | Pitcher |
| Rank: | Second Lieutenant |
| Military Unit: | 394th Bomb Squadron, 5th Bomb Group, Thirteenth Air Force USAAF |
| Area Served: | Pacific Theater of Operations |
Frank Schulz won 31 games in two seasons in the minors, but was in military service before he could get any further. He served his country for nearly three years and never came home.
Franklin C. Schulz had two passions in life while growing up in Clarkson, Nebraska - music and baseball. His father, Frank "Yank" Schulz, had been a standout pitcher for the Clarkson Baseball Club during the 1920s, and young Franklin was showing great promise hurling for the Fremont Merchants.
In late 1939, he sold his beloved saxophone to get enough money to travel to Charleston, West Virginia, for a tryout with the Charleston Senators of the Class C Middle-Atlantic League. The sacrifice proved worthwhile as Schulz joined the team for spring training in 1940, and was then assigned to the Flint Gems of the Class C Michigan State League. The 18-year-old was 4-4 in 15 appearances with a 4.69 ERA, and one of those wins was a 1-0 one-hitter against St. Joseph on August 6. The Gems were a powerhouse team in 1940, seven players either had previous major league experience or would later play in the majors and they easily clinched the league pennant. [1] Schulz finished the season back with the Charleston Senators and made six starts for a 3-3 record and superb 2.13 ERA.

Schulz was back at Flint in 1941, and proved to be one of the best pitchers in the league. He finished the year with an incredible 17-4 won-loss record and 3.19 ERA. Along with teammate Steve Gromek (who was 14-2 with a 2.90 ERA), the team dominated the league, finishing with a nine game lead over the second place St. Joseph Autos. He beat Saginaw, 6-1, on a three-hitter on June 3; combined with Gromek to beat the Cleveland Indians, 3-2, in an exhibition game on July 7; and bettered Saginaw again in a 3-0 four-hitter on August 12. Schulz may have won 20 games had he not been sidelined for a while when he was struck in the leg by a line drive in mid-August. During that summer a romance was also in the air for the young pitcher. Dorothy Caister, a Flint girl and devotee of the baseball team, was named "queen" of the Michigan State League and began dating Schulz. They married later that year and had a son, Franklin, Jr., in 1943.

Schulz jumped to Class A ball in 1942 when he joined the Wilkes-Barre Barons of the Eastern League. Despite some control problems he made 29 strong appearances and was 14-12 for the Barons with a superb 2.74 ERA. When he entered military service on September 16, 1942, the Cleveland Indians' placed him on their National Defense Service list.
Schulz served with the Army Air Force and attended Officer Candidate School at Camp Davis, North Carolina. He received his commission as a second lieutenant on April 15, 1943, and trained as a bomber pilot, receiving his wings in June 1944. He was stationed at various camps in Texas including Camp Hulen; San Antonio Army Air Field; Coleman Field; Perrin Field; and Ellington Field, and was based at March Field, California, before leaving for overseas duty in the Pacific Theater in March 1945.

Operating from New Guinea and Samar in the Philippines, Schulz was a Consolidated B-24 Liberator pilot with the 394th Bomb Squadron of the 5th "Bomber Barons" Bomb Group, Thirteenth Air Force, flying long-range, unescorted formation missions. On June 17, 1945, Schulz piloted a B-24 from Samar Island on a bombing run to Balikpapan on the island of Borneo as part of the pre-invasion softening up of the island. The plane with its crew of nine was never seen again. Schulz was posthumously awarded the Air Medal and Purple Heart, and is remembered at the Manila American Cemetery at Fort Bonifacio in the Philippines.

Following his death, Schulz' widow, Dorothy, heard from his former Flint teammate, outfielder Clint Conatser, who, after military service, was playing for the Dallas Rebels of the Texas League in 1946, and would later play for the Boston Braves (1948 and 1949). A romance blossomed between them and they were married in Dallas in September 1946. They had three daughters together.
| | | | | | | | | | | | |
| --- | --- | --- | --- | --- | --- | --- | --- | --- | --- | --- | --- |
| Year | Team | League | Class | G | IP | ER | BB | SO | W | L | ERA |
| 1940 | Flint | Michigan State | C | 15 | 94 | 49 | 34 | 63 | 4 | 4 | 4.69 |
| 1940 | Charleston | Mid-Atlantic | C | 6 | - | - | - | - | 3 | 3 | 2.13 |
| 1941 | Flint | Michigan State | C | 29 | 206 | 73 | 70 | 169 | 17 | 4 | 3.19 |
| 1942 | Wilkes-Barre | Eastern | A | 29 | 187 | 57 | 111 | 78 | 14 | 12 | 2.74 |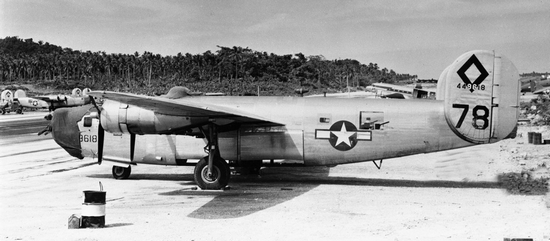 A B-24 of 394th Bomb Squadron at Samar Island. It was from this island that 2/Lt. Franklin Schulz made his final flight
Notes
1. Players with the 1940 Flint Gems who made it to the major leagues were Clint Conatser, Red Embree, Steve Gromek, Cliff Mapes, Lefty O'Dea, Jim Schelle and Forrest Thompson. Gromek, the most successful, joined the Cleveland Indians in 1941. His career spanned 17 seasons and he won a career-high 19 games in 1945.
http://clarksonhistory.wordpress.com/
Thanks to Franklin Schulz' granddaughter, Karen Christensen, for help with this biography.
Date Added February 19, 2012 Updated June 8, 2014
Baseball's Greatest Sacrifice is associated with Baseball Almanac
Baseball's Greatest Sacrifice is proud to be sponsored by