Ernie Raimondi
| | |
| --- | --- |
| Date and Place of Birth: | June 15, 1919 Oakland, CA |
| Date and Place of Death: | January 26, 1945 Sarreguemines, France |
| Baseball Experience: | Minor League |
| Position: | Third Base |
| Rank: | Private |
| Military Unit: | Company G, 2nd Battalion, 324th Infantry Regiment, 44th Infantry Division US Army |
| Area Served: | European Theater of Operations |
Baseball followers, city officials and long-time boosters of West Oakland's first baseball family, the Raimondi's, were on hand yesterday at old Bayview Park to dedicate the playground in the name of Ernie Raimondi, who was killed January 1945, while serving his country in Europe.
Oakland Tribune June 24, 1947
Ernest R. Raimondi was born in to a ballplaying family in Oakland, California. His parents, John and Josephine, were hardworking immigrants from Italy who raised seven children - Carmelo, William (Billy), Joseph (Joe), Albert (Al), Ernest (Ernie), Walter (Walt) and Lorraine. The family home was located at Fifth and Brush in West Oakland.

John Raimondi, a bootblack, was killed by a hit-and-run driver as he walked to the West Oakland train station in 1931, and Josephine, who spoke only broken English, was left to raise the family on her own. She not only had to work long hours at a cannery but also rented out half the house they lived in to make ends meet. This meant that six brothers had to share two beds, while their sister, Lorraine, slept in the third bed with her mother (an arrangement that remained in place until Lorraine married when she was 21).

Times were hard for the Raimondi's but one thing they never lacked was food. "My grandmother was a wonderful cook," explained Ernie's daughter, Penny Raimondi Isola. "Everything was homemade - even pasta. They were a very close family."[1]

The Raimondi boys were talented ballplayers. Four of them played for the Oakland Oaks of the Pacific Coast League at some point in their careers. Ernie, the second youngest, caused quite a stir when he signed a contract with the San Francisco Seals of the Class AA Pacific Coast League during his junior year at McClymonds High School in May 1936. McClymonds was the OAL (Oakland Athletic League) baseball champion in 1936, with Ernie batting .445 and Al leading the pitching staff. Billy Raimondi, who had just returned from spring training with the Cincinnati Reds, took his two high school brothers to a tryout with the Seals. Al, two years Ernie's senior, was not offered a deal while Ernie signed. "OAL officials have decided to open a war on baseball scouts of organized baseball," announced the Oakland Tribune, "as a result of Ernie Raimondi, star third sacker of the Macks, being signed by the San Francisco Seals at the age of 16."[2]

Frank Bock, city superintendent of secondary schools physical education, added that he would "recommend that the OAL send letters to heads of all organized baseball leagues and clubs requesting they advise their scouts to refrain from raiding high schools for prospects before their final term at school."[3]

In their defense, Seals' boss Charles Graham told the Tribune: "Our policy is one of hands off youngsters who have not completed their studies in high school, but the case of this Raimondi boy is different. An older brother and his legal guardian came to me and requested that the young third sacker be given a job because of the family needing the money at home. I tried to advise him that the boy should stay in school, but it was no use so I figured we may as well have him as well as any other ball club."[4]

The following day, Wilbur C. Tuttle, president of the Pacific Coast League, gave the deal his blessing and Ernie Raimondi took the first steps of his professional career. Spending the summer with the Seals, he appeared in 14 games and batted a respectable .263 (10 for 38).

The following year Billy was catching for Oakland, Al had signed with the Pacific Coast League Mission Reds and was farmed to Tucson of the Arizona-Texas League, and the Seals farmed Ernie out to the Tacoma Tigers of the Class B Western International League, where he batted .296 in 130 games. "Ernie Raimondi ... perhaps is the most talked of youngster in the Western International League," said the Fresno Bee in August 1937. "Although only 17 [he was actually 18 at the time] the Tacoma Tigers' third baseman crowds the .300 mark at the plate and his fielding is impressive."[5]

In 1938, Raimondi batted .337 in 73 games with Tacoma and played 12 games with the Seals. Manager Lefty O'Doul liked what he saw and Raimondi stayed with the club for 1939, batting .271 in 55 games before being stricken with appendicitis and missing the last two months of the season. The Seals released the 20-yearold third baseman in May 1940, and he was signed by his hometown Oakland Oaks. Playing alongside his brother Billy, Ernie hit .274 in 67 games with 24 RBIs.

On November 20,1940, Raimondi married his childhood sweetheart, Ellen Dowd. They had met in junior high, and Ernie and Ellen (who was born on the Mediterranean island of Gibraltar) married at St. Mary's Church, with Billy Raimondi acting as best man. Nineteen-forty-one did not get off to a great start for the Raimondi's. Two months after their wedding the couple's apartment in Oakland was robbed. The burglar, who gained entrance via a fire escape while the couple was out, got away with $300 in cash, a radio, two suits, a hat, a pair of pants and even one of Ellen's hat boxes to carry everything in.[6]

Then, on May 5, Raimondi, batting just .216, was released by the Oaks to make room on the roster for the big-hitting Mel Duezabou. Raimondi contemplated quitting baseball at the time, but in June he joined the Oklahoma City Indians of the Class Al Texas League. Raimondi played 28 games with the Indians and batted .225. It marked the end of his professional career.

While his brothers continued playing professional baseball (Billy caught for the Oaks all through the war years, Al pitched in the Western International League until entering military service in 1942, and young Walt began his career as a third baseman with the Oaks in 1943), Ernie pursued other ways to make a living and worked for the Moore Dry-Dock Company, a ship repair and shipbuilding company. The job also gave Ernie the opportunity to continue playing baseball as the company had a team in the highly competitive Bushrod League.

On April 19, 1944, Ellen Raimondi gave birth to the couple's only child, Penny. It was also the day Ernie received his induction papers from the Army. He entered military service on June 5, 1944, and within six months Private Raimondi was in France with Company G, 2nd Battalion of the 324th Infantry Regiment, 44th Infantry Division. The division landed at Cherbourg, France, on September 15, 1944, and trained for a month before entering combat on October 18, relieving the 79th Infantry Division in the vicinity of Foret de Parroy, east of Luneville. They then took part in the Seventh Army's drive to secure the Vosges Mountains, and were hit by many heavy and costly German counterattacks along the way. In November 1944, the 44th Infantry Division liberated Strasbourg and threw back three German attempts to cross the Blies River near Sarreguemines in December. On January 9, 1945, while defending Sarreguemines, Private Raimondi was fatally wounded. He died on January 26. Raimondi was buried at the American Military Cemetery in Epinal, France, but his body was returned home to Oakland in 1948.

Shortly after the news of Raimondi's tragic death reached Oakland, suggestions were put forward as to how best to memorialize the young ball player. "The suggestion has been made by Charlie Tye," wrote Lee Dunbar in the Oakland Tribune, "that a suitable memorial be erected to the memory of Ernie Raimondi, member of a well-known local baseball-playing family. Ernie, whose death on the European battlefields was announced recently in The Tribune, was identified with baseball in this vicinity from the time he was big enough to play until he entered the Army. I cannot think of a more suitable place for an Ernie Raimondi Memorial than at the Oakland ball park." [7]

A month later, Tye amended his suggestion: "From news I have received lately," he told the Oakland Tribune, "the post-war plans of the Oakland Recreation Department call for two new baseball diamonds in this city. I think one should be named Ernie Raimondi diamond, which will perpetuate his name and give the kids a chance to know of Raimondi's love of the game of baseball."[8]

On June 3, 1947, the City of Oakland Board of Park Directors announced that Bayview Park was to be renamed "Ernie Raimondi Park." The official opening celebration took place on June 28, 1947. "Baseball followers," wrote the Oakland Tribune, "city officials and long-time boosters of West Oakland's first baseball family, the Raimondi's, were on hand yesterday at old Bayview Park to dedicate the playground in the name of Ernie Raimondi, who was killed January 1945, while serving his country in Europe. Making the official dedication yesterday was Oakland's mayor, Herbert L. Beach. Mayor Beach cited the significance of a family such as the Raimondi's to the city of Oakland. He said they were an inspiration to young ball players like the ones who play in 'Ernie Raimondi Park' today."[9] The event was attended by the entire Raimondi family, plus Brooks Holder and Ralph Buxton of the Oaks, and Bernie Uhalt, Hugh Luby, Francis Rosse, Neil Sheridan and Will Leonard of the Seals.
Ernie Raimondi Park continues to provide a playing ground for Oakland's youngsters and recently received a $5 million makeover. On October 3, 2008, a rededication ceremony was attended by surviving members of the Raimondi family - West Oakland's first baseball family.[10]
| | | | | | | | | | | | | |
| --- | --- | --- | --- | --- | --- | --- | --- | --- | --- | --- | --- | --- |
| | Team | League | Class | G | AB | R | H | 2B | 3B | HR | RBI | AVG |
| 1936 | San Francisco | PCL | AA | 14 | 38 | 4 | 10 | 1 | 0 | 0 | 2 | .263 |
| 1937 | Tacoma | Western Int'l | B | 130 | 534 | 91 | 158 | 32 | 6 | 6 | 68 | .296 |
| 1938 | Tacoma | Western Int'l | B | 73 | 288 | 34 | 97 | 20 | 4 | 3 | 32 | .337 |
| 1938 | San Francisco | PCL | AA | 12 | 35 | 2 | 7 | 2 | 0 | 0 | 4 | .200 |
| 1939 | San Francisco | PCL | AA | 55 | 188 | 26 | 51 | 9 | 1 | 0 | 12 | .271 |
| 1940 | San Francisco/Oakland | PCL | AA | 67 | 215 | 22 | 59 | 7 | 2 | 0 | 24 | .274 |
| 1941 | Oakland | PCL | AA | 10 | 37 | 0 | 8 | 1 | 0 | 1 | 1 | .216 |
| 1941 | Oklahoma | Texas | A1 | 28 | 89 | 10 | 20 | 3 | 0 | 0 | 5 | .225 |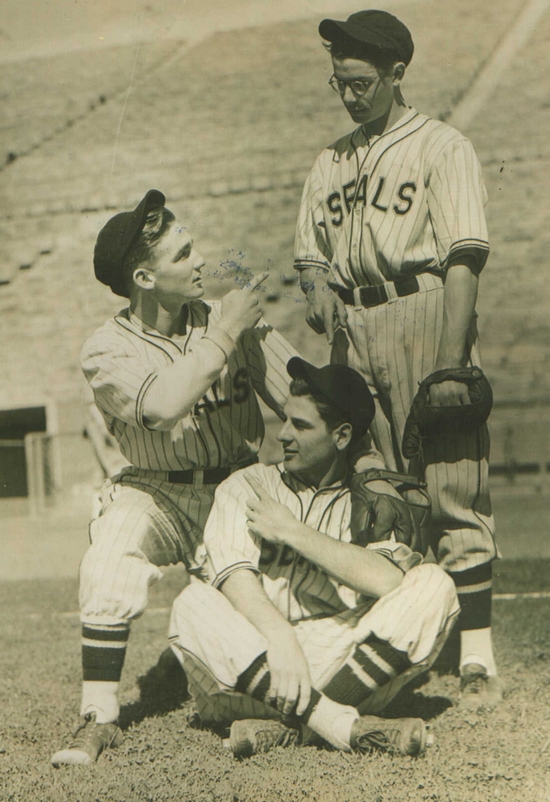 Ernie Raimondi (seated) with Bill Lillard (left) and Dom DiMaggio (standing) in 1938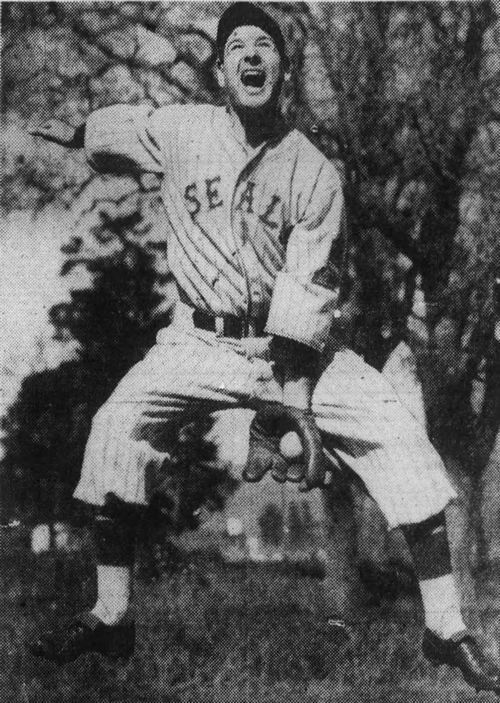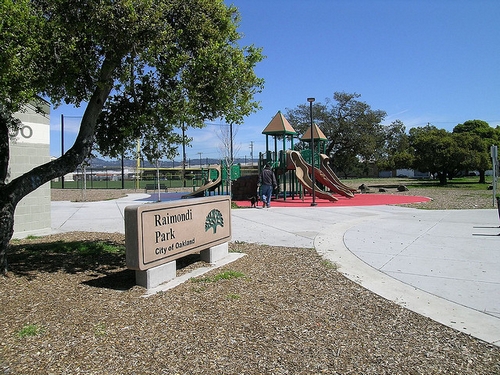 Source
1. Correspondence with Penny Raimondi Isola, 2006.
2. Oakland Tribune, May 27, 1936.
3. Oakland Tribune, May 27, 1936.
4. Oakland Tribune, May 28, 1936.
5. Fresno Bee, August 18, 1937.
6. Oakland Tribune, January 27, 1941.
7. Oakland Tribune, February 20, 1945. Charlie Tye was a well-known baseball enthusiast and businessman in Oakland. He started the city's Bushrod League and was the area's first play-by-play radio announcer of semi-pro games.
8. Oakland Tribune, March 2, 1945.
9. Oakland Tribune, June 29, 1947.
10. Billy continued to catch in the Pacific Coast League until 1953, mostly with the Oakland Oaks. Al pitched for the Oaks in 1944 and 1945. He ended his playing career with Redding of the Far West League in 1950. Walt returned from military service in 1946 and played in the minors until 1951.
Special thanks to Penny Raimondi Isola for her invaluable help with this biography and photos of her father. Also thanks to Ronald Raimondi, Carole Raimondi, Brian R McDonald, Mark Macrae, Richard Wagner and Eric Turowski at the Alameda Sun. Thanks also to Astrid van Erp for help with photos for this biography.
Date Added February 6, 2012 Updated August 1, 2017.
Understanding Ohio Child Support Laws: Ohio Child Support Payments | Columbus Child Support Lawyer
Baseball's Greatest Sacrifice is associated with Baseball Almanac
Baseball's Greatest Sacrifice is proud to be sponsored by