Don Norton
| | |
| --- | --- |
| Date and Place of Birth: | circa 1920, St. Stephen, New Brunswick, Canada |
| Date and Place of Death: | June 8, 1944 Ronchois, France |
| Baseball Experience: | Amateur |
| Position: | Pitcher/Outfield |
| Rank: | Flying Officer |
| Military Unit: | 420 Squadron, Royal Canadian Air Force |
| Area Served: | European Theater of Operations |
Donald B. "Don" Norton was born in St. Stephen, New Brunswick, Canada circa 1920.He emerged as an outstanding natural athlete while at Milltown High School and was recognized as one of the province's premier track and field athletes. At a 1938 interscholastic track meet he tied the provincial high school record for the 220-yard dash and set new records in the standing broad jump and the 100-yard dash. During his senior year in high school, he set a triple jump record at the 1939 Maritime Interscholastic Championship.

Norton played baseball with the local St Croixs team in 1938 and 1939. Used as a relief pitcher, pinch runner, right fielder, and a third-base man, his amazing speed made him a constant threat when on the bases. St Croixs won nine consecutive New Brunswick titles from 1931 to 1939, they also won seven Maritime championships and the team was inducted into the New Brunswick Sports Hall of Fame in 1971.

Norton attended Mount Allison College (now University) at Sackville, New Brunswick in 1939. In his freshman year he earned first-place finishes at the Halifax Intercollegiate Meet in the 100-yard, 220-yard dash, broad and triple jump events. At the 1940 Intercollegiate Meet, Norton duplicated firsts in the same events as he had during 1939 and added a second-place finish in javelin. At the Highland Games the same year, he ran the 100-yard dash in record time. Then in 1941 he beat Canadian sprint champion, Peter Taylor, in the 100-yard dash. In 1942, Norton equaled his best time in the 100-yard dash and broke his own record in the broad jump.

But Norton's most heroic act Mount Allison College did not take place on the athletic field. On December 16, 1941, a fire broke out at the college's men's residence. With little regard for his own safety, Don Norton ran from floor to floor, waking up the sleeping students and helping them to make improvised ropes from bed sheets. Eventually, Norton jumped from a third-storey window into the safety of a fireman's net. Four students lost their lives in the fire. Norton's efforts saved many more.

Norton enlisted in the Royal Canadian Air Force after graduating from Mount Allison and trained as a navigator. He continued to run track for the RCAF and was recognized as the fastest runner in a Canadian military uniform.

Flying Officer Norton served with 420 Squadron and was based at RAF Tholthorpe in Yorkshire, England. On June 8, 1944, Don Norton, who had survived a plane crash earlier in his military service, was killed when his Handley Page Halifax III was shot down and exploded upon crashing in a field at Ronchois, France.

"Every person who was on the campus when Don was here," declared a Mount Allison College publication shortly after his death in 1944, "will long remember him for his marvelous running as well as his general all round ability in everything he tried. There were few his equal, and his death is indeed a blow to all who knew him."

The Don Norton Memorial Award later established at Mount Allison. The university presents the award - in memory of all students who gave their lives in WWII - to the male student who makes the greatest overall contribution to university life in his senior year.

Don Norton is buried at Poix-de-Picardie Cemetery in Somme, France. He was inducted into the New Brunswick Sports Hall of Fame in 1970.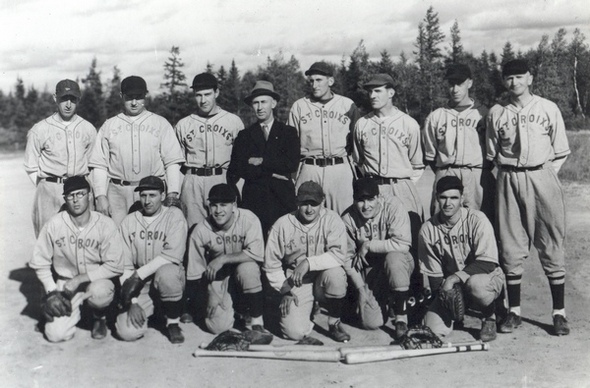 The St Croixs team of St Stephen, New Brunswick in 1939
Thanks to Kelly Ross, Curator/Exhibits Director of the New Brunswick Sports Hall of Fame and author/creator of the virtual exhibition, Hometown Sports Heroes of St Stephen, New Brunswick for help with this biography and photos.
Date Added: February 7, 2013
Baseball's Greatest Sacrifice is associated with Baseball Almanac
Baseball's Greatest Sacrifice is proud to be sponsored by