Bill McNulty
| | |
| --- | --- |
| Date and Place of Birth: | Montana circa 1914 |
| Date and Place of Death: | May 29, 1944 Toem, New Guinea |
| Baseball Experience: | Minor League |
| Position: | Third Base |
| Rank: | Sergeant |
| Military Unit: | Company A, 116th Engineer Combat Battalion, 41st Infantry Division, US Army |
| Area Served: | Pacific Theater of Operations |
Bill McNulty lives, eats, sleeps, walks, talks, breathes, sings, whistles and laughs baseball.
Spokane Chronicle - April 28, 1938
William M. "Bill" McNulty, one of 11 children born to Michael and Gertrude McNulty, was born in Montana in 1914. The family moved from Montana to Ogden, Utah, before settling in Roseville, northeast of Sacramento, California. The McNulty boys all excelled at sports with Bill, Gene, Ray and Jim all playing for prominent local amateur and semi-pro teams.
McNulty played varsity baseball at Roseville Grammar School and graduated in 1929. In 1930, he played American Legion baseball with the Roseville team. In 1933, McNulty played third base for Morrow's Tire Service in the Roseville Twilight League. In 1934, he was with the Roseville Red Men of the semi-pro Placer-Nevada League. In 1935, he was with the P.F.E. Merchants of Roseville in the Sacramento Valley League and batted .343. In 1936, he joined the Colfax Lions of the Placer-Nevada League, and the 24-year-old signed with the Tacoma Tigers of the Class B Western International League in June 1937. He also played with the Spokane Hawks of the same league that year and appeared in 25 games, batting .264. In 1938, he was again with Spokane, but played just three games, batting .154.

From 1939, until entering military service in April 1941, McNulty lived in Los Angeles and worked as a plumber while continuing to play baseball with local teams. He served with the 41st Infantry Division and was stationed at Fort Lewis, Washington. In August 1941, he played for the 41st Infantry Division baseball team in the NBC Semi-Pro World Series at Wichita, Kansas.
"We have a pretty good team," he told the Colfax Record in August 1941. "I am playing steady third base. Also, they elected me captain and . . . that means a lot to me. It means they like me, believe in my baseball knowlege and experience to let me be captain."

McNulty left the United States for the Pacific with Company A of the 116th Engineer Combat Battalion, 41st Infantry Division, in early 1942. In May 1942, his unit arrived in Australia. In May 1943, word was received from McNulty that he was now in New Guinea and that the army were building a ballpark.
The division was one of the first to be engaged in combat with Japanese forces. On May 29, 1944, during an attack by Japanese troops near the village of Toem on New Guinea, Sergeant McNulty was tragically killed when he came too close to the heavy machine gun fire of his own troops in the dark.

Bill McNulty is buried at the Manila American Cemetery in the Philippines. On Sunday April 14, 1946, a silent tribute was held before each opening day Placer-Nevada League game in honor of the four players who lost their lives in World War II. In addition to Bill McNulty, Chuck Kuhn of Auburn, Don Irwin of Auburn and Colfax, Bill Larr of Roseville and Bill Schroth of Placerville made the ultimate sacrifice.

At least two of Bill's brothers played minor league baseball. Gene played briefly with Roseville in the Class D Far West League in 1948. Ray McNulty played in the minors from 1946 until 1954, including stints with the Beavers and Seals in the Pacific Coast League. While Ray's son, William F. "Bill" McNulty, named after his uncle, played in the minors for 11 seasons, was with the Oakland Athletics in 1969 and 1972, and played in Japan in 1975.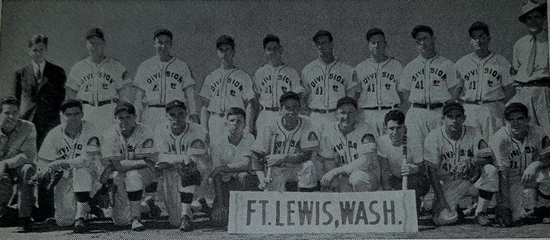 The 41st Infantry Division team that represented Fort Lewis, Washington, at the 1941 NBC Semi-Pro World Series. Bill McNulty is back row, fourth from left.
Date Added March 3, 2018. Updated March 16, 2020
Baseball's Greatest Sacrifice is associated with Baseball Almanac
Baseball's Greatest Sacrifice is proud to be sponsored by