Jack Lummus
| | |
| --- | --- |
| Date and Place of Birth: | October 22, 1915 Ennis, TX |
| Date and Place of Death: | March 9, 1945 Iwo Jima |
| Baseball Experience: | Minor League |
| Position: | Outfield |
| Rank: | First Lieutenant |
| Military Unit: | Company F, 2nd Battalion, 27th Marines, 5th Division, USMC |
| Area Served: | Pacific Theater of Operations |
Jack Lummus was an outstanding athlete who played both professional football and baseball. He is one of only two professional baseball players to be awarded the Congressional Medal of Honor.
Andrew J. "Jack" Lummus was an outstanding athlete who played both professional football and baseball, and he is one of only two professional baseball players to be awarded the Medal of Honor during World War II.

Lummus was born on a farm in Ennis, Texas, 35 miles south of Dallas, in October 1915. The Lummus farm was in the Blackland Belt, which was the principal cotton-producing area of Texas at the time. Jack was the youngest child and only son of four born to Andrew Jackson Lummus, Sr., and his wife Laura. He attended Ennis High School where he excelled in football, basketball and track, earning all-district honors. However, due to illness, Lummus did not complete his senior year in high school and instead accepted a two-year athletic scholarship at Texas Military College in Terrell. He earned all-conference honors in football at Terrell before graduating on May 28, 1937, and received scholarship offers from Baylor University in Waco, Texas, and Tulane University in New Orleans, Louisiana.

Lummus enrolled at Baylor on September 14, 1937. He played end on the football team and earned NEA All-American honorable mention in 1939. It was at Baylor that he also demonstrated his potential as a baseball player. With Lummus patrolling center field, the Bears finished third in the Southwest Conference in 1939, 1940 and 1941. He earned All-Southwest Conference honors each year and was considered the best center fielder that had ever played for the school. "Sensational is the adjective often employed to describe the fielding proclivities of Jack Lummus, veteran Baylor gardner," wrote Howard Green in the Abilene Reporter-News in 1941. In his senior year, Lummus hit two doubles in Baylor's March 21, 9–1, win over McMurray, and broke up a University of Texas no-hitter with a fifth-inning home run on May 8. He finished the year with a .309 batting average (17 for 55) which was best among Baylor's hitters and tenth best in the Southwest Conference. Two of his baseball teammates at Baylor, Joe Byrd and Jack Casey, lost their lives in World War II.

In May 1941, a recruiter for the Army Air Corps, Lieutenant C. H. Scott, visited Baylor's campus and Lummus, drawn to the idea of being a pilot, enlisted along with 25 others. While waiting to be called for service, he and Baylor teammate Joe Terry signed professional baseball contracts with the Wichita Spudders of the Class D West Texas-New Mexico League. Lummus played 26 games in right field for the Spudders and batted .257 (Joe Terry, a pitcher, finished with a 3–13 won-loss record in his only season in professional baseball). In July 1941, he received his call from the Army Air Corps and reported to Hicks Field, near Fort Worth, Texas, where he took basic flight training.

Lummus made his first solo flight in a Fairchild PT-19 primary trainer, but damaged the wing while taxiing after landing and was washed out of flight school, receiving an honorable discharge.

In August 1941, Lummus decided to give professional football a try. He attended the New York Giants training camp in Superior, Wisconsin, and made the 33-man roster that opened the season against the Philadelphia Eagles on September 13. Lummus played in nine of the Giants' 11 games and it was during a 21–7 loss to the Brooklyn Dodgers on December 7 that news broke of the Japanese attack on Pearl Harbor. Three weeks later the Giants season ended as they were beaten by the Chicago Bears, 37–9, in the Conference Championship on December 21, 1941, and Lummus enlisted with the Marine Corps in Dallas, Texas, on January 30, 1942.

He took basic training at the Mainside recruit training center in San Diego, California, before being assigned to Camp Elliott, 10 miles north of San Diego, where he played baseball with the San Diego Marine Corps Base Devil Dogs; his teammates included former Cleveland Indians pitcher Cal Dorsett, Philadelphia Phillies second baseman Emmett "Heinie" Mueller, and Ted Pawelek, who would catch for the Chicago Cubs after the war.

In May 1942, Lummus was sent to the busy seaport of Mare Island, California, as a military policeman. On June 10, he was promoted to private first class, and two months later he attained the rank of corporal. Lummus played ball throughout the summer with the Mare Island Marines team, and on August 13, 1942, his ninth-inning triple gave the team a 6–3 win over the Stockton Advanced Flying School team. On October 18, 1942, Lummus enrolled at the Officer's Training School at Quantico, Virginia. He graduated on December 30, 1942, and received a commission as a second lieutenant. He then joined the 18th Reserve Officers' Class and graduated on March 11, 1943. The next stop for Lummus was Camp Elliott in San Diego, California, and in June, he volunteered for the Marine Raiders at Camp Joseph H. Pendleton in Oceanside, California. The baseball team at Camp Pendleton during this time was managed by future Hall of Famer Ted Lyons.

The Marine Raiders were the elite fighting group of the Marine Corps, similar to the British commandos. The Raiders had distinguished themselves in combat in the Pacific but the group was dissolved in late 1943. Meanwhile, the 5th Marine Division was being activated at Camp Pendleton, and on January 19, 1944, Lummus became commanding officer of Company G, 2nd Battalion, 27th Marines of the 5th Marine Division. On February 29, 1944, the designation for Company G was changed to Company F and Lummus became executive officer for that company.

The 5th Marine Division left California in August 1944, bound for Camp Tarawa in the Hawaiian Islands. The islands offered Lummus his last opportunity to play baseball as his team clinched the division league title. From then on, training for combat was the number one priority. Local peaks were scaled on a daily basis, and live ammunition drills covered Marines as they crept forward on the lava deserts that surrounded the camp.

Lummus was detached from Company F on October 18, and joined Headquarters Company as Battalion Liaison Officer. During November, the division left Camp Tarawa for amphibious landing rehearsals at Ma'alea Bay, and after four months of training, the 5th Marine Division was assigned to the 5th Amphibious Corps for the assault on Iwo Jima.

The division left Hawaii in January 1945, and reached Eniwetok Atoll for refueling on February 5. The convoy then steamed westward towards Saipan and reached that island on February 11. An invasion rehearsal was held off the west coast of nearby Tinian before steaming northwards for Iwo Jima. On February 19, 1945, First Lieutenant Jack Lummus was in the first wave that hit the beaches at Iwo Jima. His initial duty was as liaison officer for the Second Battalion, spotting targets on and around Mount Suribachi.

On March 6, he was given command of the third rifle platoon in Second Battalion's E Company. Two days later they were spearheading a final assault on an objective east of Kitano Point in the north of the island. Lummus led an assault on three concealed Japanese strongholds and despite minor wounds received from grenade shrapnel, he singlehandedly knocked out all three positions. The following day, there was a huge explosion and Lummus was mortally wounded. "We had been under artillery fire for 36 hours," related Captain Donald H. O'Rourke, "and we were just about to move out when Lummus stepped on a landmine. Both his legs were blown off. They got him on a stretcher and as they started back with him he smiled at me and said: 'The Giants sure are losing a mighty good football player.'"

Lummus was transferred to the 5th Division Field hospital where he underwent surgery and blood transfusions, but died on the operating table the following day. He was one of 6,821 Marines killed on Iwo Jima before the island was secured on March 26, 1945.

"Lummus was one of the greatest officers I have ever known," said his commanding officer, Major John W. Antonelli. Corporal Herbert J. Green, who served under Lummus' command, had this to say: "No matter where we were or how much enemy fire there was, he was always moving up and down the line giving us tips and encouragement."

First Lieutenant Jack Lummus was buried at the 5th Marine Division cemetery at the foot of Mount Suribachi. In December 1945, before a Giants-Eagles football game, a plaque in his memory was unveiled at the Polo Grounds in New York. On Memorial Day, May 30, 1946, in a service at Ennis, Texas, Mrs. Laura Lummus received the Medal of Honor on behalf of her son from Rear Admiral Joseph J. "Jocko" Clark. "By his outstanding valor, skilled tactics, and tenacious perseverance in the face of overwhelming odds," stated the citation, "First Lieutenant Lummus had inspired his stouthearted marines to continue the relentless drive northward, thereby contributing materially to the success of his regimental mission. His dauntless leadership and unwavering devotion to duty throughout sustain and enhance the highest traditions of the U.S. Naval Service."

Jack Lummus' body was returned to Ennis, Texas, in April 1948, and now rests at the Myrtle Cemetery. In December 1986, the Jack Lummus Memorial Park was opened in front of the Ennis Chamber of Commerce. In 2002, he was inducted into the Texas High School Football Hall of Fame.

Jack's name lives on in today's military. The USNS 1st Lt. Jack Lummus was named in his honor and carries a full range of Marine Corps cargo, enough to support a Marine Air Ground Task Force for 30 days.
| | | | | | | | | | | | | |
| --- | --- | --- | --- | --- | --- | --- | --- | --- | --- | --- | --- | --- |
| | Team | League | Class | G | AB | R | H | 2B | 3B | HR | RBI | AVG |
| 1941 | Wichita Falls | Texas-New Mexico | D | 26 | 101 | 23 | 26 | 6 | 3 | 2 | 12 | .257 |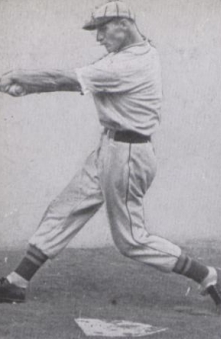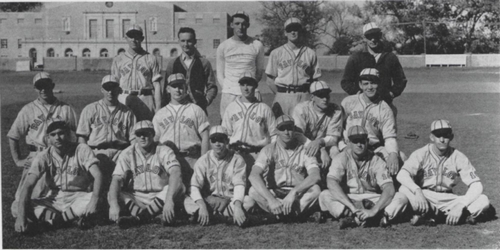 Baylor baseball team in 1939. Jack Lummus is front row, third from right

Baylor baseball team in 1941. Jack Lummus is front row, third from left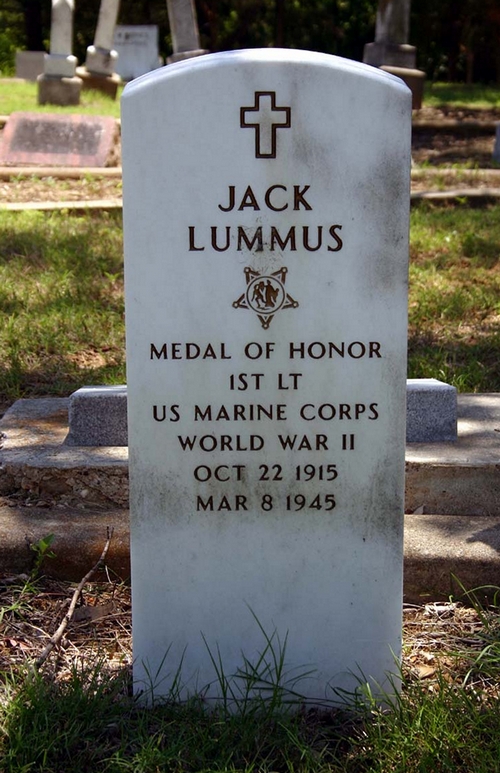 Jack Lummus' grave at Myrtle Cemetery in Ennis, Texas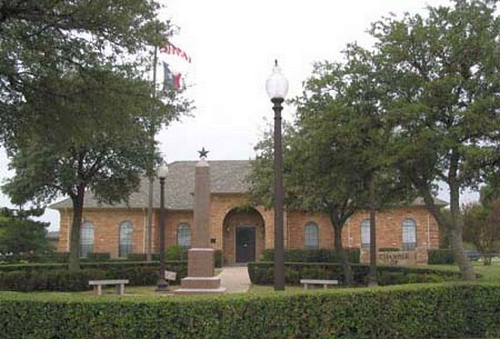 The Jack Lummus Memorial Park in front of the Ennis Chamber of Commerce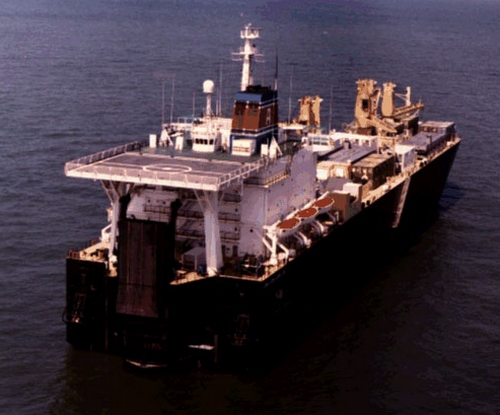 The USNS 1st Lt. Jack Lummus is one of Military Sealift Command's
twelve Container & Roll-on/Roll-off Ships
Some of the above information is courtesy of Pete Wright at jacklummus.com
Date Added February 1, 2012 Updated June 5, 2014
Baseball's Greatest Sacrifice is associated with Baseball Almanac
Baseball's Greatest Sacrifice is proud to be sponsored by