Hugh B. Lott, Jr.
| | |
| --- | --- |
| Date and Place of Birth: | March 5, 1931 Binghamton, NY |
| Date and Place of Death: | March 14, 1959 Bartonville, IL |
| Baseball Experience: | Minor League |
| Position: | Pitcher |
| Rank: | Second Lieutenant |
| Military Unit: | 169th Fighter Interception Squadron USAF |
| Area Served: | Korea and United States |
After his brief baseball career, Hugh Lott, Jr., decided to pursue a career in the military. A decision that cost him his life.
Hugh B. Lott, Jr., was born on March 5, 1931 in Binghamton, New York. His father, Hugh B. Lott, was a football star at Binghamton Central High School and Amherst College, who went on to coach the Schlitz Wildcats of the New York State Professional Football League and the semi-pro Endicott baseball team. During the 1940s the family moved to the Midwest and settled in Illinois, where Lott, Sr., operated a grain and feed business as well as scouting for the St. Louis Browns.

In May 1950, Lott, Sr., was named the Browns' full-time scouting representative in northern Illinois and the Chicago area. At the same time, his son, a right-handed pitcher, signed with the Browns' organization and was assigned to the Aberdeen Pheasants of the Class C Northern League where he made 17 appearances.

In 1951, 20-year-old Lott, Jr., started the season with the Pine Bluff Judges of the Class C Cotton States League. On April 20, he combined with fellow right-hander Vachel Perkins to hurl a 6-2, no-hitter over Hot Springs. Lott, who pitched the first five innings of the game, walked 12 batters and allowed both runs. Lott was 5-2 with a 6.14 ERA when he was assigned to the Pittsburg Browns of the Class D Kansas-Oklahoma-Missouri League later in the year. Lott did little pitching with Pittsburg but batted .218 in 44 games.

Hugh Lott, Jr., was back with Aberdeen in 1952, but made just 11 appearances before entering military service with the Army. He served in Korea and attained the rank of sergeant. Lott never returned to baseball. He chose, instead, to pursue a career in the military and trained to be a fighter pilot with the United States Air Force.

On March 14, 1959, 28-year-old Second Lieutenant Hugh B. Lott, Jr., was piloting an F-84F Thunderstreak attached to the Peoria-based 169th Fighter Interception Squadron. As the leader of a four-plane unit completing a routine operation, 2/Lt. Lott was on his final approach to Greater Peoria Airport at Bartonville, Illinois, with the landing gear down. Suddenly, however, the aircraft nosed down and smashed into the ground, 1.5 miles short of the airfield. It bounced 150 feet before plowing through an aluminium farm equipment shed, killing Lott.

Hugh B. Lott, Jr., is buried at Olio Township Cemetery in Eureka, Illinois.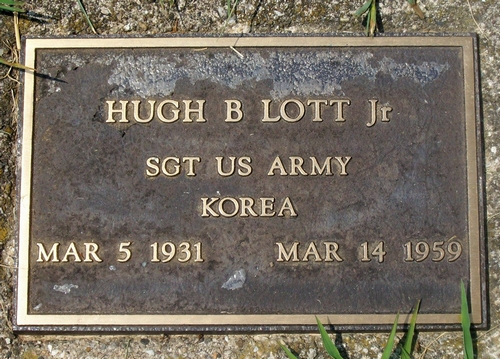 Hugh Lott's grave at Olio Township Cemetery in Eureka, Illinois
Sources
Greenville Delta-Democrat – April 22, 1951
Emporia Gazette – July 21, 1951
Binghamton Press – January 4, 1956
Rockford Morning Star – March 15, 1959
www.baseball-reference.com
www.findagrave.com
Date Added October 16, 2012 Updated July 15, 2013
Baseball's Greatest Sacrifice is associated with Baseball Almanac
Baseball's Greatest Sacrifice is proud to be sponsored by