Whitey Loos
| | |
| --- | --- |
| Date and Place of Birth: | December 13, 1916 Crafton, PA |
| Date and Place of Death: | January 16, 1944 British Guyana, South America |
| Baseball Experience: | Minor League |
| Position: | Catcher |
| Rank: | First Lieutenant |
| Military Unit: | 9th Ferrying Squadron, 6th Ferrying Group, Air Transport Command USAAF |
| Area Served: | United States, Pacific and South America |
Walter G. Loos, Jr., the son of Mr. and Mrs. W.G. Loos, was born in Crafton, a neighborhood located west of downtown Pittsburgh, on December 13, 1916. Known as "Gus" or "Whitey", Loos was the eldest of four sons born to Walter, Sr., (a law firm office manager) and Margaret Loos.

Loos attended Crafton High School where he and his brother, John (known as "Jock"), lettered in baseball, football and basketball. He graduated in 1935.

Between 1936 and 1938, Loos and Jock spent the summer months playing baseball with the Methodists in the Crafton Church League and Crafton Heights in the Pittsburgh City League. Once a year, the Pittsburgh-based Homestead Grays – Negro National League Eastern Division champions in 1937 and 1938 - would come to Crafton Athletic Field for an exhibition game against the Crafton Church League "All Stars". On one occasion, while Jock was pitching and Gus was catching, the mighty Josh Gibson hit the longest home run ever seen at Athletic Field. It not only cleared the left field fence (330 feet), but also the parking lot (150 feet) and a twelve foot high fence before landing in Steuben Street - a distance of more than 500 feet. These games were a wonderful time for all. The Grays – with a line-up that included future Hall of Famer Buck Leonard - relied on entertaining these local crowds as a way to help boost their poor Negro league salaries and they really knew how to put on a show. The Grays pitcher would throw a mixture of side arm and underhand, as well as throwing both left and right-handed. And a typical routine was for a ground ball to the third baseman to be relayed to the centerfielder who would still get the runner at first base by several steps. When the pitcher would walk a batter, the Gray's "team doctor" would visit the mound in his medical smock and administer a liquid remedy.

Loos won an athletic and academic scholarship to Carnegie Institute of Technology (now Carnegie Mellon University) in Pittsburgh in 1935. He played football (end), basketball (center), baseball (catcher) and also ran the 440 yard dash on the track team.

In the 1930s Carnegie Tech was among the top football programs in the country and in his senior year, 1939, Loos was on the squad that played in the Sugar Bowl held at Tulane University's stadium in New Orleans on January 2, 1939. The Carnegie Tech Tartans (ranked #6) played the Texas Christian University Frogs (ranked #1) and were defeated 15 to 7 before a crowd of 44,308.

Loos also played outstanding basketball with the Tartans his senior year. The highlight of his season probably came on January 17, 1939, against the Penn State Nittany Lions. With four minutes to play the Lions went ahead 31 to 30. Loos then stole the ball, sank a basket after dribbling half the length of the floor and made good a foul shot to help the Tartans win 35 to 33. Loos earned Eastern Intercollegiate Basketeball Conference Honorable Mention for the season.

But it was in baseball that the professional teams were most interested, and after three-and-a-half years at Carnegie Tech, Loos accepted an offer to join the Brooklyn Dodgers' organization in the spring of 1939. Brooklyn sent the 22-year-old to the Gloversville-Johnstown Glovers of the Class C Canadian-American League. Making his debut on May 30 at Amsterdam's Mohawk Mill Park before the second largest crowd to see a Can-Am game, Loos was used as a pinch hitter in the first game of a double header, cracked a double and scored his team's only run in a 5-1 loss. In the second game he was behind the plate for the Glovers going 2-for-4 with a stolen base. "Loos looked good behind the bat," reported the Gloversville and Johnstown Leader-Republican the following day, "and showed signs of having a strong arm and an accurate peg."

Unfortunately, Loos' time with the Glovers didn't work out, as explained by the Leader-Republican upon his release on June 22. "Loos' departure will be regretted by many for he is a fine fellow, tried hard but wasn't just what the club wanted. Loos had hard luck, too, for he came in as a catcher. He caught just one game as relief to [Mike] Diffley and then Bill Dick and Hal Palmer came along. Loos did not have the experience to compete with either of these boys and manager [Elmer] Yoter tried him at shortstop.

"He was a combination of good and bad, but mostly the latter because he could not bend over for the low ones and hard hoppers and at times his arm, while strong, was inaccurate and he made many errors. To the credit of the big boy, he tried like nobody's business but did not improve.

"Loos might have remained here a while longer . . . but Bill Buckley, manager of Batavia in the [Class D] PONY League, wanted a catcher and wrote asking for Loos."

In 21 games with the Glovers – mostly as a shortstop - Loos batted .243. However, he showed what he could do as a catcher for Batavia. In 66 games he batted .271 for the Clippers and drove in 21 runs. As their first string catcher, he was behind the plate for 62 games and handled 439 chances, committing 15 errors for a .966 fielding percentage, while handling a pitching staff that included future major leaguers Dick Fowler, Joe Cleary and Frank Colman.

Still with Batavia in 1940, Loos batted .290 with 49 RBIs in 76 games, and was sold in August to the Cincinnati Reds together with Stanley Baran for $1,000. Loos briefly returned home to Crafton following the sale and was joined by a hoard of Crafton Church Leaguers at Penn Station to wish him well on his journey to Durham, North Carolina, where he was to report to the Bulls of the Class B Piedmont League. "I've watched a lot of 'em come and go," Phil Weaver of the Church League told the Pittsburgh Press. "But Loos is one of the few who has the stuff to go up [to the major leagues].

In 12 games with the Bulls, Loos batted .400 (12 for 30) as the team went on to capture the Piedmont League's playoff championship despite finishing fourth in the regular league standings.

Loos played with the Dayton Ducks of the Class C Middle-Atlantic League at the start of the 1941 season. "The Ducks were in the same League as the Erie Sailors," recalls his youngest brother, Richard. "Sometime during this summer, Mother and I rode the bus to Erie to see Gus play. I remember three things from this trip. We met Gus at his hotel, the lighting at the game was very poor and Gus's team lost."

Loos batted .243 in 44 games with the Ducks, and finished the year with the Columbia Reds of the Class B South Atlantic League, where he hit .298 in 47 games, handling a pitching staff of future major leaguers including Arnold Carter, Hal Erickson and Johnny Kucab, and helping the club win the league championship.

The 24-year-old had made steady progress through the minor league system, and was keeping in shape during the off-season playing basketball with the league-leading Young Republicans in Pittsburgh's Municipal League when news of Japan's devastating attack on Pearl Harbor at Hawaii reached the American mainland. Two weeks later, Loos turned his back on professional baseball and enlisted with the Army Air Force.

Training as aircrew, Loos completed navigation training at the Pan American Airways Navigation School, Coral Gables, Florida, southwest of downtown Miami. The navigator's job is to direct a flight from departure to destination and return. He must know the exact position of the airplane at all times by determining geographic positions by means of pilotage (determining the airplane's position by visual reference to the ground), dead reckoning (estimating your position by using course, speed, time and distance traveled), radio (making use of various radio aids to determine position) and celestial navigation (determining position by reference to the stars).

Loos graduated as a second lieutenant and was assigned to the municipal airport in Long Beach, California, where an area on the south side of the runway had been converted into an Army Air Base operated by the 6th Ferrying Group of the Air Transport Command. Loos served with the 9th Ferrying Squadron, delivering various tactical and support aircraft from factories to overseas departure points in the Pacific area. Between July 1942 and June 1944, ferry crews from Long Beach made 1,258 overseas deliveries. In addition, they delivered over 40,000 aircraft to destinations within the United States.

About 3,000 servicemen were stationed at Long Beach Army Air Field. The base was about a ten minute bus ride to Ocean Boulevard and downtown Long Beach. The Douglas Aircraft Company plant, employing thousands of workers, many of them young females, was located on the other side of the runway at Municipal airport.

During this time, Loos played for the formidable 6th Ferrying Group baseball team. Often having gaps in his flight assignments which allowed him to play for days at a time, Loos found himself on a ball team that included Red Ruffing (Hall of Fame pitcher for the New York Yankees) as manager and player, Harry Danning (all-star catcher for the New York Giants four consecutive years), Chuck Stevens (first baseman for the St. Louis Browns), Max West (all-star outfielder with the Boston Braves), and Nanny Fernandez (shortstop with the Boston Braves).

The 6th Ferrying Group were a real powerhouse team and Ruffing pitched them to a 4-1 victory over Camp Pendleton for the Southern California service championship on October 11, 1943, defeating fellow future Hall of Famer Ted Lyons.

The 26-year-old also found time for romance. On September 10, 1943, at Long Beach, he married 19-year-old Alice Marie Goodwin of Apex, North Carolina.

In January 1944, 1/Lt. Loos was the navigator for 1/Lt. Thomas M. Palmer, who was the ferry pilot of a Consolidated B-24J Liberator bomber that was one of five planes to be delivered to the Eighth Air Force Service Command in the United Kingdom. From Long Beach, California, the planes traveled to Lincoln, Nebraska, then to Presque Isle, Maine. From there they headed south to British Guyana in South America. At approximately 10:00 A.M. on January 16, 1944, they departed from Atkinson Field, near Georgetown in British Guyana, bound for Belem, Brazil, where they would refuel and complete the next leg of the journey to Europe.

No contact was made with Loos' plane after take-off from Atkinson Field.

Once time had elapsed for the fuel reserve to be depleted, a search was made for the missing plane. On January 17, two North American B-25 Mitchells searched the route between Georgetown and Suriname, while the Navy Patrol Squadron at Zandery Field in Suriname, searched as far as Clevelandia in southern Brazil. In addition, all transient planes were briefed to be on the look-out for the missing bomber. The search continued until January 19, when wreckage was spotted by aircraft in a large swamp in an isolated area 37 miles southeast of Atkinson Field. There was evidence from the air of an explosion and fire.

A rescue party reached the wreckage via the Abary River on January 26, but was unable to locate the bodies of the crew. A second investigating party reached the scene on February 12 (almost a month after the crash), and was successful in recovering the bodies of five of the seven airmen, including Lieutenant Loos. The bodies of First Lieutenant Palmer and Second Lieutenant Martin Stern were never found (the others recovered were 1/Lt. Lawrence M. Stanley, Jr., S/Sgt. Earl A. Hoegensen, T/Sgt. Joseph J. Thomy and S/Sgt. Hugh M. Sharpe. 2/Lt. Stern and S/Sgt. Sharpe were not crew members but passengers aboard the plane).

Following an investigation, it was assumed that an explosion had taken place aboard the B-24, causing it to fall from the sky. What caused the explosion will never be known.

At the Batavia Clippers home-opener on April 30, 1945, Loos, who was posthumously awarded the Air Medal, was remembered in a flag-raising ceremony and moment of silent prayer.

After the war, Loos family were visited by one of his former 6th Ferrying Command baseball teammates. "Nanny Fernandez was playing with the Boston Braves and they were visiting Pittsburgh to play the Pirates," remembers Richard Loos. "Nanny came to our house for dinner. It was a wonderful gesture on his part and my parents were deeply touched."

1/Lt. Loos' body was returned home to Pennsylvania in 1948 and is resting in the family plot, Section A, Lot 43 in the Smithfield East End Cemetery in Pittsburgh.
| | | | | | | | | | | | | |
| --- | --- | --- | --- | --- | --- | --- | --- | --- | --- | --- | --- | --- |
| | Team | League | Class | G | AB | R | H | 2B | 3B | HR | RBI | AVG |
| 1939 | Gloversville-Johnstown | Canadian-American | C | 21 | 70 | 13 | 17 | 2 | 1 | 1 | 6 | .243 |
| 1939 | Batavia | PONY | D | 66 | 225 | 37 | 61 | 9 | 1 | 2 | 21 | .271 |
| 1940 | Batavia | PONY | D | 76 | 297 | 65 | 86 | 13 | 3 | 4 | 49 | .290 |
| 1940 | Durham | Piedmont | B | 12 | 30 | 5 | 12 | 1 | 0 | 0 | 5 | .400 |
| 1941 | Dayton | Mid-Atlantic | C | 44 | 144 | 11 | 35 | 3 | 1 | 0 | 14 | .243 |
| 1941 | Columbia | South Atlantic | B | 47 | 151 | 27 | 45 | 7 | 3 | 0 | 21 | .298 |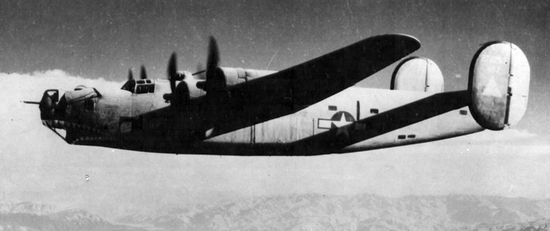 A Consolidated B-24J Liberator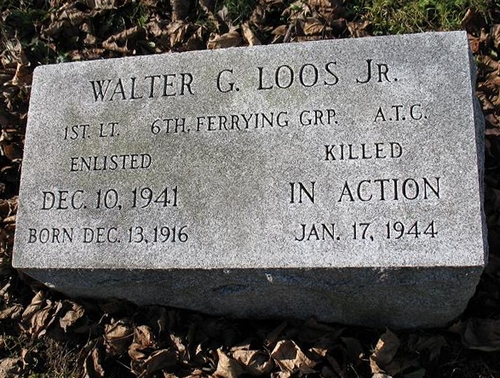 Whitey Loos' grave at Smithfield East End Cemetery in Pittsburgh
I am deeply indebted to Richard Loos for help with this biography. Thanks also to Astrid van Erp, for help with photos for this biography.
Date Added February 1, 2012 Updated July 29, 2017
Baseball's Greatest Sacrifice is associated with Baseball Almanac
Baseball's Greatest Sacrifice is proud to be sponsored by