John Lazar
| | |
| --- | --- |
| Date and Place of Birth: | December 12, 1929 Kewanee, IL |
| Date and Place of Death: | September 7, 1951 Hills 717-682, North Korea |
| Baseball Experience: | Minor League |
| Position: | Pitcher |
| Rank: | Corporal |
| Military Unit: | Company K, 35th Infantry Regiment, 25th Infantry Division US Army |
| Area Served: | Korea |
John Lazar was born in Kewanee, Illinois on December 12, 1929, one of eight sons and three daughters born to Russian immigrants Ignatz and Martha Lazar. He attended Kewanee High School where he played baseball, basketball and co-captained the football team.
Lazar was signed to a contract with Janesville (Wisconsin State League) late in 1947 and released to Centralia (Illinois State League) in 1948. He was called into the service with the army after the 1948 season.
On his return in February, 1950, he was made a free agent, signed with Ada (Sooner
State League) and then was transferred to the Pittsburg Browns of the Class D KOM League. The 20-year-old right-hander made nine appearances for Pittsburg. On June 24, he went three-and-a-third innings, starting against the Miami Eagles. He lost, 2-0, in a start against Chanute on July 20 and had no decision in another start against Chanute on August 11. He finished the season with a 1-2 record, having pitched 23 innings, struck out 14 and allowed 13 runs. Two of his 1950 teammates made it to the big leagues. Jim Pisoni played the outfield for the St. Louis Browns in 1953 and Chuck Locke pitched for the Orioles in 1955. Locke told baseball historian John G. Hall, that all through the 1950 season all that Lazar did was tell his teammates over and over that the Korean war was going to heat up and he would have to go and if he did he'd be killed. Locke and the Pittsburg teammates finally told Lazar to put a lid on it.

Lazar's prophecy came true. He was recalled for military service at the end of the season and served as a corporal with Company K, 35th Infantry Regiment of the 25th Infantry Division in Korea.

On September 7, 1951, Company K was in an area designated "the Iron Triangle", located about 25 miles north of Seoul. It was in North Korea and comprised two hills 717-682 which were outposts deep in enemy territory. Corporal Lazar was killed by an enemy sniper while on a combat patrol.

In a letter to John's brother Adam, who was playing football at the University of Illinois, his comrade Elvin Hoffman of Chicago, explained how it happened:

"We got up there OK, but that night the Communists were all over the hill. John was always in front of his men. Just then, a Chinese standing about 25 to 30 yards away shot John right in the head. When the boys saw that, why every one just opened fire on that one man. I just made it to John's side and all he said was "Mom", and the next thing I knew John was gone."

Corporal Lazar was awarded the Purple Heart, the Combat Infantryman's Badge, the Korean Service Medal, the United Nations Service Medal, the National Defense Service Medal, the Korean Presidential Unit Citation and the Republic of Korea War Service Medal.
Chuck Locke had spent 1951 with the Aberdeen Pheasants in the Northern League. After the season ended he went back home to Malden, Missouri and in late September he picked up The Sporting News and read of the death of his former teammate.

John Lazar is buried at Evergreen Memorial Gardens in Kewanee, Illinois. All seven of his brothers served in the Army in WWII, Korea, or the post-war period.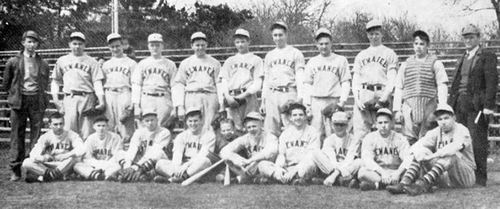 1947 Kewanee High School baseball team
(John Lazar is back row, second left)
Kewanee High School basketball team
(John Lazar is front row, second left)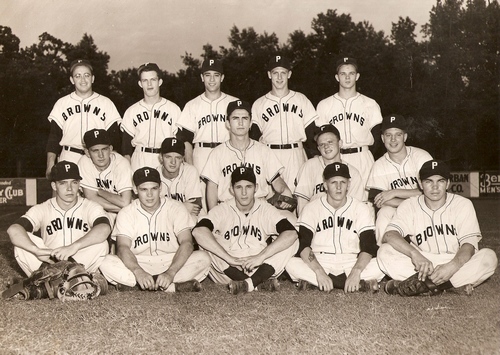 1950 Pittsburg Browns
(John Lazar is front row, far right)
Photo courtesy of John G. Hall from his book "The KOM League Remembered"
Sources:
Miami Daily News Record June 25, 1950
Iola Register August 12, 1950
Iola Register September 12, 1950
Iola Register January 19, 1951
Harrisburg Daily Register January 10, 1952
www.findagrave.com
www.baseball-reference.com
www.cacti35th.org
www.kewaneelibrary.org
The Sporting News, January 9, 1952
Date Added February 17, 2013 Updated February 8, 2014
Thanks to John G. Hall for photos and additional information on John Lazar
Baseball's Greatest Sacrifice is associated with Baseball Almanac
Baseball's Greatest Sacrifice is proud to be sponsored by