Walter Koehler
| | |
| --- | --- |
| Date and Place of Birth: | April 23, 1928 in Ann Arbor, MI |
| Date and Place of Death: | July 28, 1952 near Koyangdae, Korea |
| Baseball Experience: | Minor League |
| Position: | Pitcher |
| Rank: | Private First Class |
| Military Unit: | Company G, 15th Infantry Regiment, 3d Infantry Division US Army |
| Area Served: | Korea |
Walter T. Koehler was born on April 23, 1928 in Ann Arbor, Michigan, the son of Theodore and Maria Koehler. A standout athlete at Ann Arbor High School and Western Michigan College, Koehler signed with the Chicago Cubs organization in 1949.

The 6-foot-1, right-handed pitcher was assigned to the Visalia Cubs of the Class C California League his rookie season, where he 0-7 in 18 games with an 8.72 ERA. The following year, Koehler was with the Sioux Falls Canaries of the Class C Northern League and was 7-9 in 23 outings with a 5.04 ERA. He was also pretty good with the bat and hit .276 (16 for 58). In 1951, the 23-year-old joined the Carthage Cubs of the Class D KOM League and was 6-5 in 13 appearances with a 3.41 ERA, while batting .290 (9 for 31). That summer, Koehler married Jacqueline Reid of Kalamazoo, Michigan. He had met Jacqueline at her parents rooming house in Battle Creek. Little did they know it would be their last summer together.

Koehler entered military service with the US Army after the 1951 season. After a course at Fort Meade, Maryland, Koehler was one of 30 chosen for medical training. He graduated first in a class of 28 from a Medical Leader's course at the Medical Replacement Training Center, Camp Pickett, Virginia, in March 1952. He arrived in Korea as a Private First Class aidman with Medical Company, 15th Infantry Regiment of the 3rd Infantry Division, on Easter Sunday.

On July 28, 1952, Koehler was killed in action while tending a wounded comrade. He was posthumously awarded the Silver Star and his citation explains the circumstances of his tragic death:

"The President of the United States of America ... takes pride in presenting the Silver Star (Posthumously) to Private First Class Walter T. Koehler, Army Medical Service, United States Army, an aidman with Medical Company, 15th Infantry Regiment, 3d Infantry Division, distinguished himself by gallantry in action against the enemy near Koyangdae, Korea, on 28 July 1952. His unit manning a forward outpost on high ground, came under fierce attack from three sides by a hostile force of company strength and, in the initial burst of fire, the platoon runner was wounded. Hearing the stricken soldier call out, Private Koehler dashed fearlessly through the fire-swept impact area and quickly administered medical aid. Although the determined foe closed within 5 yards of friendly trenches and lobbed grenades into the position, Private Koehler ignored the imminent danger, continued to attend his wounded comrade, and refused to seek shelter when enemy fragmentation grenades landed nearby. He was mortally wounded during this action. Private Koehler's fearlessness under fire and determined devotion to duty reflect great credit on himself and the military service."

News of his death traveled slowly to his loved ones. Jacqueline received word that her husband was missing in action in mid-August. One can only presume she held out hope that he was still alive. But in mid-October his death was confirmed.

Walter Koehler is buried at Bethlehem Cemetery in Ann Arbor, Michigan.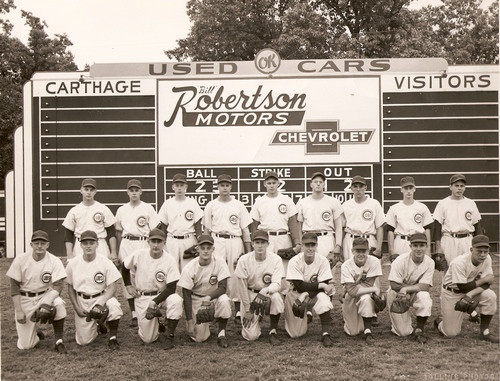 1951 Carthage Cubs
(Walter Koehler is back row, fourth from left)
Photo courtesy of John G. Hall from his book "The KOM League Remembered"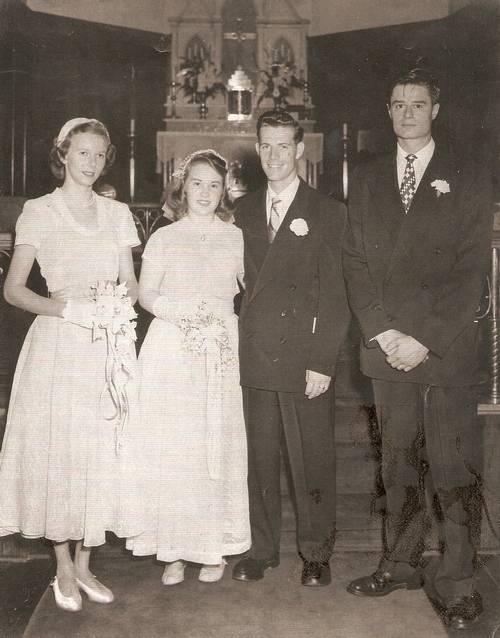 The wedding of Dorothy and Russ Oxford at the
Grace Episcopal Church in Carthage, MO in June of 1951
(Walter is on the right. His wife, Jacqueline, is on the left)
Thanks to John G. Hall for supplying this photo
Sources
www.koreanwar-educator.org
www.findagrave.com
Benton Harbor News Palladium August 14, 1952
Benton Harbor News Palladium October 16, 1952
Holland Evening Sentinel October 16, 1952
The Sporting News, October 22, 1952
Date Added February 17, 2013 Updated February 8, 2014
Thanks to John G. Hall for photos and additional information on Walter Koehler.
Baseball's Greatest Sacrifice is associated with Baseball Almanac
Baseball's Greatest Sacrifice is proud to be sponsored by