Frank Janik
| | |
| --- | --- |
| Date and Place of Birth: | August 2, 1914 Cheektowaga, NY |
| Date and Place of Death: | April 29, 1945 Okinawa |
| Baseball Experience: | Minor League |
| Position: | Catcher/Outfield |
| Rank: | Technical Sergeant |
| Military Unit: | Company F, 106th Infantry Regiment, 27th Infantry Division US Army |
| Area Served: | Pacific Theater of Operations |
Frank D. Janik was born in Cheektowaga, near Buffalo, New York on August 2, 1914. Originally a shortstop, Janik converted to catcher while playing amateur baseball in Buffalo and helped his team win local pennants in 1934 and 1935, batting .463 and .424. In 1936 he organized his own semi-pro team in Cheektowaga, using the finest players from Buffalo's independent ranks, and serving as captain and manager. Entered in the Buffalo Evening News League, he steered Cheektowaga to 18 victories in 20 games. The team won the Western New York championship but were defeated in their state title bid in a gruelling 11-inning contest that was won by Sherill, 1-0. Janik batted .403 that season with 11 home runs.

In 1937, Janik began the season with Cheektowaga before signing as a catcher with the Rome Colonels; a new entry in the Class C Canadian-American League. In 76 games he batted .265 with 10 home runs and 42 RBIs. The 5-foot-10, 170-pound slugging catcher had quickly become a fan favorite and when Bill Buckley took over as Colonels' manager in 1938, they did not hesitate in showing their dissaproval of Janik being left out of the starting line-up. "On opening day [the fans] continually pleaded with [Buckley] to use [Janik] as a pinch hitter," reported the Utica Daily Press on May 20, 1938. "They resumed their pleas yesterday, with more emphasis, until finally the manager let Janik bat for [Hal] White." Janik responded with a home run that started a three-run eighth inning rally and a 5-4 Colonel victory over the Gloversville Glovers.

Shifting to center field and hitting in the number three spot for the Colonels for the rest of the season, the 23-year-old batted an impressive, team-leading .313 in 110 games with 21 home runs and 78 RBIs. In June 1938, he emerged in spectacular style from a brief slump at the plate, collecting 11 hits in three days.

A bright future appeared to be ahead of the young ballplayer and in 1939, Rome's new manager, Admiral Martin, was keen to get Janik to sign. Janik was working during the off-season at the Rome Cable Corporation and still hadn't signed his contract by early-May (Janik took spring training with the Rome Cable ball team). Martin and Janik, eventually agreed terms on May 12, but an injury-shorterned season saw his average drop to .219 in just 24 games. "Rome Colonels suffered a blow with the news that Frank Janik, power-hitting outfielder will probably be out for the season," reported the Oswego Palladium-Times on June 1, 1939. "In addition to a dislocation of the right ankle, Janik suffered a fracture of a small bone in the leg when sliding into second base against Utica Tuesday [May 30]." He did not return to the line-up until August 27.

In 1940, Janik, who was now living in Rome and was engaged to a local girl, bounced back and hit .297 for the Colonels in 120 games with 54 RBIs (including a 16-game hitting streak) as the team finished in third place. Although his game was back on track, baseball had to be put on hold when he was accepted for military service with the Army on February 26, 1941, and was among an influx of new recruits that swelled the ranks of the 27th "New York" Infantry Division, who were training at Fort McClellan, Alabama, and Fort Sill, Oklahoma.

Mustered from all over New York State under the terms of the Selective Service Act, these recruits expected to serve just one year of active duty. But the Japanese attack on Pearl Harbor on December 7, 1941, changed things rapidly. The 27th Infantry Division was immediately mobilized and just seven days after Pearl Harbor, it was ordered to California to guard the West Coast. Serving with Company F of the 106th Infantry Regiment, 27th Infantry Division, Sergeant Janik was stationed at Fort Ord, near Monterey, California, where the division received orders for overseas duty in early February 1942, and departed from San Francisco on February 27. The division reached the Hawaiian Islands in March and defended the outer islands from attack while continuing to prepare for combat. The division landed at Saipan on June 16, 1944, where it met fierce resistance from the Japanese, and Technical Sergeant Janik received a Bronze Star for meritorious service.

Beginning in the middle of August 1944, the division moved to the New Hebrides for rest and rehabilitation. In January 1945, after 33 months overseas, T/Sgt. Janik was granted 30-day leave and returned home to Buffalo as well as visiting friends in Rome. The following month he was back in the Pacific preparing to take part in the final amphibious landing of the war on April 9, 1945, at Okinawa. Frank Janik was killed in action on April 29, 1945.

On July 9, 1946, the Boston Braves played an exhibition games against Rome at Colonels Park. At this game a memorial plaque was dedicated in memory of Frank Janik, Billy Southworth, Jr., and George Gamble, Colonels who lost their lives in WWII. Young Billy Southworth Jr's., father was manager of the Braves at the time. Colonels' second baseman Jim Donovan also lost his life in WWII but was not remembered at this event.

Frank Janik's body was returned to the United States in February 1949 aboard the USNS Dalton Victory cargo ship and rests at Woodlawn National Cemetery, Elmira, New York.
| | | | | | | | | | | | | |
| --- | --- | --- | --- | --- | --- | --- | --- | --- | --- | --- | --- | --- |
| | Team | League | Class | G | AB | R | H | 2B | 3B | HR | RBI | AVG |
| 1937 | Rome | Canadian-American | C | 76 | 249 | 39 | 66 | 16 | 4 | 10 | 42 | .265 |
| 1938 | Rome | Canadian-American | C | 110 | 383 | 90 | 120 | 19 | 2 | 21 | 78 | .313 |
| 1939 | Rome | Canadian-American | C | 24 | 73 | 7 | 16 | 2 | 1 | 1 | 13 | .219 |
| 1940 | Rome | Canadian-American | C | 120 | 414 | 66 | 123 | 21 | 2 | 4 | 54 | .397 |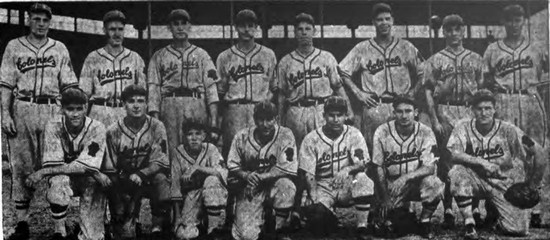 The 1940 Rome Colonels. Frank Janik is front row, second from left.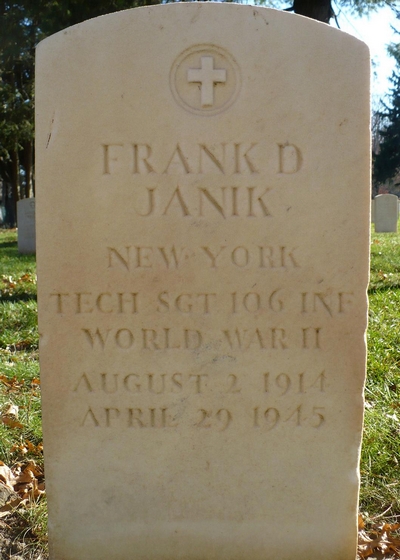 Frank Janik's grave at Woodlawn National Cemetery in Elmira, New York
Thanks to Davis O. Barker for help with this biography.
Date Added February 1, 2012 Updated April 3, 2020
Baseball's Greatest Sacrifice is associated with Baseball Almanac
Baseball's Greatest Sacrifice is proud to be sponsored by