Jim Hudgens
| | |
| --- | --- |
| Date and Place of Birth: | January 4, 1929 Little Rock, AR |
| Date and Place of Death: | April 21, 1952 off east coast of North Korea |
| Baseball Experience: | Minor League |
| Position: | Outfield |
| Rank: | Seaman |
| Military Unit: | US Navy |
| Area Served: | Korea |
Jim Hudgens cut short a promising career in baseball to serve his country for three years, only to lose his life in a tragic accident.
James Robert Hudgens was born on January 4, 1929 in Little Rock, Arkansas, and moved to Tucson, Arizon, in 1946. In 1946 and 1947, as well as playing football, Hudgens played the outfield for Coach Hank Slagle's Tucson High School Badgers team.

After playing freshman baseball at the University of Arizona in 1948, Hudgens was signed by the Wellsville Nitros of the Class D PONY League. He was quickly optioned to the Mahanoy City Bluebirds of the Class D North Atlantic League and then to the Carbondale Pioneers of the same league. The left-handed hitting outfielder played 35 games with the Pioneers and batted .235.

In 1948, the 19-year-old played for the pennant-winning Oroville Red Sox of the Class D Far West League and batted .290 in 113 games, including 13 triples. Despite the beginnings of a promising career in professional baseball, Hudgens – back home in Tucson – visited the local recruiting office in November 1948 and enlisted in the Navy for three years.

With the outbreak of the Korean War in 1950, Seaman Hudgens served aboard the USS St. Paul (CA-73), a Baltimore-class cruiser. On April 21, 1952, while firing on enemy installations at the Kojo area off the east coast of North Korea, there was an explosion in the forward 8-inch gun turret. Thirty men were killed, including James Hudgens. The explosion occurred in the turret's left gun, which was loaded but had the breech open. The gun captain thought the weapon had fired and told the gun's rammerman to ram another projectile into the gun's breech, causing it to blow up.

James Hudgens, who was awarded the Purple Heart, Combat Action Ribbon, Korean Service Medal, United Nations Service Medal, National Defense Service Medal, Korean Presidential Unit Citation and the Republic of Korea War Service Medal, is buried at Evergreen Memorial Park in Tucson.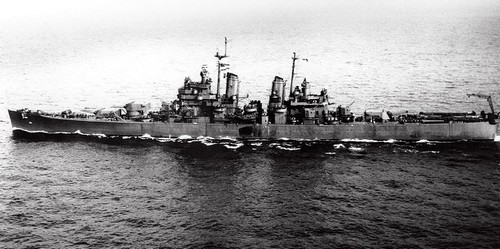 The USS St. Paul (CA-73)
Sources:
Tucson Daily Citizen – October 5, 1946
Tucson Daily Citizen – October 24, 1946
Tucson Daily Citizen – November 5, 1946
Tucson Daily Citizen – January 22, 1947
Bradford Era – March 4, 1947
Tucson Daily Citizen – March 21, 1947
Bradford Era – May 6, 1947
Oakland Tribune – June 3, 1948
Tucson Daily Citizen – November 10, 1948
Tucson Daily Citizen – April 25, 1952
Long Beach Press-Telegram – April 25, 1952
San Mateo Times – April 25, 1952
Charleston Gazette – December 6, 1952
www.wikipedia.org/wiki/USS_Saint_Paul_(CA-73)
www.findagrave.com
Thanks to Astrid van Erp, for help with photos for this biography.
Date Added September 29, 2012 Updated July 30, 2017
Baseball's Greatest Sacrifice is associated with Baseball Almanac
Baseball's Greatest Sacrifice is proud to be sponsored by