George Gamble
| | |
| --- | --- |
| Date and Place of Birth: | April 6, 1916 Rochester, NY |
| Date and Place of Death: | December 4, 1944 French Indo-China (now Vietnam) |
| Baseball Experience: | Minor League |
| Position: | Outfield |
| Rank: | Second Lieutenant |
| Military Unit: | 26th Fighter Squadron, 51st Fighter Group USAAF |
| Area Served: | China-Burma-India Theater of Operations |
George E. Gamble, Jr., son of George and Marie Gamble, was born in Rochester, New York on April 6, 1916, and attended Monroe High School where he was a power-hitting first baseman and outfielder, and championship swimmer. After guiding the Monroe Red Jackets baseball team to Interscholastic success between 1934 and 1937 - including championship victory in his senior year, Gamble got his first taste of professional baseball as an outfielder with the Sydney Mines Ramblers of the Class D Cape Breton Colliery League in the summer of 1937.

Cape Breton Colliery was a five-team league based at the heart of the hard-nosed coal mining community of Nova Scotia in Eastern Canada. The league had existed for many years at the semi-pro level until joining Organized Baseball in 1937. It was a rough league and the local miners were diehard fans. Many times the colliery in Sydney failed to operate simply because most of the miners were at the ballgame. And the miners did not like their teams losing. On a number of occasions, the Royal Canadian Mounted Police had to rescue umpires at the ballpark when things did not go according to the fans' liking. Managed by fellow Rochester native Wild Bill Buckley, Gamble played 46 of the scheduled 48 games with the Ramblers in 1937 and hit .305 (fifth best in the league) with 22 RBIs, as the Ramblers finished third.

In 1938, Buckley managed the Rome Colonels of the Class C Canadian-American League and Gamble joined him, but appeared in just 14 games and batted .178. It marked the end of his professional baseball career.

Gamble was the proprietor of a gasoline filling station in Rochester when, on September 11, 1942, he entered military service with the Army Air Force. He earned his pilot's wings as a fighter pilot and served overseas flying a North American P-51B Mustang out of Kunming, China, with the 26th Fighter Squadron of the 51st Fighter Group, 14th Air Force, from May 1944. The 51st Fighter Group's duties involved defending the Chinese end of the "Hump", the air supply route between India and China, as well as supporting the Chinese army. It also carried out attacks on Japanese shipping.

On December 4, 1944, flying his 29th mission, Second Lieutenant Gamble was wingman to First Lieutenant Shirley G. Wilson on a reconnaisance flight over French Indo-China (now Vietnam). They were heading southwest, following the railroad just out of Lang Son when they spotted a Japanese troop train. Lt. Wilson went in to attack; Lt. Gamble followed close behind. Shortly afterwards there was a huge explosion and Wilson believed Gamble had made a direct hit on the locomotive but did not see his wingman pull up.

"I started calling him [on the radio], but with no answer," Wilson later reported. "I had previously had good radio contact with him."

He then made at least ten passes and spotted small pieces of wreckage. His last pass over the target area was with flaps down and at a very slow speed. This time he could clearly see pieces of wreckage strewn everywhere and one large piece was a wing tip with part of the Army Air Force insignia showing. Gamble's P-51 had been caught in the explosion he had created by hitting the target.
2/Lt. Gamble is buried at Holy Sepulchre Cemetery in Rochester, New York.
| | | | | | | | | | | | | |
| --- | --- | --- | --- | --- | --- | --- | --- | --- | --- | --- | --- | --- |
| Year | Team | League | Class | G | AB | R | H | 2B | 3B | HR | RBI | AVG |
| 1937 | Sydney Mines | Cape Breton Colliery | D | 46 | 190 | 34 | 58 | 6 | 5 | 1 | 22 | .305 |
| 1938 | Rome | Canadian-American | C | 14 | 45 | 4 | 8 | 3 | 0 | 0 | 1 | .178 |
A P-51B Mustang. The type flown by 2/Lt. George Gamble.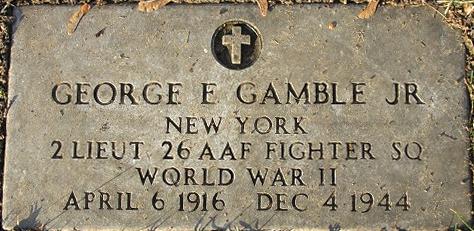 George Gamble's grave at Holy Sepulchre Cemetery in Rochester, New York
Thanks to Astrid van Erp for help with photos and information for this biography.
Date Added January 30, 2012 Updated July 31, 2017
Baseball's Greatest Sacrifice is associated with Baseball Almanac
Baseball's Greatest Sacrifice is proud to be sponsored by