George Dean
| | |
| --- | --- |
| Date and Place of Birth: | April 28, 1920 Espanola, Ontario Canada |
| Date and Place of Death: | February 7, 1944 Campo Verano, Italy |
| Baseball Experience: | Amateur |
| Position: | Shortstop |
| Rank: | Pilot Officer |
| Military Unit: | 18 (RAF) Squadron, Royal Canadian Air Force |
| Area Served: | Mediterranean Theater of Operations |
George Dean, the son of John and Christina Dean, was born in Espanola, Ontario on April 28, 1920. The family moved to Pine Falls, Manitoba in 1926. His father died in May 1937, so upon graduating from Pine Falls High School he went to work for the Manitoba Paper Company.

Dean was well-known in Pine Falls for his sporting abilities. He was a shortstop with the local Rovers baseball team and played as a winger for the Rovers hockey team.

He enlisted with the Royal Canadian Air Force in May 1941 and trained as a bomber pilot at Yorkton, Brandon in Manitoba and Regina in Saskatchewan. He was awarded a gold bracelet for graduating from his class with the highest marks.

Dean was posted overseas in August 1942. He arrived in England in September was initially posted to the south coast. During further training he was stationed at Melton Mowbray, Leicestershire and later at Renfrew Aerodrome near Glasgow, Scotland. He was then assigned to active duty with 18 Squadron, RAF.

In October 1942, Pilot Officer Dean was sent to North Africa near Algiers, where he flew bombing missions on German targets in Tunisia. Later he was moved east to a field south of Tunis, Tunisia. From North Africa the squadron moved to Sicily and then on into Italy in October 1943.

On February 7, 1944, at 9.50pm, Dean was piloting a Douglas Boston III that left their base in Italy for a bombing raid over the roads north and east of Rome. They failed to return. George and his crew were reported missing on active service February 15, 1944. He was reported killed January 27, 1945.


The following is from a letter sent to Dean's mother on June 18, 1945, from Gordon Crawford, a member of Dean's crew, who spent the balance of the war in a POW camp.

Dear Mrs. Dean,

I expect you have been waiting patiently to hear from me to know exactly what happened to your son George. Well Mrs. Dean I feel it my duty to tell you the truth, as I'm sure you would want me to do, no matter how cruel it may seem.

In the first place we were shot down in very unfortunate circumstances. You may find it hard to believe but an American fighter mistook us for the enemy and although we recognized him, he failed to identify us and fired upon us and we burst into flames.

All the electrical equipment in our aircraft was shattered leaving us no form of communication with other members of the crew as in our particular aircraft each man has his own isolated cockpit affording no movement whatsoever.

I know for a fact that George tried to bale out but whether we were too low, as we were losing height rapidly, or whether his parachute had been improperly packed I cannot say, but when he was found his chute was only half opened. I am rather inclined to believe the former. I think he left it too late, to make sure we got out safely, doing what was in his power to keep the aircraft in the air as long as possible. Knowing your son as I did I feel sure that's what happened. I can say this truly, that I owe my life to him and I shall never forget that. I know you must be very proud of him as we all were to have him as our "skipper". We enjoyed every minute of his company and he was a great flyer, because he loved his job. His heart and soul were in everything he did and he was very popular with everyone on the squadron.

Now Mrs. Dean accept my heartfelt sympathy for your great loss, and if there is anything you would like to know or if there is anything I can do to lighten your burden please let me know and I will do all in my power to help you.

Yours sincerely,

Gordon

George Dean's body was recovered from the cemetery at Campo Verano, Italy, on January 27, 1945, and identified by his identity discs. His body was re-buried in plot E-4 in the Beach Head War Cemetery, Anzio, Italy.

"An interesting footnote," explains Dean's nephew, Michael Cavers, "is that the crash scene was seen by a teenage Italian boy who recovered a pair of flight goggles. In the early 1990s he decided to return them to the Canadian Ambassador in Italy as he had seen the Canadian patches on the dead airman. The goggles arrived in Ottawa and were sent to RCAF headquarters in Winnipeg. Flight Lieutenant Don Pearsons, in charge of air force history at the museum, noticed a couple of clear initials D E. He checked a book by Les Allison and under the Ds found George Dean. After some searching he was finally able to contact Mrs Anne Cavers of Pine Falls, George's sister, who identified them by the service number. She requested that the goggles be displayed in the museum with a story of their recovery."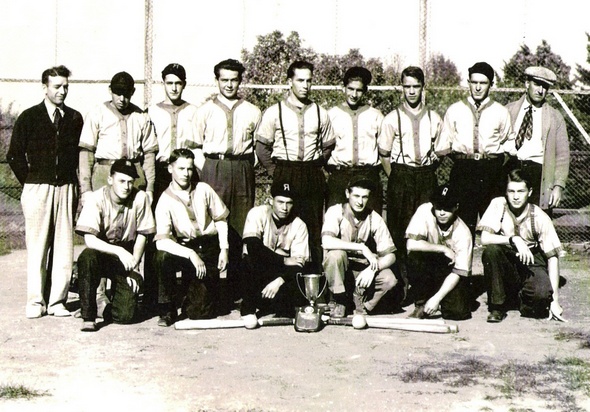 1938 Pine Falls Rovers (George Dean is front row, first left)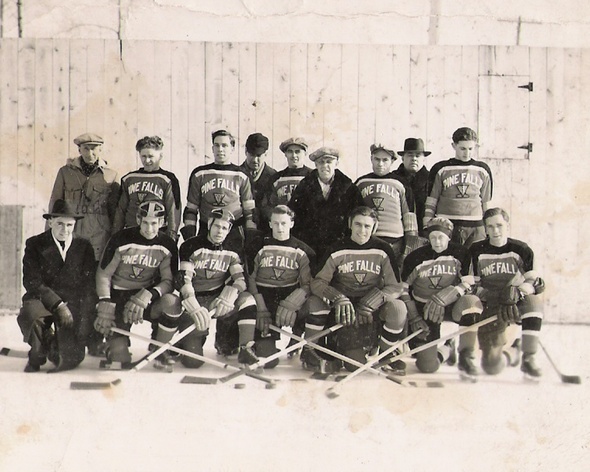 1938 Pine Falls Rovers (George Dean is front row, center)
Thanks to Michael Cavers for help with his uncle's biography and for supplying the photographs.
Date Added: February 6, 2013
Baseball's Greatest Sacrifice is associated with Baseball Almanac
Baseball's Greatest Sacrifice is proud to be sponsored by