Calvin Bryant
| | |
| --- | --- |
| Date and Place of Birth: | November 13, 1891, Blue County, Choctaw Nation, Indian Territory (now part of Oklahoma) |
| Date and Place of Death: | November 11, 1918 France |
| Baseball Experience: | Minor League |
| Position: | Infield |
| Rank: | Sergeant |
| Military Unit: | Company F, 358th Infantry, 36th Division US Army |
| Area Served: | France |
Calvin R. Bryant was born on November 13, 1891, in Blue County, Choctaw Nation, Indian Territory, which is now part of Oklahoma. His father, Josiah H. Bryant, was a leading Choctaw citizen who served for several years as sheriff and U.S. Marshall as well as being a representative to the Choctaw Legislature. Calvin and his sister, Julia – who was two years older – grew up on the family farm in Blue. Their mother, Susan Jones, died when both children were very young, and their father, Josiah, died when Calvin was just six years old.

The Bryant children were fostered and later adopted by Atwood and Minnie Risner, moving to their home in nearby Durant, Oklahoma, where Calvin later attended Southeastern State Normal School (now Southeastern Oklahoma State University), and played on the school's first ever football team in 1909.

Despite Bryant's prowess on the football field, it was baseball that he would mostly pursue beyond school. In 1910, Bryant was pitching for the independent Ardmore Blues. In 1911, he joined the Altus Chiefs of the Class D Texas-Oklahoma League, appearing in one game before the team folded. He then joined his hometown Durant Educators of the same league for the remainder of the season and played a further 54 games, batting .240.

In 1912, he was still with the Durant team (now called the Choctaws) in the Texas-Oklahoma League, batting .262 in 28 games, and hit .244 in 14 games for the team in 1913. In his three-year organized baseball career, Bryant played every position but catcher. He continued to play baseball and in 1916, was an infielder with the Ardmore entry in the newly-formed semi-pro Southern Oklahoma League.

On October 10, 1917, Calvin Durant, who was 25 years old and listed his profession as self-employed druggist in Blue, Oklahoma, entered military service. He trained at Camp Travis, San Antonio, Texas, where Cherokee, Choctaw, Cree and Seminole represented Oklahoma as part of the 179th Infantry Brigade. Bryant quickly attained the rank of corporal and his athletic abilities did not go unnoticed in the military. He was captain and one of fourteen Indians, who played for the undefeated 358th Infantry Regiment football team during the winter months of 1917/1918.

On June 9, 1918, the 358th Infantry Regiment left Texas, bound for Camp Mills, New York, where Bryant boarded the troopship HMT Euripides. On July 1, 1918, the Euripides and its convoy of ships entered Liverpool harbor in England. They disembarked the following day and marched to a rest camp at Knotty Ash. By special request of the Lord Mayor of the City of Liverpool, the 358th Infantry Regiment was retained at Knotty Ash until July 4, when it marched through the streets of Liverpool in honor of Independence Day.

The following day the regiment traveled by train to Southampton, and boarded transports for the voyage across the English Channel to Le Havre, France. By late August, the regiment was in combat. As part of the 36th Infantry Division, the regiment, known as the Indian Regiment - fought bravely at St. Mihiel and in the Meuse-Argonne. On November 8, 1918, Sergeant Bryan was gassed, and sent to a hospital from which he wrote his last letter home. Within days he was back in the front lines, and at 10am on November 11, the last day of the war, he was wounded and died in hospital two hours later.

Sergeant Bryant was originally buried at the Meuse American Cemetery in France, and students at Southeastern planted three trees and placed marble markers in memory of their three fallen classmates, Bryant, Adolphus Holt and Cecil Burnett. The American Legion Post in Durant was named in his honor.

In 1921, his remains were returned to the United States and laid to rest at Highland Cemetery in Durant, Oklahoma, on October 23.

In August 1933, almost 15 years after Bryant's death, the Headquarters Battery, 158th Field Artillery, set up camp at Fort Sill, Oklahoma, the camp was named Camp Calvin Bryant.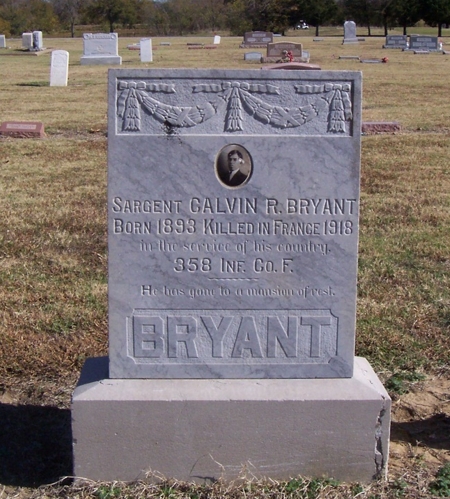 Thanks to Davis O. Barker for "discovering" Calvin Bryant.
Date Added October 18, 2016
Baseball's Greatest Sacrifice is associated with Baseball Almanac
Baseball's Greatest Sacrifice is proud to be sponsored by