Ace Adamcewicz
| | |
| --- | --- |
| Date and Place of Birth: | November 8, 1929 Norwich, CT |
| Date and Place of Death: | November 21, 1952 Fort Devens, MA |
| Baseball Experience: | Minor League |
| Position: | Outfield |
| Rank: | Corporal |
| Military Unit: | 179th Infantry Regiment, 45th Infantry Division US Army |
| Area Served: | Korea |
Erwin J. "Ace" Adamcewicz was born on November 8, 1929 in Norwich, Connecticut, and attended Norwich Free Academy. He signed, aged 17, with the St. Louis Cardinals in 1947 and appeared in 54 games with the Lenoir Red Sox of the Class D Blue Ridge League, batting .271.

In 1948, the young outfielder was with the Albany Cardinals of the Class D Georgia-Florida League, batting .279 in 140 games. The following year he was with Albany and the Johnson City Cardinals of the Class D Appalachian League, where he blossomed into a power hitter with 12 homeruns and batted .332. Adamcewicz also pitched for Johnson City on occasion. "Johnson City's Ace Adamcewicz and Kingsport's Joe Palcek hooked up in a pitcher's duel at J. Fred Johnson Park Friday
night," announced the Kingsport News on September 3, 1949, "with Adamcewicz coming out on top, 1-0, to sweep the double-header." He allowed just three hits and struck out four.

He was sold to the Allentown Redbirds of the International League during the off-season and reported to their spring training camp at Albany, Georgia, in 1950. The 20-year-old was assigned to the St. Joseph Cardinals of the Class C Western Association for the season and led the team with 13 homeruns (including a grand slam against Muskogee on May 21) and a .325 batting average, being named to the league all-star squad. That same year, another Western Association player named Mickey Mantle, hit 26 home runs and batted .383 as a shortstop with the Joplin Miners.
Ace Adamcewicz's baseball career came to an end after the 1950 season as military service beckoned. Assigned to the 179th Infantry Regiment, 45th Infantry Division, Corporal Adamcewicz served in Korea, where he was seriously wounded in action on May 14, 1952. He was returned to the United States and was at the military hospital at Fort Devens, Massachusetts, when he succumbed to his wounds six months later on November 21, 1952.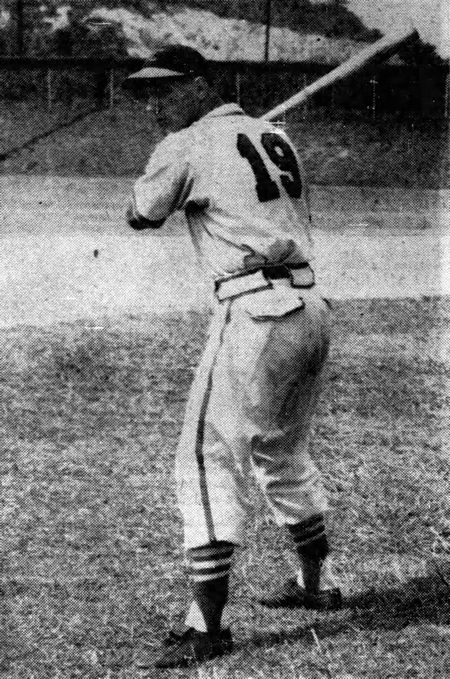 Sources:
Kingsport News, September 3, 1949
Iola Register, May 22, 1950
Emporia Gazette, September 1, 1950
Salisbury Times, June 12, 1952
Thanks to Astrid van Erp, for help with photos for this biography.
Date Added January 31, 2012 Updated July 30, 2017
Baseball's Greatest Sacrifice is associated with Baseball Almanac
Baseball's Greatest Sacrifice is proud to be sponsored by