L.A. Wattelet
| | |
| --- | --- |
| Date and Place of Birth: | November 21, 1886 Place Unknown |
| Date and Place of Death: | October 31, 1918 Belgium |
| Baseball Experience: | Minor League |
| Position: | Unknown |
| Rank: | Captain |
| Military Unit: | Company A, 364th Infantry Regiment, 91st Division US Army |
| Area Served: | France and Belgium |
Leonard A. "L.A." Wattelet was born on November 21, 1886. In 1906, 19-year-old Wattelet played in two late-season games for the Seattle Siwashes of the Class A Pacific Coast League. He was hitless in five at-bats and although that marked the conclusion of his playing days in professional baseball, his affiliation with the minors was far from over.

In 1911, Wattelet joined the newly-formed Victoria Bees (British Columbia) of the Class B Northwestern League, serving as business manager, secretary and treasuer. Became president of the club in December 1912, following the retirement of local entrepreneur Joshua Kingham.

Wattelet, who married Florence Handley of Victoria, on June 4, 1913, remained with the Victoria club through 1915, the team's last season in pro ball. He later entered military service with the US Army, earned a commission as a captain at the first officer's training school, and was placed in charge of baseball operations at Camp Lewis at American Lake, near Tacoma, Washington, where 40,000 servicemen were stationed. As general manager of the Camp Lewis team, Wattelet had an abundance of professional baseball talent to choose from. He selected Charlie Mullen (Yankees first baseman) as field manager and players included Jim Scott (White Sox pitcher), Red Oldham (Tigers pitcher), Charlie Schmutz (Brooklyn pitcher), Walter Mails (Brooklyn pitcher), Harry Kingman (Yankees first baseman), Lou Guisto (Indians first baseman), Hap Myers (Brooklyn first baseman) and Pacific Coast Leaguer Howard Mundorff.

As the war progressed every soldier was needed at the frontline and Captain Wattelen went to Europe with Company A of the 364th Infantry Regiment, 91st Division. On October 31, 1918, L.A. Wattelet was killed in action in Belgium, aged 31.

He is buried at Flanders Field American Cemetery in Waregem, Belgium. Wattelet's grave has been "adopted" by the mayor of Waregem, Kurt Vanryckeghem.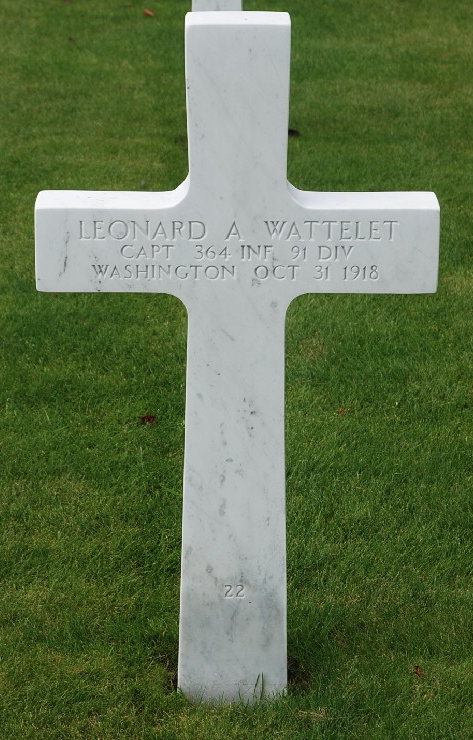 Leonard A. Wattelet's grave at at Flanders Field American Cemetery in Waregem, Belgium
Sources
Seattle Times, August 28, 1906
Sunday Oregonian, January 29, 1911
Medicine Hat Daily News, December 23, 1911
Spokane Daily Chronicle, December 19, 1912
Oakland Tribune, June 5, 1913
Oregonian, April 2, 1914
Fort Wayne Journal Gazette, February 7, 1918
Bakersfield Morning Echo, March 13, 1918
Medicine Hat Daily News, December 10, 1918
Thanks to Mayor Vanryckeghem for help with this biography.
Date Added September 9, 2013 Updated August 19, 2014
Can you add more information to this biography and help make it the best online resourse for this player? Contact us by email
Read Baseball's Greatest Sacrifice Through The Years - an online year-by-year account of military related deaths of ballplayers
Baseball's Greatest Sacrifice is associated with Baseball Almanac
Baseball's Greatest Sacrifice is proud to be sponsored by