Lou Vann
| | |
| --- | --- |
| Date and Place of Birth: | October 26, 1909 Fall River, MA |
| Date and Place of Death: | May 21, 1943 Camp Pendleton, San Diego, CA |
| Baseball Experience: | Minor League |
| Position: | Infield |
| Rank: | Private First Class |
| Military Unit: | United States Marine Corps |
| Area Served: | United States |
Lou Vann was born Luigi G. Varanese in Fall River, Massachusetts, at one time the leading cotton textile center in the United States. Lou - or Chet as he was known to his family - was one of ten children, and quit school after eighth grade to help support his family. His father Dominic would take young Lou to work with him at the cotton mill but Lou had little interest in being a weaver. He wanted to play baseball, and every opportunity he had he would grab a bat and get his brothers to pitch to him.

Vann was soon playing shortstop for the town team and began his minor league career in 1932, when he was signed by the New Haven Bulldogs of the Class A Eastern League. He batted .260 in 68 games with the Bulldogs and the following year he played briefly with the Harrisburg Senators of the Class A New York-Penn League and the New Bedford Whalers of the Class B New England League.

In 1934, seeing an opportunity to make more money than he could in the minors, Vann joined the House of David club, a famous barnstorming team with a religious background renowned for their long hair and beards. The team toured rural America playing amateur and semi-pro teams in exhibition games and even played against the Fall River All Stars with Lou's brother Pat playing shortstop and his youngest brother Bill as batboy. Vann remained with the House of David until being enticed to return to Organized Baseball in 1938 by the Sydney Steel Citians of the Class D Cape Breton Colliery League. Playing third base, he batted a respectable .271, but was back on the road with the House of David in 1939, becoming an integral part of their renowned, crowd pleasing "pepper game" and juggling act.

The House of David pepper game started like an ordinary game of pepper with three players tossing the ball to a batter, who bunted it back to them. Then the fielders started making false throwing motions and passing the ball back and forth between themselves, occasionally varying the procedure with a real toss to the batter, who often swung at the false pitches as well as the genuine ones. The players handling the ball increased the pace of their juggling until it was almost impossible for the spectators to follow the ball in its flight. They passed it over their shoulders, behind their backs, between their legs, and sometimes hurled their gloves instead of the ball, and occasionally even removed their shoes and tossed them to their companions. A slow motion variation was also introduced in the act. [1]

Vann continued to play with the House of David through the summer of 1942, as well as playing winter ball in the Panama Canal Zone League with Cristobal. But in late 1942, at the age of 33, he enlisted with the Marines. Private First Class Varanese was stationed at Camp Pendleton, near San Diego, California, and died there in an accident on May 21, 1943. He was survived by his wife and young son who were living in Clearwater Beach, Florida.

Lou Vann is buried at the Fort Rosecrans National Cemetery in San Diego, California.
Team

League

Class

G

AB

R

H

2B

3B

HR

RBI

AVG

1932
New Haven
Eastern
A
68
250
50
65
10
2
0
17
.260
1933
Harrisburg
New York-Penn
A
-
-
-
-
-
-
-
-
-
1933
New Bedford
New England
B
-
-
-
-
-
-
-
-
-
1935-1937
Played with House of David
1938
Sydney
Cape Breton Colliery
D
-
85
15
23
2
0
0
4
.271
1940-1942
Played with House of David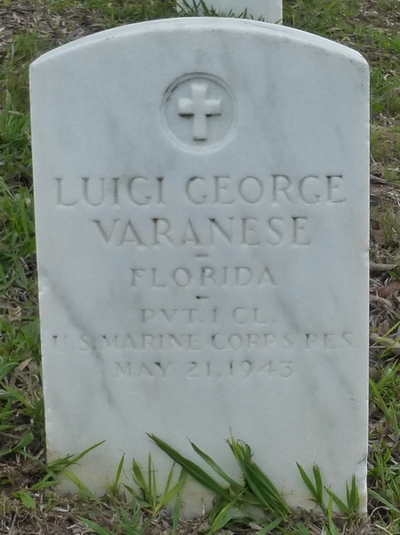 Notes
1. Charleston Gazette, April 25, 1937
Thanks to Shirley and William Varanese for help with this biography.
Date Added May 14, 2012 Updated June 10, 2014
Baseball's Greatest Sacrifice is associated with Baseball Almanac
Baseball's Greatest Sacrifice is proud to be sponsored by