Wilbur Ueck
Date and Place of Birth:

March 14, 1919 Benton Harbor, MI

Date and Place of Death:

December 4, 1942 near Buan, New Guinea (now Papua New Guinea)

Baseball Experience:

Semi-Pro House of David

Position:

Outfield

Rank:

Corporal

Military Unit:
Anti-tank Company, 126th Infantry Regiment

,

32nd Infantry

Division

US Army

Area Served:

Pacific Theater of Operations
Wilbur Ueck was an outstanding young athlete who starred in baseball and basketball. The House of David centerfielder "would have made the majors" WWII not intervened.
Wilbur E. Ueck, the son of Richard and Minnie Ueck, was born on March 14, 1919. He attended Benton Harbor High School where he played basketball and was a member of the tennis team. Following graduation in 1937, he was employed at the Remington Rand company and was on the champion Remington Rand basketball team and also played on the company's softball team. In 1938/39 he attended Western State College in Kalamazoo, playing on the Piccadilly Inn city champion basketball team.

He was later employed at the Auto Specialties company in St. Joseph, and played basketball on their team. During the summer of 1940, he was with Eddie Deal's House of David baseball team in Benton Harbor. Batting third and making some dazzling defensive plays in centerfield, Ueck helped the team clinch the Michigan League championship that season.

Along with a number of his Benton Harbor buddies, Ueck had enlisted in the Army on April 22, 1940, so that summer with the House of David would be his last before being called for active service. He was sent to Camp Livingston, Louisiana, where he was assigned to the Anti-tank Company, 126th Infantry Regiment of the 32nd Infantry "Red Arrow" Division. During the first months of 1942, the division was sent to Boston to be shipped to Europe. While on the east coast, General Douglas MacArthur recalled the division to San Francisco, and from there it went to Australia to train for jungle warfare for six months.

The next stop for Corporal Ueck was New Guinea, where Australian forces were fighting the Japanese. Ueck was among the troops who made the difficult trek across the Kapa Kapa trail over the Owen Stanley Mountains in November 1942. The following month the 32nd Infantry Division was among the first US divisions to engage in a ground assault against the enemy in World War II, and Corporal Ueck was killed in action on December 4, 1942, near the village of Buna. One of his Benton Harbor buddies, Bert Agens, was also killed in action around the same time.

On July 15, 1948, funeral services were held for Wilbur Ueck, following the return of his body from New Guinea. The Reverand H. C. Haase of St. Matthew's Evangelical Lutheran church officiated and burial was made at the Lincoln Charter Township Cemetery in Stevensville, Michigan.

Reminiscing about the House of David team in the 1960s, manager Eddie Deal said Ueck "would have made the majors," had he not been killed.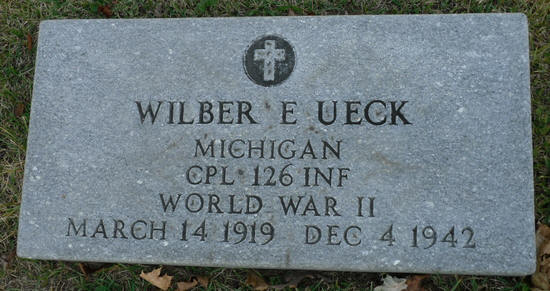 Sources:|
Benton Harbor News-Palladium, May 31, 1940
Benton Harbor News-Palladium, July 29, 1940
Benton Harbor News-Palladium, January 25, 1943
Benton Harbor News-Palladium, July 16, 1948
Benton Harbor News-Palladium, July 18, 1962
Thanks to PJ Dragseth for bring Wilbur Ueck to my attention.
Date Added: December 27, 2014
Can you add more information to this biography and help make it the best online resourse for this player? Contact us by email
Read Baseball's Greatest Sacrifice Through The Years - an online year-by-year account of military related deaths of ballplayers
Baseball's Greatest Sacrifice is associated with Baseball Almanac
Baseball's Greatest Sacrifice is proud to be sponsored by